Annual Report on Pay and Allowances for the Year 2018-19 of Central Government Civilian Employees by Department of Expenditure
GOVERNMENT OF INDIA
ANNUAL -REPORT
ON
PAY AND ALLOWANCES
OF
CENTRAL GOVERNMENT CIVILIAN EMPLOYEES
2018-19
PAY RESEARCH UNIT
DEPARTMENT OF EXPENDITURE
MINISTRY OF FINANCE
NEW DELHI
PREFACE
The Pay Research Unit (PRU) of the Department of Expenditure, Ministry of Finance brings out an "Annual Report on Pay and Allowances of Central Government Regular Civilian Employees" for each financial year. As in the past, the Annual Report for 2018-19 provides statistical information on expenditure incurred by different Ministries/Departments of the Central Government on Pay and Allowances including Dearness Allowance, House Rent Allowance, Transport Allowance, Overtime Allowance, etc. in respect of its regular employees. The Annual Report also contains information on the group-wise number of sanctioned posts and of employees in position in various Ministries/ Departments.
2. The data in the Annual Report has been compiled on the basis of quarterly returns on expenditure on pay and allowances and annual returns on the strength of Central Government Civilian Employees furnished by the Central Government establishments to the PRU.
3. The Annual Report may be of use for personnel planning and for preparation of reliable estimates of financial implications of various proposals concerning pay and allowances of Central Government employees. While all efforts have been made to present the data in a meaningful manner, suggestions for further improvement would be welcome.
4. Ministry of Finance would like to thank all the Central Government Ministries/ Departments/ Organizations for their cooperation in furnishing data, without which this compilation would not have been possible. This Ministry would also like to acknowledge the contribution of the National Informatics Centre (North Block), New Delhi.
(Annie G. Mathew)
Additional Secretary(Pers)
Ministry of Finance
Department of Expenditure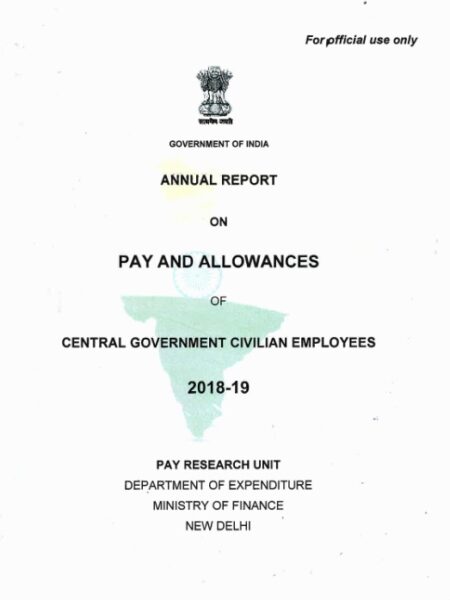 FINMIN (Click here to view/download full 52 page PDF)