Preventive measures to contain the spread of COVID-19 – Shram Mantralaya's O.M dated 04-05-2021
No. Z. 11025/03/2021-Adm.I
Bharat Sarkar/Government of India
Shram Mantralaya/Ministry of Labour and Employment
Shram Shakti Bhawan, Rafi Marg
New Delhi, Dated 4th May 2021
OFFICEMEMORANDUM
Subject: Preventive measures to contain the spread of COVID-19 – regarding.
The undersigned is directed to refer DoP&T's O.M. No. 11013/9/2014-Estt.A.III dated 03.05.2021 on the above subject and the following instructions / guidelines are issued for strict compliance to contain the spread of COVID-19, till 31st May 2021 or until further orders whichever is earlier :-
a. All officers/staff of the level of Joint Secretary and below will attend office on alternate days till Friday i.e 07th May 2021.
b. The officers / staff shall follow staggered timings, to avoid over-crowding in offices, as indicated below:
• 9.00 A.M. to 5.30. P.M.
• 9.30 AM to 6.00 PM
• 10.00 AM. to 6.30 P.M.
c. All officials who do not attend office on a particular day are to make themselves available on Telephone and other electronic means of communication at all times from their residence and work from home.
d. All officials residing in containment zones shall continue to be exempted from coming to office till the containment zone is de-notified.
e. Persons with Disabilities and Pregnant women employees is exempted from attending office, but they shall continue to work from home, until further orders.
f. All officials who attend office shall strictly follow Covid-appropriate behavior including wearing of mask, physical distancing, use of sanitizer and frequent hand washing with soap and water.
g. Crowding in lifts, staircases, corridors, common areas including refreshment -2- kiosk and parking areas is to be strictly avoided.
h. Meetings, as far as possible, to be conducted through video-conferencing.
i. Entry of outsiders /visitors to be curtailed appropriately.
j. All employees of the age of 18 years and above are advised to get themselves vaccinated.
k. Proper cleaning and frequent sanitization of workplace, particularly of the frequently touched surfaces will be ensured.
2. All employees are to ensure strict compliance of instructions on Covid-appropriate behavior issued by MHA. MoH&FW and DoP&T from time to time. Biometric attendance shall continue to be suspended and physical attendance registers to be maintained until further orders.
3. The officials posted in the Office of Hon'ble Minister of States (IC) for Labour & Employment and Secretary (L&E) may be exempted from this instructions and separate orders may be issued by their offices. All the attached/sub-ordi nate/autonomous bodies may take decision on the basis of directions issued by MHA/State Government/District Authorities related to COVID-19.
4. This issues with the approval of Competent Authority.
(J.K. Singh)
Deputy Secretary to the Govt. of India
Tel: 23711120
To,
All Officers / Officials of Ministry of Labour & Employment, New Delhi.
OSD to Hon'ble MOS (IC) (L&E)
PPS to Secretary (L&E)/ PPS to SS(L&E) / PPS to AS & FA / PPS to DG(S) / PS to SLEA
Office of JS(RKG) / JS(KR) / JS & DGLW / JS(VB) / EA(GP)
DoP&T, Deputy Secretary (Estt.A.III), North Block, New Delhi-110001
DGE / CLC(C)
DGLB / DGFASLI / DTNBWEB / DGMS / VVGNLI / EPFO / ESIC
NIC / IT Cell for uploading of the order on the website and e-office.
(J.K. Singh)
Deputy Secretary to the Govt. of India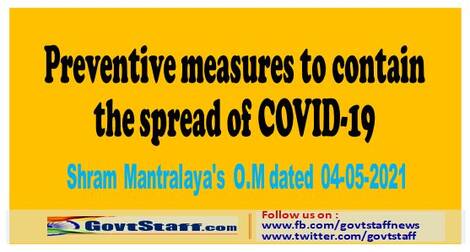 Click here  to view/download the PDF