CGHS Patna : New Address of Office of the Additional Director CGHS Patna
By E-mail
भारत सरकार/Government of India
स्‍वास्‍थ्‍य एवं परिवार कल्याण मंत्रालय
Ministry of Health and Family Welfare
अपर निदेशक कार्यालय, केन्द्रीय सरकार स्वास्‍थ्‍य योजना.
Office of the Additional Director, Central Govt. Health Scheme
54, दक्षिणी छज्जूबाग ,पटला -800001
No. 3-8/2014-15/CGHS/Estt/PAT /352.
Dated:- 13.05.2022.
NOTICE
Consequent upon completion of formalities, Office of the Additional Director, CGHS Patna, is to be shifted at new premises at " KARPURI THAKUR SADAN" Aashiyana Digha Road Patna( As mentioned below) . Hence all central Govt. Offices /beneficiaries/ employees etc are hereby informed that kindly contact/make correspondence for all work related to CGHS, at new premises/address' w.e-f. 17.05.2022:-
The Additional Director
O/o Additional Director
Central Government health scheme
4th floor, A wing, GPOA Complex
Karpuri thakur sadan
Ashiyana Digha Road, Patna -800025.
E-mail id:- [email protected]
( Dr. Mridula Sinha)
Additional Director
Copy for information:-
All Central Government offices.
The AS & DG, CGHS, Nirman Bhawan New Delhi.
The Director, CGHS, Nirman Bhawan New Delhi.
The ADDG, CGHS (HQ) Nirman Bhawan New Delhi.
The Nodal officer, MCTC, with request to publish on CGHS Website.
All CMOI/c CGHS Patna, with instruction to paste a copy on Notice Board.
Notice Board.
Office Copy.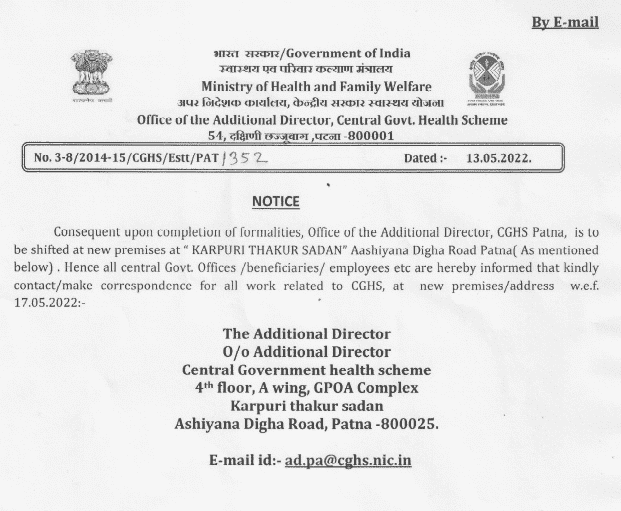 Source: Click to view/download PDF