Introduction of 5-days work week in banks – BEFI Circular No. 12/2023
BANK EMPLOYEES FEDERATION OF INDIA
NARESH PAUL CENTRE
53 Radha Bazar Lane (1st Floor), Kolkata – 700 001
7th March 2023
Circular No.12/2023
To all Units, Affiliates, Office Bearers, CC & GC Members
Dear Comrade,
5-Days Work Week
A meeting of UFBU was held on 24th Feb. 2023 virtually to discuss the captioned subject prior to a scheduled meeting on 28th Feb. 2023 between IBA and 8 constituent Unions / Associations. Except representatives of AIBOA, all other constituents attended the meeting. Com. C J Nandakumar, President of our Federation and the undersigned attended the virtual meeting.
In the meeting, after prolong discussion, it was unanimously decided that the Unions / Associations will stick to the UFBU suggestion of increasing 30 minutes per day to the proposal of IBA for increasing 45 minutes per day for introduction of 5-days work week in banks. It was further decided in the UFBU meeting that cash hours in the banks to be kept unchanged.
We received UFBU Circular No. 07/2023 dated 06.03.2023 this afternoon where it has been mentioned on the subject in regard to the meeting on 28th Feb. 2023 that, "After a lot of discussions, it has emerged that the total working hours can be increased by 40 minutes per day with cash transactions from 10 am to 4 pm and non-cash transactions upto 4.30 pm. IBA would take up the matter with higher authorities and concerned stake holders to take the issue further forward".
With greetings,
Yours comradely,
sd/-
(Debasish Basu Chaudhury)
General Secretary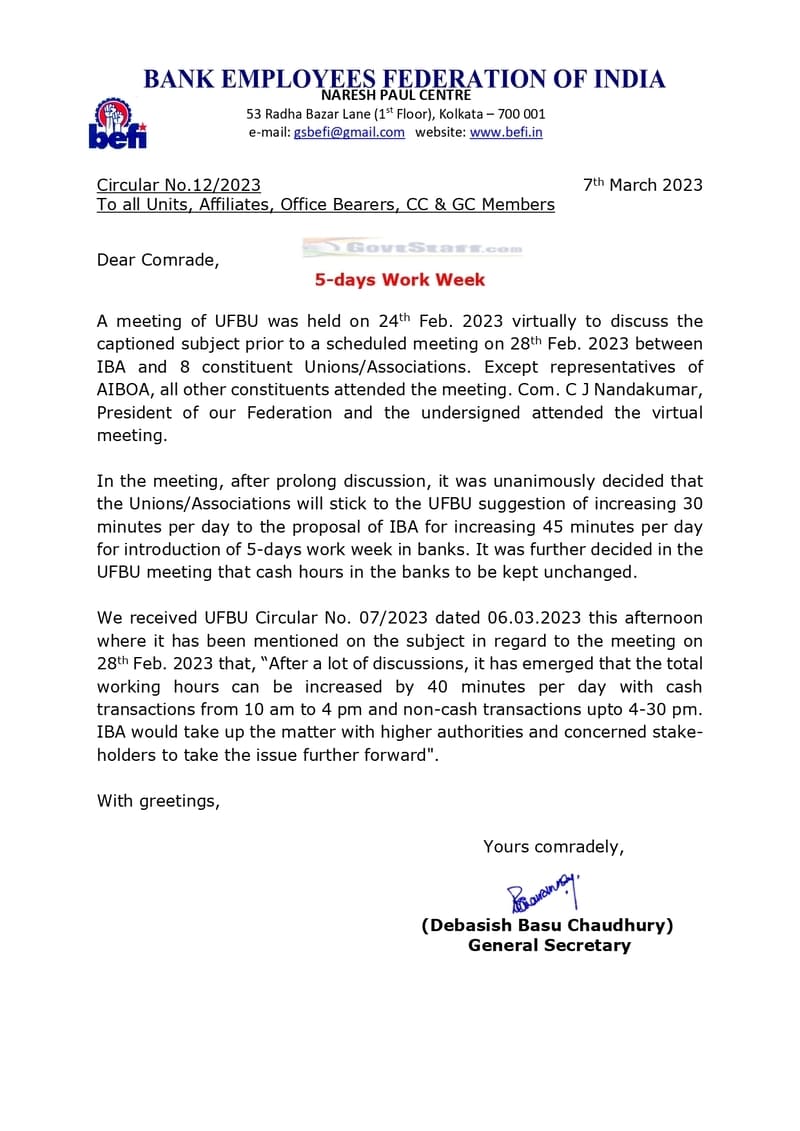 Source: BEFI