Foreign Training conducted by CPSEs during 2019-20 reg.
F.No. 18(1)/2020-MGMT
Government of India
Ministry of Heavy Industries and Public Enterprises
Department of Public Enterprises
Block No.14 , CGO Complex ,
Lodi Road, New Delhi-110003
Dated the 17th June, 2020
OFFICE MEMORANDUM
Subject: Foreign training conducted by Central Public Sector Enterprises (CPSEs) during the year 2020-21 – regarding
The undersigned  is directed to refer to Department of Personnel & Training O.M. No. T-16017/11/2019 -iGOT dated 15th June, 2020 (copy enclosed) and to state that due to the outbreak of COVID-19 pandemic and in view of the safety measures and the financial austerity, it has been decided that no foreign training shall be conducted by the CPSEs during the current financial year 2020-21.
2. In case, a CPSE proposes to conduct any foreign training under exceptional circumstances, prior approval of OPE must be obtained through the concerned administrative Ministry and OPE will consult DoPT before taking a decision on such proposal.
3. All administrative Ministries/Departments are requested to bring the above instructions to the notice of all CPSEs under their respective jurisdiction for information and immediate compliance.
Click here to view/download DoPT's O.M. No. T-16017/11/2019 -iGOT dated 15th June, 2020
Encl : As stated
(Lokesh Bajpai)
Director
Tel : 2436-0218
To Secretaries of all administrative Ministries/Departments
Copy to :- Shri Manoj Gupta, Under Secretary, Department of Personnel & Training, North Block, New Delhi.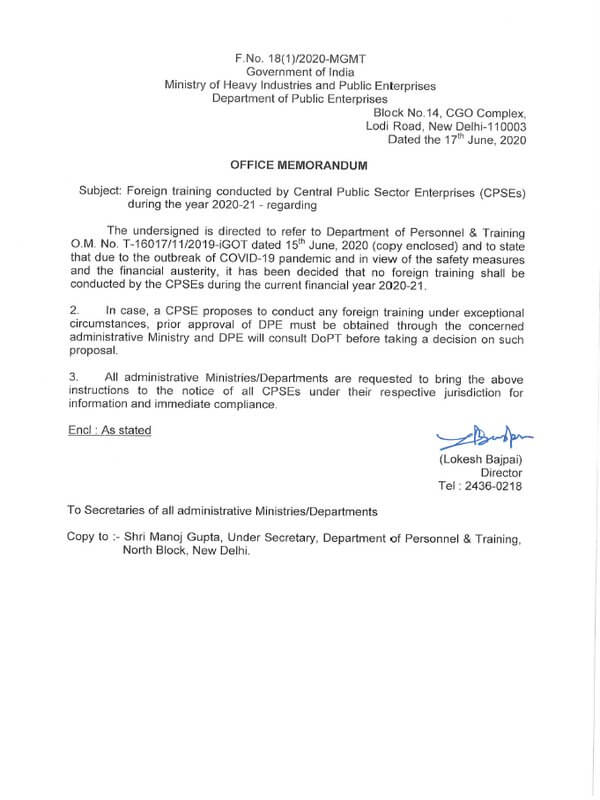 Source: Click here to view/download pdf