Online booking of Railway Rest Rooms, Holiday Homes, Community Centres through HRMS Module.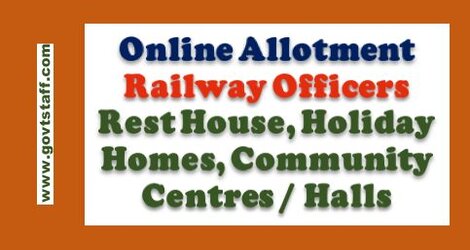 G.o.I., M.o.R., R.B. No. 2017/Trans/01/Policy dated September 10, 2020
Sub: Online Allotment of Railway Officers Rest House, Holiday Homes, Community Centres / Halls
Ref: Railway Board's letter of even number dated 31.5.2018[irp]
In order to develop an online system for booking of Staff/ Supervisors Rest Rooms, Holiday Homes (Officers/ Staff). Community Centres/ Halls & Officers Rest Houses with automatic allotment facility for certain percentage. and in continuation of letter under reference above. Board (Chairman & CEO, Railway Board) have approved the following :[irp]
The project will be part of Welfare Module of HRMS Project & charged accordingly.
The project is to be commissioned preferably along-with online payment option.
In view of co-existence of Division(s), Headquarter(s) and various units at same location, the administrative power of the allotment of Rest House facility and its control after the operationalisation of the online allotment facility will be as per the existing administrative control and allotment.[irp]
There shall be an Automatic allotment (Software generated) of Rooms/ beds upto 50% of the total numbers. The same will be further reviewed as per the experience gained after six months of implementation of the project.
Allotting ORH on long term basis for officers on transfer/temporary posting to be done based on 1:1 from Automatic and Manual quota of allotment by the Admin.[irp]
The rest house inventories are to be fed in the system starting from NWR & initially ORH booking of the project may be commissioned over NWR. After verifying its satisfactory working (software), project will be rolled out at other units.
Other parts of the project including online booking of Holiday Homes, Staff Rest Houses, etc. shall also be developed and to be rolled out from NWR.[irp]
Other Rules and Guidelines in this regard will remain. same and as modified from time to time.
Source: Railway Board
http://www.indianrailways.gov.in/railwayboard/uploads/directorate/Transformation_Cell/Circulars/2020/ORH_100920.pdf