Empanelment of private hospitals and Diagnostic Centres by N. Railway in Chandigarh Tricity – RSCWS writes to DRM, NR
RAILWAY SENIOR CITIZENS WELFARE SOCIETY
(Estd. 1991, Regd. No. 1881 – Under Registration of Societies Act)
Head Office: 32, Phase- 6, Mohali-160055
IDENTIFIED BY DOP&PW GOVT. OF INDIA – UNDER PENSIONERS' PORTAL
MEMBER, SCOVA (STANDING COMMITTEE FOR VOLUNTARY AGENCIES)

G. S. Sethi, Ex-CME, Chairman , RSCWS,
142, Phase 4 , Mohali -160059
M; 9417492026, Ph: 0172 2227451 Email: gurcharansinghsethi[at]yahoo.co.in
T. S. Kalra, Ex CEE, President,  RSCWS
1577, Phase 3 B-2,Sector 60, Mohali-160059
M: 9876173490, Ph: 0172 4620289
Email: tejkalra[at]gmail.com
Harchandan Singh, Ex-SSE Secretary General, RSCWS 32, Phase- 6, Mohali-160055 M:9316131598, 836045258
Email : rscws1991[at]gmail.com [email protected]
No. RSCWS/HO/CHD/P/Memo-Medical/10/2020-12

Dated: 30.10.2020
DRM,
Northern Railway, Ambala Division;
Ambala Cantt.
Email: [email protected]
Sub: Empanelment of private hospitals and Diagnostic Centres by N. Railway in Chandigarh Tricity
Ref :(i)This office letter No. RSCWS/HC/04/07/20 dtd 20.07.2020
(ii) Rly Board letter No.2018/Trans Cell/ Health/CGHS dtd 26.10.2018
(iii) Rly Board letter 2014/H-l/19/3/PNM, dated 05/10/2015
(iv) Rly Board letter 2016/H-l/11/69/Hospital Recognition dtd 23.12.2016
GMs of Indian railways were empowered, vide letters at reference (ii) & (iii) above, to recognize all CGHS empanelled hospitals, Eye Hospitals/Centres, exclusive Dental Clinics, Cancer Hospitals, Diagnostic Labs and Imaging Centres, for referrals and treatment of railway beneficiaries, at CGHS rates. Vide letter at reference( iv) above, this was extended to also include ECHS and ESIC empanelment.
In Chandigarh Tricity, i.e Chandigarh city itself plus the cities of Mohali and Panchkula, CGHS has empaneled 28 hospitals and 08 diagnostic centres (as per list placed at Annexure I).
Against the above, Railway empanelment includes only 08 hospitals and 02 diagnostic centres, although the railway medical beneficiaries are settled over a larger area, comprising of UT Chandigarh and Mohali & Panchkula districts. Even this small list of empanelment is further dwindling due to extension, in some cases, not being granted, by Northern Railway, Ambala division, ( reference the list placed at Annexure II).
Secondly, the empanelment of the two top hospitals, viz Fortis and Max, as well as of two other hospitals, stands suspended because of non payment of their long outstanding bills for a long time by Ambala division plus for different other official/procedural reasons. This is against Board's standing orders that the empanelment has to be automatically extended except for the specified reasons.
Furthermore there is no empanelment of exclusive Eye Hospitals and Dental clinics by UMB Division.
Proposed Empanelment of additional hospitals:
In case it may not be possible to empanel all the CGHS hospitals, at least the following ones, out of the CGHS list, may please be added to the existing railway empanelment list, to cover the wide spread area of UT Chandigarh and Mohali & Panchkula districts, where a number of RELHS opted beneficiaries , along with their families/dependents are settled.
Proposed Additional Multi- speciality Hospitals:
a) Landmark Hospital, sector 33, Chandigarh
b) Alchemist including Ojas Hospital, Panchkula
c) Paras Hospital, Panchkula
Proposed Eye Hospitals:
Grewal Eye Institute, Sector 9, Chandigarh
JP Eye Hospital, Phase 7, Mohali
Drishti Eye Hospital, Panchkula
(These three are well reputed exclusive eye hospitals located in the hearts of the cities of Chandigarh, Mohali and Panchkula.)
Proposed Dental Clinics:
Presently no dental clinic is empanelled. The following two can be covered.
 i) Dr Kochar House of Smiles, Chandigarh
ii) Indus Hygia Dental, Mohali
Proposed Additional Diagnostic Centres:
Presently only two diagnostic centres are empanelled, both are in Chandigarh and both are Imaging centres. No diagnostic lab is on the panel. The following well known ones may be empanelled:
A. Dr Lal Path Lab,
B. Chandigarh Clinical Labs , Chandigarh
C. SRL labs , Chandigarh
D. Helix Path Labs, Mohali
E. Health Map Diagnostics, Panchkula
F. Health Map CT Scan & MRI centre, Civil Hospital, sector 6, Panchkula
Desirability  of enhancement of empanelment list:
The prime advantage is cashless treatment, in respective residential areas of the patients, with proper referral from the CMS.
Secondly, even without getting authorized referral, railway patients can directly get consultation and treatment from these hospitals at sufficiently subsidized rates.
Thirdly, senior citizens, particularly those in the 70 plus age group, are routinely required to go in for different medical tests, specific to their health conditions, twice a year or so. They can get the tests done at subsidized rates from the empanelled labs , without any referrals.
It is earnestly requested that the empanelment be extended at the earliest to cover more hospitals and diagnostic centres as brought out above and the empanelment of Fortis and Max be got restored by clearing their heavy outstanding dues early.
( T S Kalra )
President/RSCWS & (retd) CEE
Encls: Two Annexusres
Copy for necessary action to-
CMS/UMB, [email protected]
Copy to- Pr CMD, HQ office/NDLS,  [email protected]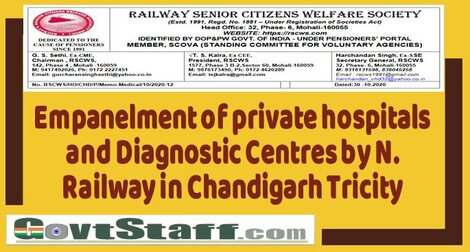 Click here to view/download PDF