Grant of provisional benefits on death/disability of Railway servants covered under NPS
GOVERNMENT OF INDIA (भारत सरकार)
MINISTRY OF RAILWAYS (रेल मंत्रालय)
RAILWAY BOARD (रेलवे बोर्ड)
No. D-43/4/2018-F(E)III
New Delhi. dated: 19.02.2021.
The General Managers/Principal Financial Advisors,
All Zonal Railways/Production Units.
Sub: Grant of provisional benefits on death/disability of Railway servants covered under National Pension System (NPS) – reg.
Attention is invited to Board's letter of even number dated 20.01.2020 vide which clarification was issued providing that Railway servant/family member in the case of death of Railway servant or his discharge from service on account of invalidation/disability is entitled to pension/family under old pension scheme under Railway Services (Pension)/ Rules 1993, if the Railway servant/family wants to. Also, the entire accumulated pension funds under NPS may be recovered from him/family with interest for the period from the date of receipt of entire accumulated pension wealth to subscriber under NPS to the date of refund to the Government at the rate and manner applicable to GPF deposits from time to time.
2. Now, references have been received in this office stating that some of the department family members of the deceased employees under NPS are not in a position to surrender the entire accumulated NPS corpus in one go. it has been requested that the dependent family members of the deceased Railway employees may be given option to return the accumulated NPS corpus of the employee in installments and from the arrears of the family pension instead of depositing the entire accumulated NPS corpus with interest.
3. The above issue have been examined in consultation with Department of pension & Pensioners' Welfare (DOP&PW) the nodal Department of the Government in pensionary matters. It is clarified that in case, the Railway servant or family has already availed benefits from accumulated pension corpus, the same may be recovered from them with interest. The accumulated pension corpus along with interest may be adjusted from the arrears of pension/family pension or any other method while ensuing at the same time that there is no loss to the Railways.
(G. Priya Sudarsani)
Director. Finance (Estt.)
Railway Board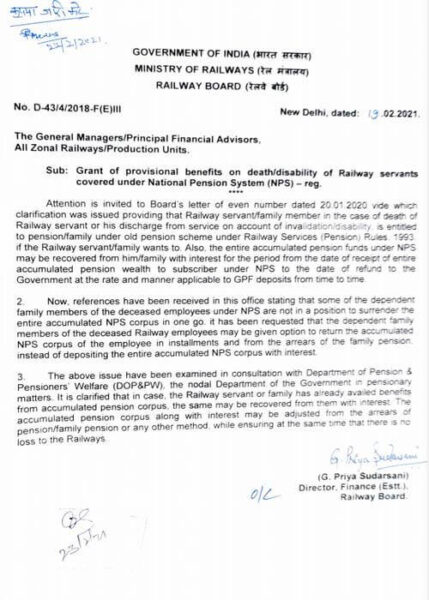 Source: Click here to view/download PDF