Empanelment of SURYAM IMAGING CENTRE under CGHS Ahmedabad
GOVERNMENT OF INDIA
OFFICE OF THE ADDITIONAL DIRECTOR
CENTRAL GOVERNMENT HEALTH SCHEME
No.CGHS/AHMD/ EMP.HOSPITAL/795
Dated: 10/08/2021.
OFFICE ORDER
Sub: – Empanelment of Private Health Care Organisation under CGHS, Ahmedabad as per Ministry of Health & Family Welfare New Delhi Letter no.S.11011/03/2018 CGHS (HEC) dated 26/12/2017
With reference to the Ministry's Office Memorandum no. S.11011/03/2018-CGHS (HEC) dated 26/12/2017; the following Health Care Organisations (HCOs) are empanelled under CGHS, Ahmedabad with effect from 10/08/2021 in addition to the existing HCOs empanelled under CGHS, Ahmedabad. The newly empanelled Hospitals may be treated as included in the existing list of empanelled health Care Organizations under CGHS Ahmedabad as per the terms and conditions of empanelment and MOA signed between CGHS and HCOs. The empanelment is valid for 2 years or till the new empanelment of HCOs, whichever is earlier.
S.No.
Name of HCOs
Address & Telephone No.
NABH/ Non NABH/ NABL/ Non-NABL
Nodal Officer Name, Mobile No., e-mail id
Facilities empanelled for
1
SURYAM IMAGING CENTRE
SPARSH COMPLEX, 1ST & 2ND FLOOR, NEAR IOC PETROL PUMP, OPP: GATE No.4, CIVIL HOSPITAL, ASARWA, AHMEDABAD-380016
NA
Mr. ANIRUDH KORI
Ph-9426758419
e-mail- [email protected]
X-RAY, USG, CT-SCAN, MRI
(DR.J. JHALA)
Additional Director
CGHS: Ahmedabad
To,
Suryam Imaging Centre, Ahmedabad.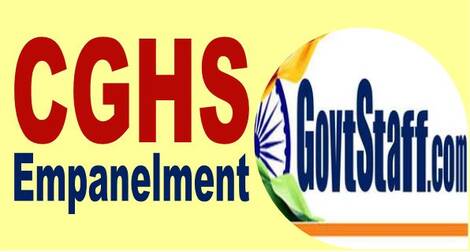 Source: Click here to view/download PDF