Resumption of Biometric Attendance in Railways – Preventive measures to contain the spread of Novel Coronavirus (COVID-19)
भारत सरकार GOVERNMENT OF INDIA
रेल मंत्रालय / MINISTRY OF RAILWAYS
रेलवे बोर्ड / RAILWAY BOARD
No. E(G)2021/CL-4/3
New Delhi, Dated: 03.11.2021
The General Managers,
All Indian Railways & Production Units, GMs/ NF Railway
Cons/ CORE/ Allahabad/ Metro Railway, Kolkata. DG/ RDSO,DG/ NAIR.
Sub: Preventive measures to contain the spread of Novel Coronavirus (COVID-19) – Resumption of Biometric Attendance regarding.
Ref: (i) Board's letter No. E(G)2017 / LE 1-34 dated. 09.03.2020.
(ii) Board's letter No. E(G)2021/CL-4/3 dated 02/06/2021, 10/05/2021 & 05/05/2021.
In continuation of Board's letters referred above, please find enclosed a copy of Office Memorandum No. 11013/9/2014-Estt.A-III dated 01.11.2021 issued by Ministry of Personnel, Public Grievances and Pensions (Department of Personnel and Training) on the above noted subject, for information and strict compliance.
DA: As above.
(Ashok Kumar Yadav)
Dy. Director Estt.(General)-I
Railway Board
Encl: Resumption of Biometric attendance w.e.f. 08.11.2021: DoP&T OM dated 01.11.2021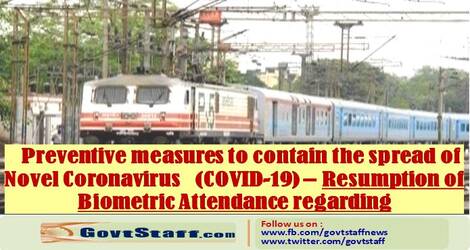 Source: Click here to view/download the PDF