Follow CGHS guidelines issued from time to time – DG CGHS issued instructions to all Wellness Centres and Units for strict adherence.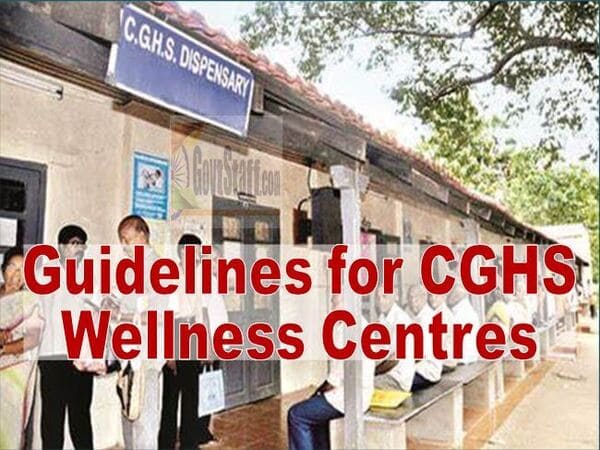 Government of India
Ministry of Health and Family Welfare
Department of Health & Family Welfare
Directorate General of CGHS
No: 2.15025/7/2022/DIR/CGHS
Nirman Bhawan, New Delhi 110 11
Dated the 15 December 2022
OFFICE ORDER
Subject:- Instructions to all CGHS Wellness Centres and Units to follow CGHS guidelines issued from time to time.
With reference to the above subject the undersigned is directed to state that CMOs in charge and other Medical Officers and staff of all CGHS Wellness Centres and the staff working at the administrative offices of CGHS shall keep themselves updated with the guidelines / orders issued under CGHS and implement the same in discharging their duties. In this regard it is reiterated that special attention may be paid for the following issues:
I) Punctuality in attendance – Additional Directors shall monitor the Aadhar based Bio-metric attendance system and take necessary action.
II) Self printed CGHS card is valid for all CGHS facilities and is valid in any CGHS Wellness Centre in the Country , even if , the card is registered with a Wellness Centre, where the card holder is residing. This applies to issues of medicines, referral and endorsement of referral.
III) CGHS beneficiaries may be issued medicines for treatment of chronic illnesses by medical Officers of CGHS for three months (including Indents) from any Wellness Centre. In case of treatment of Chronic illnesses , all CGHS Medical Officers are competent to provide follow-up treatment after advice by Specialists and Medical Officers of CGHS can issue the same medicines to CGHS beneficiaries prescribed by the Specialists even after the expiry of the validity of the prescription in Chronic diseases, where the clinical condition is stable and CGHS shall not insist on immediate revalidation by Specialists the period for which the prescription has been issued. Only in such cases , wherein there is a need for modification of the diagnosis and/or modification of the line of treatment, beneficiaries should be referred to the concerned specialist.
However, in cases of Chemotherapy medicines and immunosuppressant treatment regular follow up from Specialists would be advisable and medicines may be repeated upto seven days only awaiting the review by Specialists.
v) CMO In charge shall scrutinize indents placed by Medical Officers before, finalizing the indent for sending to Authorized Local Chemists.
vi) CMOs In charge shall keep themselves updated with the medicines stock of medicines supplied by MSO and to take steps to replenish the Stock at Wellness Centres to minimize the Indents to ALCs.
vii) All medical Officers shall be provided necessary items like Torch, Stethoscope, BP Apparatus etc., and shall record Blood Pressure as and when required; they shall also give Injections , if any , when Nursing Officers is not available.
viii) If any beneficiary is in need of urgent consultation, after registration is closed, Medical Officers have the option to examine the patient- When, a Medical Officer enters the Ben ID No in the prescription module, the system shall automatically generate the Serial Number for Registration.
vii) Additional Directors/ CMOs in charge shall monitor the number /Quantum of medicines procured through 'JanaAushadhi Pariyojana' — regarding the number / Quantity indented / supplied and take necessary corrective steps wherever possible to ensure availability of buffer stock of medicines obtained through Janaushadhi for two months
These guidelines are in supersession of the guidelines issued earlier on the subject.
Sd/-
(Dr Nikhilesh Chandra)
Director, CGHS
To
AD(HQ)/ Addl. DDG(HQ), CGHS / All Additional Directors, CGHS Cities/Zones/ MSD/ Nodal officer, CGHS(MCTC)
All CGHS Medical Officers and Staff through concerned Additional Directors-CMO in charge shall circulate a copy of the order to all Medical Officers and staff working in CGHS Wellness Centre/Unit
Click to view/download PDF
[http://confederationhq.blogspot.com/2022/12/nstructions-to-all-cghs-wellness.html]