MINUTES of The PNM Meeting between Railway Board and National Federation of Indian Railwaymen (NFIR) held on 19th & 20th May, 2023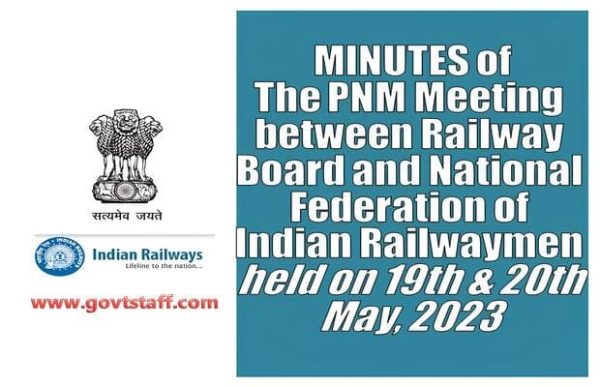 MINUTES OF THE PNM MEETING HELD BETWEEN RAILWAY BOARD AND NFIR ON 19TH & 20TH MAY, 2023
MEMBERS PRESENT
OFFICIAL SIDE

FEDERATION (NFIR)

S/Shri/Ms.
S/Shri/Ms.

Anil Kumar Lahoti Chairman, Railway Board & CEO
Anjali Goyal Member(Finance)
Roop Narayan Sunkar Member(Infra)
Jaya Varma Sinha Member(O&BD)
Naveen Gulati Member(TRS)
Dr. Sugandha Raha DG/RHS
Braj Mohan Agrawal DG(Safety)
Mohit Sinha DG(HR)
Sharad Mehta AM(L&A)
Vijay Pratap Singh AM(Traction)
Aruna Nayar AM(Staff)
Dr. A.K. Malhotra PED/Health
Deepak Peter Gabriel PED(IR)
Amit Varadan PED(Safety)
A.K. Chandra PED(W&D)
R.K. Jain PED/EE(Dev.)
Ashok Kumar Nakra ED/EE(Safety)
Sunil Kumar EDE
Ravindra Kumar EDE(N)
Mohit Chandra EDEE/RS II
Manish Gupta EDEEM
Bandana Sharma EDF(E)
Sundeep Pal EDPC
Neeraj Sharma EDPM
Ajeet Singh Yadav EDRS(P)
Pradeep Kumar Ojha EDTT(F)
Sumati Shandilya IG/HQ
Gaurav DCE(G)
Pradeep Nagar DCE(P)
N.P. Singh DE(P&A)
Pameer Arora Dir.L&A
Amit Singh Mehra Director/MPP
Vijay Singh DTK(MC)
Hem Chander JDE(IR)
U.K. Tiwari JDE(N)

Guman Singh, President, NFIR
M. Raghavaiah, Genl. Secy. NFIR
R.P. Bhatnagar
B.C. Sharma
Somnath Malik
R.P. Singh
P. S. Suriyaprakasam
Munindra Saikia
Vinod Mehta
C.P. Singh
Praveen C. Bajpai
Binod Sharma
R.G. Kabar
Ashok Sharma
R.C. Sahoo
S.R. Mishra
G. Ganeswar Rao
V. Gopalakrishnan
Ramesh Mishra
Taposh Mukherjee
P. S. Chaturvedi
Ramneek Sharma
Vinod Kumar Rai
Indrajit Singh
M.V. Tulasidas
Monisha Paladhi
Papiya Bhattacharjee
Section A- Introduction:
CRB & CEO as Chairman of the meeting addressed the gathering.
Shri Guman Singh, President/NFIR, Shri M. Raghavaiah, General Secretary/NFIR, other representatives of NFIR, members of the Official Side and my other colleagues in Railway Board, I extend a hearty welcome to all of you. I hope that the Agenda items of PNM with NFIR will be discussed and resolved fruitfully in this meeting.
I would like to mention that:-
In recognition of importance attached by Government of India to Ministry of Railways, highest ever Capital allocation of Rs.2.40 lakhs cr has been made for infrastructure development during FY-2022-23 as against 2.15 lakhs cr during the previous year. It shows Government's faith in Indian Railways.
Indian Railways has transported 1512 MT of freight during FY 2022- 23 as compared to 1418 MT in FY 2021-22, thereby registering a significant growth of 6.63% in freight loading. This is the highest ever freight traffic carried by Indian Railways in a single financial year. For the month of April, 2023 also, we have recorded loading of 126.46 MT which is an increase over the April, 2022 figures.
Indian Railways is making rapid progress to meet the 'Mission 100% Electrification' and has become the largest green railway network in the world. A record electrification of 6,542 RKM has been done during 2022-23 in the history of Indian Railways. The previous record during 2021-22 was of 6,366 RKM, thereby registering a growth of 2.76%.
In case of new lines (laying of new lines/doubling/gauge conversion), 5243 kms have been achieved during 2022-23 as against 2909 kms in 2021-22. Thus, on an average, 14.4 km of track is laid every day. It is also the highest commissioning ever.
Real-Time Train Information System (RTIS) associated with ISRO is being enforced by the Indian Railways for computerised chart preparation and passenger train data. A large number of digitally interlocked stations have been built, from old lever frames to computer based operating systems. To take advantage of digital technologies in train operations and to enhance safety, electronic interlocking is being adopted on a large scale.
Indian Railways has upgraded 530 Kms with automatic signalling as compared to 218 Kms during 2021-22, registering an increase of 143.12%. It is also the best figures achieved in automatic signaling in the history of Indian Railways.
Electronic interlocking has been provided at 538 stations during 2022-23 as compared to 421 stations in 2021-22, showing an increase of 27.79%.
1065 flyovers/underpasses have been made available during 2022-23 registering an increase of 7.14% as compared to 994 flyovers/underpasses in 2021-22 to facilitate the public to cross the tracks on the roads.
375 FOBs have been constructed during 2022-23 as against 373 FOBs in 2021-22 to facilitate the crossing of commuters/pedestrians.
Safety of people at level crossings (level crossing or LC gates) has been a major concern. 880 level crossing gates to be removed during 2022-23 as against 867 level crossing gates in 2021-22.
Indian Railways is giving priority to the development of 'Gati Shakti Freight Terminals' to increase its modal share in freight traffic. 30 freight terminals to be built during 2022-23 as against 21 freight terminals in 2021-22.
Under the 'Accessible India Campaign, Indian Railways is installing lifts and escalators at railway stations across the country to make movement on rail platforms accessible to physically challenged persons, old people and children. 215 lifts and 184 escalators have been installed during 2022-23 as against 208 lifts and 182 escalators in 2021-22.
Indian Railways makes every effort to make optimum use of resources by mobilizing scrap material and selling it through e-auction. Scrap sale during 2022- 23 is Rs.5736 crore as compared to Rs.5316 crore in 2021-22, showing a growth of 7.90%.
Yard remodelling was done in 414 stations during 2022-23 in Indian Railways.
I would also like to mention a few initiatives taken for HR Management and Staff Welfare:-
On boarding of employees is being done through HRMS from February onwards and physical service records have been dispensed with.
Implementation of BOS, Post Master, Seniority modules which are part of the Cadre Management modules is nearing completion in field units.
Development of Reservation, MPP modules of Cadre Management module has been completed and currently undergoing testing.
As part of our endeavour to bring in transparency in the system, for the first time in the history of Indian Railways Centralised Computer based examinations (CBT) for promotion to Group 'B' posts in Organised Services were introduced to reduce human interference and time taken for holding these selections.

30% LDCE was successfully conducted through centralized CBT in November, 2022 against 249 vacancies and 164 candidates have since been empanelled.
70% Selection for the vacancy cycle 2023-24 has also been conducted against 936 vacancies and finalization of results is under process. Similarly, preparations are in full swing for conducting its corresponding LDCE by mid- 2023 for approximately 350 vacancies.

In the period from April, 2022 to February, 2023, 1,497 Selections, 6,126 Suitability tests, 3,220 Trade Tests, 725 LDCEs and 36 GDCEs have been completed. As a result of large number of Selection and Non-selection tests conducted, 131649 staff were promoted by the end of February, 2023.
5,619 Compassionate Ground cases have been given out of 6,287 pending cases i.e. around 90% cases have been finalised. Further 574 cases are less than 3 months old.
2,021 cases of medical de-categorization out of 2,217 cases have been finalized, which is more than 91% of the pendency and accrual.
Directions for speedier disposal of mutual transfer and own request transfer cases have been issued. Resultantly, 5,297 case which is roughly 74% cases of mutual transfer have been implemented so far in the last financial year. 3,951 cases of own request transfer also have been considered along with 4,828 cases of inter- divisional transfer i.e. within the same Railway.
Scout/Guide & Cultural quota recruitment was started this financial year after a gap of 2-3 years.
Major policy directions/clarifications on reservation in promotion of PwBD staff, compassionate appointment in Level 7, waiver of type test requirement in ministerial categories for medically de-categorized staff, instructions on type test requirement for PwBD staff, revision in APARs of Level 1 staff etc have been issued.
Railway Recruitment Boards (RRBs) and Railway Recruitment Cells (RRCs) have taken special efforts to complete the ongoing recruitments namely CEN 01/2019 (NTPC categories), CEN RRC 01/2019 (Level 1) and CEN 03/2019 (Ministerial & Isolated categories).

More than 80,000 candidates have been empanelled and more than 70,000 candidates are in process of being empanelled in various categories including safety categories of Station Masters, Train Managers, Track Maintainers, Poinstman and Assistants in various departments.
The empanelment exercise of CEN-2/2018 was finally concluded this financial year and 61,524 numbers of candidates against 63,202 number of vacancies were empanelled.
Further against the empanelment of candidates against CEN-RRC-01/2019, a record number of 50,000 candidates have been empanelled.
Zonal Railways have done a good job of conducting PET, Document Verification and Medical Examination in record time of two months.
More than 5500 ALPs, 3500 JEs, 6000 Technicians and 250 para medical staff have also been empanelled by RRBs filling up vacancies in critical categories.
CCAAs candidates who have got training in Railway Establishments have been accorded benefit of giving one third weight age to NCVT marks while deciding merit as well as exemption from PET for recruitment to Level 1 posts.

Keeping in view of the acute stagnation prevailing amongst supervisors cadre, a two stage upgradation in the pay scales of 46 categories of seven departments have been effected vide RBE No. 155/2022 dated 17.11.2022. Through this upgradation 50% of the posts (approx. 87 thousand) in this 46 categories in L-7 were upgraded to L-8 and thereafter 50% of this posts were further upgraded to L-9 on non- functional basis after 4 years in L-8.
Exercise relating to Cadre restructuring of Group 'C' categories of Indian Railways which is decennial in nature has been initiated. Committee consisting of staff side and official side has been constituted and the preliminary meeting has also been held. Data required for this exercise is being collected from all the units in an exhaustive manner.
Decision enabling all Group 'C' Railway employees eligible for Night Duty Allowance irrespective of Basic Pay drawn by them have been taken. Further, the issue to waive of the payment made against Night Duty Allowance to ineligible staff as per previous norms is being taken up with DoP&T and MoF.
60 days Special Maternity Leave have been allowed to female railway servants undergoing trauma due to death of child soon after birth/stillbirth.
Passes/PTOs have been validated for travel in all types of trains being run by Indian Railways including Vande Bharat, Tejas Express trains, etc. as per instructions issued vide letter dated 28.10.2022.
The Post Retirement Complimentary Pass entitlement of Railway employees retired in different Pay Commission has been rationalised and uniform entitlement on the basis of "Status cum PLPM" (Pay Level Pay Matrix) has been introduced vide Board's letter dated 03.02.2023.
Enabling ecosystem for safety and empowerment of women. Instructions have been issued for adhering to the guidelines for ensuring safety, security and empowerment of women and girls in their workplace.
In order to address the evolving needs of Railway servants and their family, new head in the 'Staff Benefit Fund' namely, 'Promotion of Mental Health and Well Being of the employees' has been introduced and an amount of Rs.17/- per head has been allocated for this purpose.
I once again thank NFIR for their continued cooperation and also congratulate all Railwaymen for their performance and hard work.
****
Federation (NFIR) raised following points in their opening remarks during the meeting-
Shri Guman Singh, President/NFIR:
In his opening address, President/NFIR welcomed CRB and other Officials of Railway Board including the General Secretary/NFIR and members of the Federation attending PNM meeting. He informed the CRB that NFIR's PNM meeting is being held first time during the year 2023 and after a long gap of ten months, the delay is causing accumulation of Staff matters due to non-holding of PNM Meetings regularly. He further stated that formal meetings are being held only occasionally which are not yielding positive results and old issues have been pending for longer durations. He stated that the excellent performance of Indian Railways presented by the CRB during this address is the result of the dedication and hard work put in by the workforce of Indian Railways. He said that the Federations/Unions present the issues of Railway employees for satisfactory settlement through negotiations for the purpose of providing the staff welfare in order to see that they perform in the field in such a manner that they are able to produce best results. He used the phrase "a contended worker would give best output in comparison to dissatisfied employee". He said that the Railway Board is duty bound to resolve the staff issues presented in the negotiating forum of PNM seriously in order to provide motivation to the staff in the field.
He informed the Railway Board that as per initial arrangement, three PNM Meetings and three DC/JCM Meetings were convened in a year. The system was revised after due consultation that in a year a minimum of two PNM (with each Federation) and two DC/JCM Meetings should be held between the Federations and the Railway Board. He expressed unhappiness over the lackluster attitude pursued by the Railway Ministry in conducting PNM and DC/JCM Meetings with the Staff Side. He said that the last PNM Meeting of NFIR was held on 15th/16th July, 2022 whereas the DC/JCM Meeting was held on 05th/06th October, 2021. This has totally diluted the well-established negotiating system which has been in vogue for decades together, consequently staff issues continued to remain pending for want of settlement.
President/NFIR urged the CRB to kindly see that the revised procedure to hold PNM and DC/JCM Meetings with the Staff Side Federations is observed regularly for the purpose of achieving results in favour of Railway Staff who have been performing duties round the clock throughout the year of 365 days despite adverse conditions like extreme hot/cold or torrential rains.
He further informed the CRB that in every meeting he has been highlighting the issue of non-maintenance of Railway quarters in all the Divisions/Zones on Indian Railways and Production Units with the object of improving the condition of these quarters to make them livable. He said that no action has been taken by the Railway Board to allocate adequate amount of Funds to the Zonal Railways and Production Units to carryout maintenance of Railway quarters on par with Officers Bungalow/Flats which are maintained qualitatively without caring for funds.
While inviting the kind attention of CRB to the important issue of differential treatment meted out to Railway employees due to negative approach adopted by the
Railway Ministry, he stated that the Railway employees are not paid the Travelling Allowance/Hotel charges at par with the Central Government Employees when they proceed on duty at outstations where facility of Railway Rest Rooms/Rest House is not available. He said that the issue has been raised by NFIR in the PNM forum vide Item No. 32/2018 but unfortunately Railway Board did not agree to the justified demand of the Federation. He requested the CRB to kindly have relook on this issue and see that suitable instructions are issued to the Zonal Railways, Production Units etc., to improve the condition of Rest Houses of Staff and also in those places where Rest Houses are not available, the Staff are compensated with Hotel charges in accordance with the instructions issued by the Government of India for Central Government Employees without discrimination.
He further stated that in the past, Committees on various Staff Matters used to be constituted with members of Staff Side Federations for the purpose of joint discussions and arriving at conscious decisions. He stated with disappointment that though Committees are constituted presently with members of the Federations, but unfortunately, no action is taken on the recommendations of these Committees and cited the example of Risk & Hardship Allowance Committee, constituted about three years ago but no action has been taken on its recommendations. He also cited another example of formation of Cadre Restructuring Committee constituted in October 2021. He said that the new CRC Committee has met only once on 13/09/2022 since its inception and no action has been taken to proceed further. Example of Anomaly Committee was also cited which has never met.
Citing the example of non-grant of benefit of financial upgradation under MACPS to the Guard category (presently designated as Train Manager), the President said that there is all-round disappointment among staff of this category as they are being recruited in GP 2800/Level-5 and they retire in GP 4200/Level-6 i.e. after getting only one promotion. He further told the CRB that those Train Managers who are approaching Courts/Tribunals and obtaining orders in their favour for benefit of MACPS in higher grades, the judgements are being implemented for these staff only and unfortunately leaving those who are unable to approach the Courts/Tribunals. He reminded the CRB that in the NC/JCM meeting Chaired by Cabinet Secretary, in this meeting hall of Rail Bhavan on 13th April 2019 when CRB was also present, the Cabinet Secretary had categorically stated that once the staff issues are decided by the Courts/Tribunals and the decisions are implemented, policy decision must be taken to avoid the situation that every staff to approach the Court of Law. He urged the CRB to kindly follow guidelines given by the Cabinet Secretary on the important issues relating to MACPS benefits to the staff where a number of decisions have been given by various Courts including the Hon'ble Supreme Court but have been implemented only in favour of applicants only while large number of such staff remain without benefit due to negative decisions of Railway Board.
Raising the issue of shortage of Doctors, President/NFIR highlighted the need for posting of super-specialty Doctors in the Railway Hospitals/Health Units for qualitative improvements in the health services. Regarding posting of Nurses, he emphasized the need for filling the posts of Staff Nurse from female candidates, taking into account the aspect of providing Nursing facilities to the patients in Railway Hospitals. He urged the Railway Board to follow the principle of 80 : 20 (female Vs male) for filling through
RRBs. He also invited kind attention of CRB to the TA component included in the Running Allowance (KMA), required to be exempted from the purview of Income Tax and said that the limit was last revised sometime in the year 2011-12. He urged the CRB that since more than ten years have passed the TA component in the Running Allowance should be got exempted from Income Tax to provide relief to the Running Staff.
Dr. M. Raghavaiah, General Secretary/NFIR:
At the outset, the General Secretary, NFIR welcomed the Chairman & CEO, Members of Railway Board, other dignitaries and Railway Board Officers present in the PNM meeting. He expressed happiness over the presence of CRB with all Board Members unlike in the past besides DG (HR), DG (Safety), DG (RHS) and other high- ranking Officers of Railway Board. He hoped that the Railway Board consists of able, knowledgeable and dynamic Members led by CRB would ensure significant results and address staff issues raised by the Federation (NFIR) with positive mindset for generating greater satisfaction among all categories. Mr. Raghavaiah at the same time richly complimented the Railway Board for:-
(a) Highest ever freight loading – 1512 MT in the year 2022-23,
(b) Electrification of 6542 RKM,
(c) New Lines 5243Kms,
(d) Highest ever money received from scraps sale i.e. Rs. 5763 crore (increase of 7.90% over previous year 2021-2022),
(e) Good performance on passenger front– 623 crore passengers availed services in the year 2022-23,
(f) Increase in combined freight and passenger revenue of IR in the year 2022-23 exceeding Rs. 2 lakh crore mark.
2. While greeting the Railway Board for I.R.'s best performance, the General Secretary said that it was also attributable to healthy industrial relations in Railways due to matured approach pursued by the Federations (NFIR) since decades.
3. Dr. M. Raghavaiah stated that the Permanent Negotiating Machinery in the Railways needs to be made more effective. He said that formal meetings i.e. PNM are not being held regularly resulting accumulation of genuine grievances of staff. He urged that action be taken to make PNM more effective and the agenda items are considered with seriousness for resolving the same on the basis of logic, merit and genuineness instead dealing the issues casually. He pointed out that certain PNM Items although agreed to, formal decisions have not yet been issued which situation has been contributing for staff disappointment. In this context, he cited below a few examples:-
(a) Income Tax exemption in the case of 70% of KMA of Running Staff is pending despite discussions/commitment at highest level (39/2012 PNM):
The General Secretary stated that though issue highlighted was agreed upon10 years ago, yet the Railway Board has failed to get the rule implemented, even after lapse of a decade. The DOs of CRB & MF may be referred to.
(b) Stepping up of pay of seniors – Accounts Department – 15/2013 (PNM):
The General Secretary mentioned that in the special meeting held on 17/05/2016 by Member Staff in which FC also participated, it was decided that if 7th CPC recommendations are accepted by the Government, past cases of similar nature will be examined accordingly. The subject was again discussed at the level of CRB & CEO and Member Finance on 25/03/2022 who agreed to take initiative, but unfortunately no result.
(c) 32/2012 (PNM) – Revised cadre structure for Pointsmen category with Apex Pay Level-5:
The General Secretary pointed out that though the EDs Committee recommendations have been cleared at the level of Member, OBD, but till date, no formal orders have been issued. The Staff belonging to Pointsmen category are heavily stagnated at Pay Level-2 without career growth.
(d) 14/2010 & 15/2022 (PNM) – S&T Maintainers upgradation:
The General Secretary explained the grave injustice meted out to Maintainers (Signal & Telecom) in S&T Department on account of Railway Board's inaction in fulfilling its commitment for merger of MCM with JE (Sig) or JE (Tele) as the case may be. He further explained that in a separate meeting held with AM (Signal)/DG (Signal) on 10th May, 2016, it was agreed that the merger of MCM with JE will be considered. Trusting this assurance, the Federation did not seek revised ratio for Maintainers (Signal & Telecom) in the meeting held with full Board on 21st& 22nd July, 2016 where it was agreed to revise higher percentages to the Technicians cadre of all Department w.e.f. 01/09/2016. Sadly, in the case of Maintainers (Signal & Telecom) neither higher percentage of upgradation of Senior Technician has been granted from 1st September, 2016 nor merger of Senior Technician with JE (Signal) or JE (Telecom) is implemented. It is disappointing to note that the commitment given by Additional Member (Signal) and Pay Commission Directorate in a separate meeting held on 09th November, 2021 for enhancing the existing 27% of Senior Technician to not less than 35% in S&T Department, has not yet been implemented. The net result is that this category has been put to sufferings with no benefit of career growth while the Technicians of all other Departments got the upgradation benefit for September, 2016. He specially appealed to the CRB to kindly get the matter investigated for undoing the injustice meted out to maintainers (Signal & Telecom) on Indian Railways.
(e) Stenographers upgradation– Implementation of Railway Board's orders:
The GS mentioned that the Railway Board issued order 1989 to the GMs etc., and Fast Track Committee also held discussions, consequently Railway Board again issued orders to GMs in the year 2014 to implement orders of 1989, but sadly, the orders have not been implemented. The SCR offered matching surrender for granting upgradation to Stenos with the approval of GM. Sadly PFA while giving concurrence, imposed condition that implementation be done after Railway Board accords approval. Accordingly, SCR sent proposal to Railway Board and the same is pending.
(f) Injustice to Sr. Nursing Superintendents in respect of 6th CPC Pay:
GS mentioned that the Nursing cadre is unhappy due to the fact that the Railway Board have failed to take positive decision though there is sufficient merit in as much as the seniors are getting less pay than the juniors. Though Railway Board agreed in principle, no decision is forthcoming even after lapse of years.
(g) Accident Free Service Awards to specified safety category staff not ensured:
The GS conveyed the deep sense of disappointment among certain safety category staff who have not been presented Accident Free Service Award. On Southern Railway, the SMs/TIs have approached Hon'ble CAT and obtained direction and thereafter, the Southern Railway Administration granted Awards. He requested Railway Board to sensitize Zonal Railways.
4. The General Secretary, NFIR highlighted following core issues which required immediate intervention at the level of CRB & CEO:
(a) RBE No. 155/2022 dated 17/11/2022 – Many Supervisory Officials not covered for upgradation to Level-8 & 9:
The General Secretary stated that more than 19 left out categories are required to be covered for granting upgradation to Level-8 & 9. In this connection, NFIR has already explained the amount of injustice done to certain Supervisory Officials and this subject is also in the agenda for next PNM meeting. He explained as example, the case of Health & Malaria Inspectors who were allotted higher pay scale of Rs. 5500-9000 from January, 1996, but sadly brought down to GP 4200 from January, 2006. Their role involves field working, monitoring, supervision and inspection. It is unfortunate that this category has not been covered under RBE No. 155/2022. There is therefore urgent need to take action for rendering justice to the left out categories of Supervisory Officials. He requested CRB to kindly see that action is expedited.
(b) Risk and Hardship Allowance:
GS/NFIR mentioned to CRB & CEO that the EDs Committee report recommending Risk and Hardship Allowance to certain safety categories is pending at Railway Board's level as no action has been taken though more than 2 years passed. Requested to expedite approval.
(c) NDA to those in Level-9 denied (Example: SMs, Matrons etc.,):
Kind attention of CRB was invited to Federation's letter dated 21/04/2023 wherein it was requested to issue instructions to the General Managers of Zonal Railways, production Units etc., to grant payment of Night Duty Allowance to Group 'C' Staff drawing Pay in Level-9 also. This may be sorted out immediately.
(d) Rakshak to save lives of Track Maintainers:
GS stated that in the interest of safety of Staff, the "Rakshak" needs to be integrated with "Kavach" to eliminate the cases of run over of Track Maintainers in the course of performing duties.
(e) Bogie Mounted Breaking System (BMBS):
Dr. Raghavaiah said that the BMBS system needs to be reviewed in the light of several failures, leading to SPAD and death of Loco Pilot. He said that LPs/ALPs are being victimized by resorting to removals, alleging SPAD though these occurrences are taking place on account of defective BMBS. He requested CRB to arrange to see that the morale of LPs is enhanced.
(f) SPAD cases:
GS/NFIR further stated that additional chance for clearing psycho test may be permitted to those Loco Pilots related to SPAD (who have been reinstated). He reminded the CRB
& CEO that though some Zonal Railways have given positive recommendations, but however orders have not been issued yet.
(g) Thousands of Railway quarters vacant – CLW, Bhilai of SECR:
GS requested to frame a policy for allotment of vacant quarters to retired Railway employees in order to realize revenue which could be utilized for maintenance of these quarters and at the same time for preventing anti-social elements from misusing vacant accommodations.
(h) LARSGESS discontinuance:
GS said that NFIR's proposal for introduction of new Scheme was sent to Board in the
year 2019 which may be considered in depth for motivating safety category staff.
(i) Extended panels in Group 'C' selections:
The GS stated that the policy for approving extended panels is in vogue for promotion of Group 'C' Staff to Group 'B' Gazetted and the same needs to be extended within Group 'C' selections in order to see that qualified candidates are provided promotion opportunity against the assessed vacancies. He requested that NFIR's reference dated 17th April, 2023 may be connected.
(j) One time relaxation to App 2 A qualified Accounts clerks for promotion to the posts of JAA against D/R quota on S.C. Railway:
The General Secretary informed that there are 371 vacancies against sanctioned strength of 761 in Accounts Department of S.C. Railway and even after joining of 76 RRB candidates, the vacancy position is of the level of 40% of total strength. He stated that NFIR's letter No. II/70/2023 dated 06/04/2023 addressed to DG/HR may be connected wherein full justification has been made out. It may be noted that the relaxation will not add additional manpower and on the other hand, Appendix qualified staff will get promoted as JAA against DR quota vacancies.
(k) Compassionate Ground appointment to widows/wards of deceased employees:
The General Secretary explained with heavy heart that in the Zones/Divisions/Units, the administrations have been rejecting even genuine claims of the widows/wards of Railway employees for granting compassionate ground appointment in the non-safety categories though the cases deserve on merits i.e. taking into account the higher qualification, marks scored in the written test for granting compassionate appointment in the NTPC categories including the Ministerial cadre. He urged upon the CRB & CEO to kindly look into the matter in order to accommodate genuine cases.
(l) GDCE – Extension beyond 31/03/2024:
Dr. M. Raghavaiah apprised the CRB & CEO that NFIR has been pleading consistently, justifying the need to make the Scheme of GDCE permanent. Unfortunately, the Railway Board did not agree so far, whereas the currency would lapse on 31st March, 2024. GS/NFIR while urging for further extension of GDCE beyond 31/03/2024, requested to consider its demand for making it as a "permanent scheme".
(m) RBE No. 31/2021 dated 22/04/2021 – DC/JCM Item No. 15/2021 relating to ACP/MACP:
The General Secretary brought to the notice of Railway Board that the benefit of financial upgradation under ACPS/MACPS was granted to the Staff 12 years back on the basis of instructions of DoP&T/Railway Board that the promotions taken place for certain grades which were merged later on as a result of 6th CPC recommendations should be ignored. The General Secretary expressed disappointment over issuance of RBE No. 31/2021 dated 22nd April, 2021 stating that the financial upgradations granted in the past in the pay scales which were merged later on, are to be reckoned as promotion under MACPS. This decision would harm immensely to the Staff who were granted benefit 12 years back. He expressed surprise over Railway Board's decision without looking into the DoP&T O.M./Board's instructions of 12 years old. He urged upon the CRB to kindly see that benefits extended in the past are allowed to continue.
(n) RBE No. 34/2023–Fixation of pay of Running Staff on promotion to the 'General Posts' – Clarifications:
The GS/NFIR brought to the notice of CRB & CEO an illogical clarification issued by the Railway Board vide RBE No. 34/2023 dated 20th February, 2023 relating to fixation of pay of Running Staff on promotion to the Stationary posts filled through 'General Selection' in gross violation of "Running Allowance Rules of Running Staff – 1981" and the provisions made in the IREM. He requested CRB to kindly peruse Federation's letter dated 28/02/2023 followed by letter dated 13/04/2023 and withdraw instructions contained in RBE No. 34/2023 dated 20th February, 2023.
(o) More PLB days in view of highest ever performance:
While expressing happiness over the performance of Indian Railways as presented by the CRB & CEO during inaugural address, General Secretary/NFIR requested the CRB to kindly take initiative for announcing increased number of days of P.L. Bonus this time much earlier to Dussehra Festival for motivating staff.
(p) Committee to rethink on NPS headed by Finance Secretary, Government of India:
The General Secretary/NFIR conveyed to the CRB & CEO that two Railway Ministers have sent proposals to the Government of India to exempt Railways from the purview of National Pension System (NPS)as the Indian Railways working is unique, complex and incomparable with any other Ministry/Department and its role is akin to Defence Forces. He apprised to the CRB that recently the Government of India has setup a Committee under the Chairmanship of Finance Secretary and Secretary (Exp), Ministry of Finance with three other Members on 06th April, 2023 to rethink on NPS for improvement. He urged the CRB that this opportunity be utilized by the Railway Ministry for presenting Railways case based on the justification already given by the two successive Railway Ministers for exempting Railways from NPS and for restoring Old Pension Scheme.
(q) Stepping up of pay of CLIs appointed prior to 01/01/2006:
The General Secretary/NFIR brought to the notice of CRB that the Railway Board had issued special dispensation orders vide RBE No. 07/2020 dated 27/01/2020 in order to eliminate the flood of Court cases on stepping up of pay. He expressed unhappiness over an unwarranted clarification issued by the Railway Board to South Central Railway on 07/11/2022 i.e. after 2 years 10 months which has again created mental agony among CLIs over Indian Railways. He expressed that the unwanted clarification issued by the Railway Board is going to open pandora box of cases in the Courts and the Railways and Railway Ministry will be involved in further round of litigations. He requested the CRB & CEO to kindly see that clarificatory letter dated 07/11/2022 is withdrawn.
(r) Continuance of Railway Printing Presses (05 on IR) – closure decision:
Dr. M. Raghavaiah invited kind attention of CRB to the instructions issued recently by the Railway Board vide letter dated 3rd May, 2023wherein Railway Board issued orders for closure of five Printing Presses after 31/03/2023. While briefing the CRB over the closure decision and its adverse impact not only on the Railway employees but also on the IR system as a whole, GS/NFIR said that such decisions cannot be taken arbitrarily without consultations with the Staff Side Federations. He further stated that in the past also, this issue was deliberated in the NFIR's PNM Meeting held on 15th& 16th July, 2022 and also in the DC/JCM (Railways) Meeting on 05th/06th October, 2021. He urged the CRB & CEO to kindly keep the order dated 03/05/2023 in abeyance and see that consultations with the Federations are initiated for achieving consensus.
(s) RCF/Stores establishment at Tilak Bridge, New Delhi – Staff being transferredto RCF/Kapurthala.
Seeking intervention of CRB & CEO, General Secretary/NFIR requested that instructions be issued to the General Manager, RCF/Kapurthala to see that the RCF staff working in the Camp Office at Tilak Bridge, New Delhi are continued atleast for 03 years more, considering their problems on domestic front.
(t) Selection ofCLIs:
GS/NFIR brought to the kind notice of CRB that according to RBE No. 108/2019 dated 03/07/2019 the panels of CLIs through selection process be drawn on seniority-cum- suitability. Federation is surprised that subsequently the Railway Board issued revised instructions vide RBE No. 80/2021 dated 03/11/2021, treating as General Selection", giving scope for more number of Court cases. He requested the CRB to kindly see that the earlier instructions vide RBE No. 108/2019 dated 03/07/2019 are restored in the interest of Railways and for ensuring justice to the senior qualified LPs.
(u) Lateral induction of Track Maintainers into other Departments:
GS/NFIR also conveyed to CRB that the lateral induction of Track Maintainers into other Departments is not being ensured by Zonal Railways, resulting disappointment among Track Maintainers. He requested to see that annual calendar is issued for processing lateral induction without deviation.
Issues required to be addressed:
Railway Board's orders to surrender 2% posts, resulting heavy burden on staff. Even promotion posts are surrendered.
Non-creation of new posts for new assets – Heavy burden on staff.
Consultations on major policy decisions – Guidelines be issued.
On ECR, higher grade posts of Level-4 and 5 (58 + 29) in TMTR category surrendered for implementation of 10 : 20 : 20 : 50 ratio in GP 2800, 2400, 1900 & 1800 respectively w.e.f. 08/03/2019, which is highly improper.
On Central Railway select list of TMTR for lateral induction against 40% vacancies in other departments on bottom seniority cancelled, resulting disappointment to TMTRs. This needs to be reviewed.
Crew – Half yearly review. Board's letter dated 30/08/2022 – needs to be reviewed.
Large number of vacancies of SSO (A)- N. Railway 158 vacancies – Railway Board may look into for remedy.
Other issues raised by NFIR's Office Bearers:
Stitching charges of uniform were last revised in the year 2011 vide RBE No. 126/2011 w.e.f. 1st April, 2011. Further revision has not taken place though period of more than 12 years passed.
Majority activities relating to Personnel and Accounts Department have been digitalized due to Government's decisions. Federation desires to convey that since good number of Railway employees have been working in the field, but they have not been provided infrastructure facilities such as Laptop, PC etc., It is also relevant to state that with the introduction of HRMS, the concerning Staff handling the activities through software such as issuance of privilege/complimentary passes, pay rolls, transfer and posting of staff etc., are required to be undertaken but in the absence of equipment such as Laptop it is not possible for staff to work systematically. Federation therefore urges for issuing instructions to the General Managers of Zonal Railways, Production Units etc., for provision of Laptop atleast to Supervisory Officials working in Grade Pay 4600/Level-7 and above in the interest of improving the system's efficiency. The issue was raised by one of the Affiliated Union of NFIR i.e. URMU at Zonal level but however the Railway Board vide letter No. 2017/RBCC/56/2/Union Memorandum dated 29/07/2019did not agree and sent negative reply to Northern Railway Administration. Federation demands that the matter may please be reviewed.
Payment of incentive to the AC Loco, DMU Staff working in Loco Workshop, Perambur and Diesel Staff working in GOC Workshop in lieu of Over Time Allowance. The proposal sent by the General Manager, Southern Railway has been pending since long, the same may kindly be expedited.
In case Railway Administration takes decision to outsource the Power Car, it is very much necessary to ensure that atleast two departmental AC Staff are deployed along with contract staff for taking care of any untoward situation.
Pursuant to NFIR's demand vide PNM Agenda Item No. 57/2018, instructions were issued by the Railway Board vide letter No. 2014/E(Sports)/5(2)/16/GYM dated 01/12/2020(RBE No. 111/2020),delegating powers to all Zonal Railways etc., to grant additional increments to Sports Persons for excellence at International and National levels for the cases prior to 31/12/2010 also. Federation feels disappointed that though more than two years passed, the instructions have not been implemented in respect of 48 Sports Persons of Southern Railway. This may kindly be ensured.
The subject relating to reduction of duty hours and revision of classification of Engineering and Traffic Gate Keepers as "Continuous" was taken up by NFIR in the PNM vide Agenda Item No. 31/2015 & 34/2016. Consequently, Railway Board vide letter No. 2012/E(LL)/HER/23 dated 30th September, 2016 issued orders, unfortunately these orders have not been implemented on Southern Railway.
Railway Board vide letter No. 2019/LMB/II/1/12 dated 24/09/2015 issued orders on NFIR's PNM demand for provision of drinking water and improvement of the condition of Gate Lodges for Track Maintainers. Board's instructions are not being implemented on Southern Railway. Board's intervention is solicited.
Though instructions have been issued by Railway Board vide letter No. E(LR-I) /JCM-2-1 dated 18/05/2011 pursuant to the decision taken on DC/JCM Item No. 18/2010 for provision of Staff Room for Station Staff at wayside stations, these instructions are not being implemented on Southern Railway. Action needs to be taken to get Board's instructions implemented.
On Southern Railway, the C&W Staff and AC Wing Staff of Coach Maintenance Depot(C&W) TLD have been working in unsafe facing pathetic conditions particularly those connected with the under gear examination of coaches. Necessary action is required to be taken in the matter, this being safety hazard.
On all the Zonal Railways and Production Units, there is staff grievance over non- implementation of orders of upgradation of Supervisory Officials issued vide RBE No. 155/2022 dated 17/11/2022. Instructions need to be issued to all concerned to implement orders without delay.
On N.E. Railway the traffic has increased while the line capacity has dropped. The Pointsmen are being utilized for 12 hours instead of 08 hours duty. They have not been paid OTA.
On N.E. Railway the posts of Shunting Master and Shunting Jamadar in GP 2400
& 4200 are being surrendered despite the fact that these are promotional posts. This is causing frustration among Pointsmen working in GP 1800 & GP 1900 who are being utilized to perform Shunting duties though without promotion to higher grades i.e. in GP 2400/Level-4& GP 4200/Level-6.
On Varanasi Division of N.E. Railway, Departmental Selection for filling the promotional quota vacancies of Station Master was held sometime in the year 2017. Thereafter, more than 06 years have passed, unfortunately selection has not been convened causing no promotion to Operating Staff working in lower grades of Pointsman, Cabinman & Gateman. Instructions need to be issued to the General Manager, North Eastern Railway, to fill promotional quota vacancies of Station Masters on all the Divisions soon to facilitate lower grade Operating Staff to receive benefit of promotion.
A case of Track Maintainers working on North Eastern Railway was reported where duty hours have been rostered from 06.00 AM to 06.00 PM (12 hours working with long break from 11.00 AM to 03.00 PM) without weekly rest. There is strong resentment and frustration among Track Maintainers who virtually have no time left to attend to domestic problems. Board's intervention needed to mitigate hardships faced by the Track Maintainers.
There has been a general grievance from the staff of Operating Department that their duty roster have been fixed for 12 hours in all the Divisions of North Eastern Railway instead of 08 hours duty. Suitable communication be sent to General Manager, NE Railway, to introduce 08 hours duty roster for Operating Department staff.
Clear cut guidelines are required to be issued by the Railway Board for filing vacancies of Section Controllers (GP 4200/Level-6) against LDCE quota.
Requested to provide special fund for modernization of Chittaranjan Locomotive Works to facilitate manufacture High-Power Electric Locomotives of 9000 HP & 12000 HP at CLW Workshop.
There are about 2000 vacant Railway quarters in CLW for which there are no takers. Requested to kindly frame a policy so that these vacant quarters could be allotted to retired railway employees and the revenue received can be utilized for maintenance of these quarters.
P.S. Suriyaparakasam
The following issues highlighted in the NFIR PNM with Railway Board held on 19th & 20th May 2023.
1. Payment of Incentive Allowance to the AC Loco staff, DEMU staff of LW/PER & DSL Staff of GOC Workshop instead of Overtime Allowance. In this connection we came to know that CWM/LW, CWM/GOC & CWE/S.Rly., already recommended to the Railway Board that the incentive allowance to be paid instead of OTA which save the amount of Rs.1 crore / Per Month (Yearly 12 crores). Already papers submitted by S.Rly., to Board. Request for early action.
2. Synopsis of Problems facing by AC Escorting Staff:
Two staff must be nominated for power car manning, because,
a) A staff can't uncouple IVC/UIC while doing ETR at the enroute station, some Locos modified the couplers to 10 feet high. So there is a delay and the train travel time increases. (Staff deputed LSLRD (HOG) will also attend any public complaint in non AC coach. In this connection, it is to convey that Boards instructions are silent on deployment of additional staff in LSLRD (HOG) coaches and in the absence of staff in LSLRD difficulties would arise to Power Car staff (one number) to couple and decouple ZS/UIC coupler between Power and Loco when working on HOG). If any problem occurred in the IVC Coupler in between coaches in running train, immediately the AC coach mechanic has to react and he has to contact DG operator (contract staff) and after switching off the supply then only he will rectify the problem. (It is pertinent to mention that he has to depend upon the contract staff statement and then only he will attend the work which is highly dangerous).
3. Granting of additional incentive increments to sportsperson for their achievements before 2010 (NFIR PNM Sub. 57/2018) – 48 Sports Personnels of S.Rly., who had brought laurels for India and Indian Railways were not claimed Incentive Increment despite repeated representations. Railway Board orders have not been implemented. We therefore request you to kindly take necessary expedite action as already delayed for more than 10 – 25 years.
4. Request for utilising Course Completed Act Apprentices who got selected through RRC. Many Course Completed Act Apprentices selected through RRC have got much experience in the Workshops. Now they were posted in the P. Way Wing. The very purpose of imparting training and thorough field knowledge got defeated due to non utilising in the same stream. Therefore we request that selected candidates may kindly be utilised in Workshops or related open line department ie. C&W, TLD, S&T, Electrical, etc.
5. Non Implementation of Railway Board Circulars by Southern Railway:
a) Reduction of duty hours and revision of classification of Engineering & Traffic Gateman as "Continuous":-
This was discussed in the NFIR PNM Sub. No. 31/2015 and 34/2016.
Railway Board had issued Letter No. 2012/E(LL)/HER/23 dated 30.09.2016.
Railway Board reminded vide Letter No. 2016/E(LL)/HER/22 dated 10.07.2018, 27.11.2018, 31.01.2019.
HOER rule 1961 and Railway Board Lr. dated E(LL)/2001/HER/9 dated 09.08.2005.
High Power Committee headed by Sri. T.P. Tripathi (constituted by Railway Board to review the duties of Safety Category) vide para 5.4 of Page 226, Para
5.5.5 and 5.5.6.
SRES/NFIR convey that despite instruction issued by Railway Board the Southern Railway administration has not conducted job analysis. The Gate Keepers are put in much hardship due to inadequate deployment of Gate Keepers at Level crossing gates in Engineering Department there has been manifold increase in the workload as number of train services / road vehicles increased, however there has been no corresponding increase in number of gate keepers for manning the gates, resulting jeopardizing the safe running of train services.
We request Hon'ble Chairman to kindly give suitable instructions to adhere the Railway Board orders and to conduct job analysis immediately to revise the 8 hrs duty since 5 years have passed.
b) Non availability of drinking water and dilapidated condition of Gate Lodge Track maintainers put to severe hardship:-
Railway Board Lr. No. 2019/LMB/II/1/12 dated 24.09.2015.
The above order and also reminders have not been implemented in Southern Railway resulting a portion of concrete ceiling fell on Smt. A. Vasantha, Pointsman 'A' on a 28.07.2018 around 18.00 hrs while on duty at (Punkunnam) PNQ station LC No. 19. She had a severe head injury and was admitted in hospital for treatment.
The Southern Railway administration have not taken measures for ensuring supply of drinking water to track maintainer at work places ie. At Railway tracks as well as at level crossing gates. The gate lodges wherever available in very bad shape (dilapidated condition) due to leakage of roof and cracked walls causing safety hazards to those track maintainers who man the gates. At some gate lodges, no power supply is ensured. The solar power supply lasts for a few hours consequently the Gate Keepers are compelled to perform duties in total darkness.
Gate Keepers are put in much hardship not only implementing 8 hrs roster, the Gate Lodges are in pathetic condition.
c) Provision of staffroom for station staff at Wayside stations:-
Railway Board Letter No. E(LR-I)/JCM-2-1 dated 18.05.2012.
Though, the above issue was discussed under DC-JCM on Sub. No. 18/2010 & it was replied by Southern Railway to Railway Board that 58 stations identified for rest rooms whereas 45 stations were already provided rest room. In this connection, SRES would like to bring to the kind notice of the Chairman that the factual position was almost all the place / way side station staff of Traffic, Signal, Engineering, OHE, Bridges are not provided with staff room and much hardship experienced by women / male employee and they have to keep their belongings, taking food (literally under the tree/platform), changing the uniform, even personal tools which account in the employees tools card, etc.
To mitigate the above problem we suggest an action plan to be drawn for implementing the same without any delay.
6. Request for Golden Jubilee Celebration at TNP and RE/MS. The DSL Shed Tondiarpet / MAS Division of S.Rly., as well as RE/MS of S.Rly., had already celebrated Silver Jubilee celebration by inviting all the Former Officers and staff. This will motivate present employees to improve their efficiency.
7. Delay in implementation of Supervisors upgradation in GP 4800 & 5400. In S.Rly., more than 80% of the above upgradation were not implemented. Staff are frustrated and disappointed. Request for early implementation.
R G Kabar:
Selection to the post of Station Master Scale of Rs.9300-34800+GP 4200/L-6 against 15% LDCE Quota and 25% Ranker quota:-
DRM-RJT has served show-cause Notice to some employees who were erroneously promoted to the post of ASM Scale Rs.9300-34800+GP4200 /L-6 against 15% LDCE Quota and 25% Ranker quota. Unfortunately rather than reverting the employees GM (E)- CCG has referred the matter to Railway board for clarification. While referring the matter Western Railway has communicated misleading information to the board, resulted into lack of clarity while communicating reply by Board to Western Railway vide letter No.E(NG)I/2023/PM1/2 dated 14.02.2023.
Since the issue is clear-cut violation of Codal Provision by RJT Division while conducting selections NFIR vide letter No.NFIR/11/6/2023 dtd.15.05.2023 requesting Railway board for withdrawing letter dtd.14.02.2023 which was sent to General Manager WR.
****
Section – B: Minutes
DG(RHS)/ PED(Health)
8/2017: Policy guidelines for Medical fitness of employees of various medical categories who have undergone LASIK Surgery-reg.
---
Official Side informed that candidates have been allowed fitness based on a Supreme Court's judgement. A letter has also since been issued. Similar decision is to be taken regarding the employees soon. Accordingly, orders will be issued in 4 weeks. Federation has brought the notice to Railway Board the recent development on SER wherein the Loco Pilots working since last more than 18 years being dealt under D&A and a few of them have been removed from service. Federation contended that the action taken by SER is improper. Therefore, suitable instructions should be issued to the Zonal Railway to review and rectify. A decision will be taken at the earliest.
25/2022: Re-medical examination of compassionate ground appointment candidates earlier declared unfit on account of Diabetes Mellitus
---
Official Side stated that issue will be considered with respect to date of applicability in consultation with Health Dte. and suitably communicated.
9/2023: Reimbursement of Medical expenses to serving/retired Railway employees – Hon'ble Supreme Court's decision-reg.
---
Official Side stated that in terms of Para 15 of the judgment, the Judgment is confined to the case in question only. Extant procedures are already available for reimbursement of medical expenses in Indian Railways as per SOP 5(a) of Medical Matters which are comprehensive. Federation was asked to submit specific cases where reimbursement has not been made. Federation requested the Railway Board to check up with the MOHW whether the instructions exist in reference to Judgement of Supreme Court.
23/2023: New technology relating to Knee joint replacement – Referral provision through MOU with corporate Hospitals-reg.
---
Official side stated that Knee Replacement as of now continues to remain suspect in terms of benefits. So, incorporating of Robotic Total Knee Replacement in MOU at this juncture may be ill advised. Therefore, it does not seem feasible to include Robotic Knee Replacement surgery in MOU with Corporate Hospitals.
Federation requested to give the brief related to Robotic Knee Replacement Surgery. Official side agreed to provide the brief. The item may be treated as finalised.
(Finalised)
AM(CE)/ EDTK(M&MC)#
25/2018#: Creation of posts of Driver-cum-Technician in the Track Machine organization on Indian Railways – payment of Running Allowance for JEs/SSEs (TM)-reg.
---
A separate meeting will be held with Member(Infra) jointly with Safety and Health Directorates on the issue.
AM(CE)/ DCE(P)
16/2021: Reduction of Beat length for patrolling of railway tracks.
---
Federation demanded that the Beat length for patrolling may be reduced to 14 kilometres. Official side stated that reduction of Beat length will require more manpower. However, Patrol charts will be obtained from all the zonal railways along with the number of running trains in the sections to examine the issue further. Position of light weight tool kits provided to Patrolmen over zonal railways shall be monitored regularly.
Federation further demanded a separate meeting may be held with Member(Infra).
20/2023: Need for upward revision of Dry Cell Allowance-reg.
---
Official side stated that the issue of revision of Dry cell allowance will be examined.
AM(PU)/ PED(W&D)
6/2011: Incentive Bonus under Group Incentive Scheme to the Chemical and Metallurgical Superintendent (Grade Pay Rs.4600/-) in Rail Wheel Factory (RWF), Yelahanka
---
The issue is sub judiced as the matter is being taken up in CAT, Bangalore. Next date of hearing is on 22.06.2023. This matter will be viewed after the decision of the Court.
25/2016: Review of Group Incentive Scheme at Carriage Repair Shop, Tirupati, S.C.Railway.
---
The report of RITES has been received and discussion on the recommendations in the report is pending between the RITES team and TPTY workshop. Further decision will be taken based on the recommendations of the Zonal Railways subsequent to discussion between RITES and TPTY.
22/2021: Working Hours – Violation of the provisions of Factories Act in Ajmer Workshop on North Western Railway reg.
---
The issue will be referred back to Zonal Railway (NWR) for taking a decision in consultation with the recognised Unions at their level.
(Finalised)
AM(Comml)/ EDPM
13/2011: Provision of cooking facilities at Rest Rooms meant for Ticket Checking Staff
---
Federation mentioned that cooking facilities were still not available and condition of Rest Rooms is still bad and cited examples also.
Official Side stated that condition of Rest Rooms will be checked further to find out the deficiencies. Necessary corrective action will be taken and visual improvements will be ensured within a couple of months.
5/2015: Arbitrary decision revising norms for manning of Coaches by the Ticket Checking Staff –reg.
---
The matter is under review by a Committee comprising of ED(Coaching), ED/Finacne and ED(T&MPP). Federation requested for a separate meeting with Member(O&BD) within a month.
AM(M&BD)
21/2023: Indian Railways (IR) utilizing its infrastructure to provide Aadhaar related services-reg.
---
Official Side stated that instructions have been issued by Railway Board vide its letter dated 07.02.2022 to explore the option of utilising existing PRS counters and booking offices to provide Aadhar related services. These instructions are advisory in nature. A final decision is yet to be taken.
Federation informed that there are many PRSs where there is shortage of staff and such activity is not possible there with available staff. Such PRS offices to be exempted from extending Aadhar related services.
AM(Traffic)
5/2018: Revision of designation of Group 'C' Staff – Need for replacement "Train Guard" designation with Train Manager-reg.
---
Orders have been issued.
(Finalised)
AM(L&A)
15/2016: Acute shortage of staff quarters of various types and non-provision of toilets in the suburban section of Mumbai on Western Railway-reg.
---
Official Side stated that there were few numbers of Quarters provided with community toilets on CR and these quarters have since been replaced with individual toilets. Regarding WR, it may be mentioned that new sub-umbrella works for Construction of new quarters & Replacement of old/dilapidated quarters costing Rs.12 Cr. & 68 Cr. respectively have been allocated to WR for the year 2023-24.
Federation mentioned that new quarters are not being constructed in proportion to the old quarters being demolished. Federation further demanded that action plan in this regard may be shared with them.
Federation also pointed out where the quarters are not provided with the amenities as laid down in the policy, the assessed / enhanced rent is being deducted which is unjustified. Necessary action will be taken for reviewing all such cases. Official Side stated that the issue will be examined.
27/2016: Review of license fee on the Railway land allotted to the Staff Welfare/ Organizations at Railway settlement of Bilaspur-reg.
---
ED(L&A) and PED(IR) will examine the issue.
59/2018: Urgent need for allotment of additional funds under DRF for PH- 51, PH-52 & PH-64 for constructions of Railway quarters on Central Railway, Mumbai area, on replacement account-reg.
---
During 2022-23 and 2023-24, under PH-51 funds of 22.40 Cr. and 36 Cr. respectively have been allotted to CR. Furthermore, GM has been given power for re- appropriation from within/ across Plan Heads where utilisation is likely to be less than allotted funds. Federation demanded that planning made by CR on utilisation of funds to be shared with them.
AM(RS)/ EDRS(P)
35/2004: Inadequate promotion opportunities for Technical Supervisors in railway printing presses
---
The Federation stated that w.r.t. decision of closure of 5 printing presses, the Federation has explained at length during the first session of the meeting chaired by CRB&CEO and insisted that these 5 printing presses may be allowed to continue and at the same time the Federation shall extend cooperation for giving the output quantitatively, economically and qualitatively. Federation also sought a separate joint meeting at the level of CRB&CEO and until a consensus is reached and requested that the implementation of the Board's letter may be held in abeyance. Official Side stated that Federation's representation will be replied and separate meeting will be held.
AM(Traction)
42/2018: Cadre Control/Manpower Management of Mechanical and EMU/MEMU/ TL/AC Maintenance and Operation-reg.
---
ECR will be again advised to implement the Board's guidelines.
29/2022: Installing CVVRS in Locomotives – Loco Running Staff agitated
---
Separate meeting with AM(Traction) will be held.
3/2022: Need for Air-Conditioning of Station Master's rooms
---
Instructions have been issued by Railway Board.
(Finalised)
5/2023: Provision of seat for Chief Loco Inspectors (CLIs) and other inspecting officials in Loco Cab-reg.
---
Railway Board vide letter No. 2022/Elect.(TRS)/225/1 (NFIR) dated 29.12.2022 has advised RDSO to explore the feasibility of separate seat in electric locomotive cab. Under finalisation by RDSO in consultation with Zonal Railways.
18/2023: Nomination of Gooty Diesel Loco Shed (South Central Railway) and Siliguri Diesel Loco Shed (North Frontier Railway) for maintaining the additional locomotives being supplied under DLF/Marhowra Project – Provision of additional posts for meeting the additional activity – Reg.
---
Federation requested for a separate meeting with DG(HR) and Member(TRS) on the issue.
PED(Safety)
3/2017: Accident Free Service Award to Signal Department staff – reg.
---
Discussed and finalised.
(Finalised)
36/2018: Guiding norms for imposition of punishment on Loco Pilots/ Assistant Loco Pilots in cases of Passing Signals at Danger (SPAD) – NFIR's suggestions for further relaxation – reg.
---
Federation mentioned that railway employees are being harassed in name of SPAD. Official side requested Federation to provide the specific details of the case.
AM/(Finance)/ EDF(E)
04/2021: Revision of Pension in the case of retired Technicians Grade-Ion Indian Railways-wrong fixation of Pension to the pre-0l/0l/1996 Pensioners – review urged.
---
Official Side stated that facts of the cases mentioned by the Federation were called from concerned Zonal Railways. Some details have been received and the same will be examined on priority.
28/2021: Revision of pension of pre-2006 pensioners who retired from the 5th CPC scale of Rs.6500-10500-reg.
---
Federation requested that a reference may be again made to DOP&PW and the copy of the reference may be shared with them. Official Side agreed to provide the copy of the same.
24/2022: Modification in the existing policy for payment of Travelling Allowance, contingent expenses etc., to retired Railway Personnel for attending DAR enquiries
---
Federation did not agree to the reply and requested for a separate meeting with Member(Finance).
2/2023: (i) Coverage under Central Civil Services (Pension) Rules, 1972 of those Central Government employees who appeared for examination of 2003, but joined service after 01/01/2004-reg.
---
Official Side stated that Railway Board vide letter dated 10.03.2023 has adopted DOP&PW's OM dated 03.03.2023 whereby instructions have been issued regarding coverage under OPS. ECoR need to examine the cases in view of this letter.
Federation stated that the details furnished with the Agenda are required to be considered for mitigating the problem. Federation also pointed out that the wards of the deceased employees who applied for Compassionate Ground Appointment prior to 22.12.2003 but, however, whose appointments granted during post January, 2004 period be covered under OPS although appointments orders were issued after  01.01.2004. This clarification is required to be issued from Railway Board as the Board's instructions are silent on this particular point.
4/2023: Recoveries from the pay of employees on the pretext of alleged overpayments in gross violation of extant instructions – reg.
---
Official side stated that instructions have been issued vide Railway Board's letter No. 2022/F(E)II/6/3 dated 17.11.2022 and No. D-43/432020-F(E)III dated 30.11.2022 to take necessary action regarding recovery of wrongful/excess payments made to Railway Servants.
27/2023: Admissibility of Composite Transfer Grant (CTG) on retirement- reg.
---
Official Side stated that on the subject matter of Travelling Allowance, this Ministry follows the instructions issued by the nodal Ministry i.e. MoF/DOE and cannot take any unilateral decision. Federation demanded that DOP&T may be consulted regarding date of effectiveness of these instructions.
EDPC
16/2011: Abolition of Pay Scale and Introduction of upgraded Pay Scale with revised designation – Senior Section Engineers (Drawing) – Clarification on entry Grade Pay.
---
Federation mentioned that they have sent reference on the issue on 22.02.2023 followed by another reference on 17.04.2023. Official side stated the issue will be examined afresh in light of the references mentioned by the Federation. A separate meeting will be held between Federation and DG/HR.
22/2012: Grant of Incentive to the Accounts Stock Verifiers who have been posted from the cadre of Junior Accounts Assistant on passing Appendix – IV- A (IREM) Examination.
---
Federation demanded a separate meeting on the issue in the context of advance correction slip no. 29 of 1980 and subsequent letters thereon.
32/2012: Lack of career growth Pointsman category of Operating Department in the Railways
---
Official side stated that the EDs level Committee recommendations on the subject are under process. Federation stated that this subject was brought to the notice of CRB & CEO during the morning session of the meeting and explained the merits and logic for arriving at in- house decision for revising the Cadre Structure of Pointsman category as in this cadre  there already Grade Pay 2400/- & 4200/- exists. It is further requested to make efforts for revising the cadre structure and issuing orders as early as possible.
8/2015: Denial of Allowance in lieu of kilometrage to the medically decategorized drivers drafted to perform duties of Power/Crew Controller – reg.
---
Official side stated that the particular case of Shri S Abdul Rahiman, Loco Pilot(Passenger), Guntkal Division/SCR will be called for and re-examined at the earliest w.r.t his eligibility for fixation of his Pension as per policy on allowing 55% addition on Basic pay for retirement benefit.
29/2016: Cadre restructuring in Group 'C' Cadres – Cashiers (Supervisory)-reg
---
Federation demanded that Board may issue instructions to WR to implement the cadre restructuring as done in SCR and NWR. Official Side stated that position will be re- confirmed from WR. The matter will be discussed with DG(HR) in the context of letter from PFA/WR as cited by Federation.
37/2016: Financial upgradation under MACPS to the Staff joined on request transfer in lower post-correct implementation of extant orders-reg.
---
A point-wise reply will be provided to the Federation w.r.t. letter No. IV/MACPS/09/2022 dated 19.09.2022. Federation requested Railway Board to expedite decision in the matter.
53/2016: Denial of pay fixation benefit in the case of Sr. P. Way Supervisors (GP 4200/- + PB-2) merged with JE/P. Way (GP 4200/- + PB-2)-reg.
---
Under examination.
4/2017: Dissatisfaction among Track Maintainers on Indian Railways due to lack of adequate career advancement opportunities-reg.
---
Federation pointed out that in other Technical Departments and within Civil Engineering also, Sr. Technicians have been granted scale of 4200/- GP. Then why not the same cannot be granted to Track Maintainers. The issue needs to be revisited. Official Side agreed to re-examine the issue with a view to provide parity to the Track Maintainers category in the Civil Engineering Department. The matter will be expedited.
11/2017: Grade Pay upgradation for the staff of Medical and Para-Medical services in the Railways – implementation of 7th CPC recommendations-reg.
&
25/2021: Allotment of Qualification based Pay Matrix – ECG Technicians in Railways.
---
A Joint Meeting will be convened with Health Directorate and representatives of the Federation to have a rational view of the existing pay structure of the Para-Medical Staff in Railway Hospitals vis-a-vis those working in non railway organisations. Federation demanded that these isolated categories should not be clubbed with the cadre restructuring categories and examined separately.
15/2017: Reckoning Grade pay 4200/- pay matrix level 6 as entry grade pay for granting financial upgradation under MACPS to the Station Masters category in Railways.
---
Federation expressed satisfaction for sending this proposal to DOP&T.
23/2017: Merger of Dearness Allowance with the Basic Pay w.e.f. 01/04/2004 – Computation of emoluments of Running Staff for granting retirement benefits- reg.
---
Federation provided copy of one calculation sheet/illustration during the PNM Meeting itself. A formal letter will also be sent within 15 days.
EDE
40/2018: Penalties of 'Dismissal/Removal or Reduction in rank" imposed on employees in Railways – violation of provisions of the Constitution of India – reg.
---
It is advised that the Board, in principle, is in agreement with the Federation that the matter needs to be dealt with comprehensively in order to ensure that Article 311(1) is not violated by way of any fallacious interpretation. Accordingly, the matter has been taken up with a view to comprehensively thrashing out the issue and putting in place a dispensation which roots out any scope of misinterpretation. For individual cases channels of redressal stand prescribed which can be utilized by the individual Railway servant for redressal of his grievances if facts are on his side.
7/2022: Railway Servants (Discipline & Appeal) Rules, 1968-Choice of Retired Railway servants as Defence Helpers – conditions
---
A Committee to look into the entire gamut of D&AR procedure for speedy disposal of pending D&AR cases including the area of "Defence Counsel" or "Defence Helper" already stands constituted by the Ministry of Railways(Railway Board) vide their order No. ERB-1/2018/23/51 dated 14.12.2018. The recommendations of the aforesaid Committee is under active consideration of Board. A Notification of amendment of Rule 9(13) of the RS(D&A) Rules, 1968 is in the process after legislative vetting by M/o Law and Justice.
ED(T&MPP)
26/2015: Creation of posts for TRD Organisation in Railways.
&
45/2018: Automatic creation of posts of staff against new assets created and new services introduced on Indian Railways – reg.
---
Federation suggested that a separate meeting may be conducted at the level of CRB&CEO and Member(Finance).
46/2018: Need for reduction of induction training period of 3 years for those appointed as Technician III, pay level 2-reg.
---
Official Side agreed to pursue for directing those Non-ITIs Technicians/ Helpers for providing brief training so that they can appear in RDAT and acquire required qualifications so that they become eligible for promotion opportunity as JE. Federation however requested for considering reduction of training period.
02/2016: Training to newly recruited ALPs in Electric and Diesel traction at the time of initial appointment – Additional chances in either of the tractions- requested.
---
Federation requested for a separate meeting with DG(Safety) on the issue.
27/2018: Payment to the Teachers imparting training to the Loco Running Staff and change of non-standard designation – case of Eastern Railway-reg.
---
Federation requested for a separate meeting with DG(HR) and Member(TRS) on the issue.
5/2022: Creation of new posts for maintenance of newly created assets – creation of posts of Track Maintainers, JEs/SSEs (P. Way), Technicians etc., – South Central Railway
---
Federation requested for a separate meeting with Member(TRS) on the issue.
14/2022: Revised Training Modules of Non-Gazetted Staff of Electrical Department
---
Federation requested for a separate meeting with DG(HR) and Member(TRS) on the issue.
3/2023: Surrender of posts-reg.
---
Federation requested for a separate meeting with DG(HR) and Member(TRS) on the issue.
22/2023: Induction of left out Course Completed Act Apprentices on South Central Railway – Implementation of Hon'ble CAT's decision-reg.
---
The matter is sub-judice as a SLP in the case of P. Sudhakar & 03 others (SLP-Civil Diary No.26707/2022) is pending before Hon'ble Supreme Court. Further action in the matter will be taken after the disposal of SLP. Federation requested to have a review of such cases so the incidences of Court cases are minimised.
****