SB Order No. 37/2020 : Revision of process for transfer of account in National (Small) Savings Schemes.
SB Order No. 37/2020
e.F.No.113-02/2019-SB
Government of India
Ministry of Communications
Department of Posts
Dak Bhawan, Sansad Marg,
New Delhi-110001
Date: 10.11.2020
To,
All Head of Circles/Regions
Subject: – Regarding revision of process for transfer of account in National (Small) Savings Schemes.
Sir / Madam,
Kindly refer to the SB Order No. 12/2020, issued vide this office letter No. 116-12/2016-SB dated 14.05.2020. This office has been receiving representations from various sections regarding delay during manual transfer of account transfer application to home SOL and amendment/restoration of the provisions for transfer of account in National (Small) Savings Schemes.
2. The issue has been examined in this office in view of delay in account transfer process. Matter was taken up with the nodal Ministry. In accordance with Department of Economic Affairs, Ministry of Finance's O.M. no. 1/8/2016-NS dated 27.10.2020 the competent authority has decided to revise account transfer process as below.
3. Accordingly, replace the text of note below rule 43(2) (a) in POSB (CBS) Manual.
Note: – Transfer of account shall be done by the HPO only. If application for transfer of account along with prescribed documents is presented at SO where the account stands or at other SO, the respective SPM shall send the application along with documents to their respective HO through account bag by entering in list of documents and details of such applications should be entered in a register to be maintained in manuscript. After receipt of transfer application at HO the HO will perform account transfer process as prescribed in rule 43(2) (a) of POSB (CBS) Manual.
4. It is requested that this SB order may be circulated to all concerned including CBS Post Offices for information and necessary action accordingly.
5. This issues with the approval of competent authority.
Yours faithfully,
( Devendra Sharma )
Assistant Director (SB)
Copy to:-
Sr. PPS to Secretary (Posts)
PS to Director General Postal Services.
PPS/ PS to Addl. DG (Co-ordination)/Member (Banking)/ Member (O)/ Member (P)/ Member (Planning & HRD)/ Member (PLI)/ Member (Tech)/AS & FA
Addl. Director General, APS, New Delhi
Chief General Manager, BD Directorate / Parcel Directorate / PLI Directorate
Sr. Deputy Director General (Vigilance) & CVO) / Sr. Deputy Director General (PAF)
Director, RAKNPA / GM, CEPT / Directors of all PTCs
Director General P & T (Audit), Civil Lines, New Delhi
Secretary, Postal Services Board/ All Deputy Directors General
All General Managers (Finance) / Directors Postal Accounts / DDAP
Chief Engineer (Civil), Postal Directorate
All Sections of Postal Directorate
All recognized Federations / Unions/ Associations
GM, CEPT for uploading the order on the India Post website.
MOF (DEA), NS-II, North Block, New Delhi.
Joint Director & HOD, ICCW Building, 4 Deendayal Upadhyay Marg, New Delhi-110002
Guard File
Spare copies.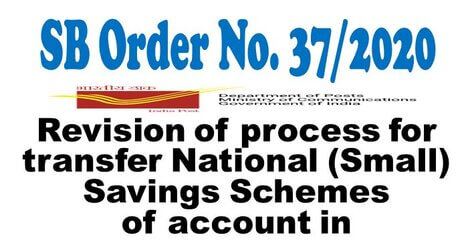 Source: Click here to view/download PDF