Revised Suggested Check List for verification of pension payments: Railway Board RBA No. 88/2020
GOVERNMENT of INDIA
MTNTSTRY OF RAILWAYS
RAILWAY BOARD
RBA No. 88/2020
No.2012 /AC-II/21 /6(PART)
New Delhi, dated 09-11-2020
Pr. Financial Advisor,
All Zonal Railways/P Us
Sub:- Excess Pension Payments to Railway Pensioners.
Ref:- Board's letter of even no. dated 24.8.2020 (RBA No . 67/2020)
*****
Please connect Board's letter of even no. dated 24.8.2020 wherein a suggestive list of discrepancies was provided with a request to carryout intensive checks of pension payments Now, one of the Zonal Railways has brought out some more discrepancies noticed by them during the spot checks. Accordingly, a revised suggestive list duly incorporating these discrepancies is attached for ready reference.
Kindly arrange to notify the staff deputed for the purpose to verify the pension payments accordingly.
(Ajay Bartwal)
Joint Director Finance/CCA
Railway Board
SUGGESTED CHECK LIST FOR VERIFICATION OF PENSION PAYMENTS
Payment of revised pension as per 7th CPC.
Admissibility of DR to the pensioners who are permanently absorbed in PSUs.
Age related additional quantum of pension w.r .t date of birth of the pensioner/family pensioner and with reference to the prescribed percentage of increase.
Ascertaining missing age profile of the pensioner/ family pensioner.
Restoration of commuted pension.
Payment of enhanced family pension at the extant rates and the period.
Wrong fixation of Basic pension to ex-gratia pensioners.
Discrepancies in payment of Fixed Medical Allowance to the Pensioners.
Continuation of pension payment to deceased pensioners' account.
Amount lying unconnected in inoperative Bank Account of the pensioners.
Any other item which PFA/CPO may consider fit.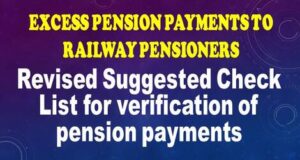 Click here to view/download PDF