Non-acceptance of Life Time Arrears (LTA) Nomination Forms by PDA Banks' Branches – RSCWS
RAILWAY SENIOR CITIZENS WELFARE SOCIETY
No. RSCWS/HO/CHD/ Memo DOPPW/2022-3
Date: 18-1-2022
Secretary,
Government of India,
Pension & Public Grievances,
5th Floor, Patel Bhawan,
Parliament Street, New Delhi — 110001
Dear Sir,
Subject: Non-acceptance of Life Time Arrears (LTA) Nomination Forms by PDA Banks' Branches.
Payment of arrears of Pension (nomination) Rules, 1983provide for nomination with regard to Life Time Arrears (LTA) with further clarifications issued vide RBI letter dated 24-2-1992. Life Time Arrears refer to amounts due to a pensioner (after finality of court cases or any other reason) prior (to his death but becoming payable after his death.
Under Payment of arrears of Pension (nomination) Rules, 1983, Nominations for the LTA are made by a pensioner in the prescribed Form A with a provision for cancellation or revision by submission of Form B.
Pensioners file their LTA nominations with the Pension Disbursing Authority(PDA ) but in many cases, there is reluctance on the part of the bank staff to accept these nominations being not quite conversant with the above rules. In case a nomination is accepted by the bank, the pensioner is not aware of its safe custody and its retrieval when needed because one is not sure whether it is in the system of the Bank.
It is requested that following remedial measures be taken by the authorities concerned in MOF (Banking Division) & RB to resolve these problems :
a) All PDA Banks may again be advised to reiterate the instructions to their Branches to accept the Life Time Arrear Nomination Forms (A & B — as applicable), issue necessary acknowledgment, send one copy to the PSA Accounts Office and send another copy to the CPPC of the PDA for linking it to the Pensioners record on their Portal.
b) Storage of the nominations in the system of CPPCs
c) Reflecting them in the monthly Pension slips issued by them.
ours' truly,
(Harchandan Singh)
Secretary General, RSCWS
Copy for information and necessary action to:
Executive Director (Banking) , Ministry of Finance, North Block, New Delhi — 110001
Executive Director, Reserve Bank of India, Shaheed Bhagat Singh Marg, Kala Ghora, Fort, Mumbai, (Maharashtra) — 400001.
Director (PP), DOP&PW, 8th Floor, Janpath Bhawan, Janpath, New Delhi – 110001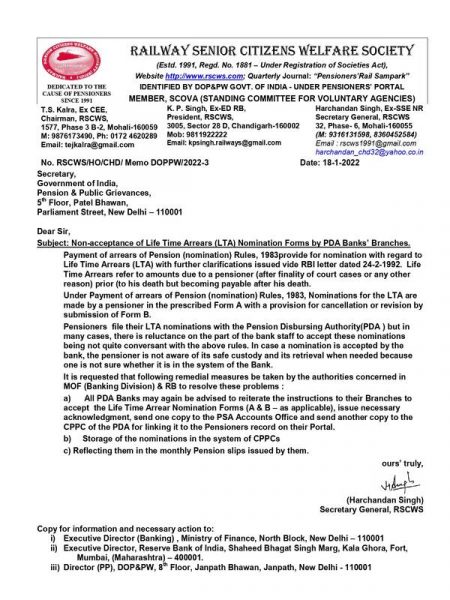 Source: https://www.rscws.com/