Authorization of Private Sector Banks for disbursement of Railway Pension – RBA No. 14/2022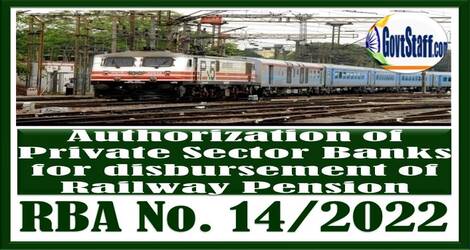 Government of India (भारत सरकार)
Ministry of Railways (रेल मंत्रालय)
Railway Board (रेलवे बोर्ड)
RBA NO. 14/2022
No. 2010/AC-II/21/12(pt)
New Delhi, dated 23.2.2022
General Managers/FA&CAOs /CPOs(As per standard List I )
All attached offices/Subordinate Offices ( As per standard List II)
Sub: ACS No. 54 to A-I-Authorization of Private Sector Banks for disbursement of Railway Pension.
**********
Please connect Board's letter No. 2021/ACII/9/2/e dated 18.02.2020 (RBA No. 12/2022) authorizing Axis Bank, HDFC Bank, ICICI Bank and Kotak Mahindra Bank Ltd for disbursement Railway Pension through e PPOs.
Accordingly, Advance Correction Slip No. 54 adding these banks in the Annexure II-F (List of Public Sector Banks of different States and Union Territories regarding the Scheme of Payment of Pensions) in the INDIAN RAILWAYS CODE FOR THE ACCOUNTS DEPARTMENT, PART-I (Second Reprint)1997 is attached for information and compliance.
DA: As above
(Ajay Bartwal)
Joint Director Finance/CCA
Railway Board
Copy to:
CGA, Ministry of Finance, Deptt of Expenditure, Lok Nayak Bhawan, New Delhi.
Dy. C&AG of India (Railways, Room No. 224, Rail Bhawan, New Delhi
Chief General Manager, Reserve Bank of India, Dept. of Govt & Bank Accounts.
Gen Secy, NFIR/AIRF, New Delhi.
CMDs- all Public Sector Banks disbursing Railway Pension, CMDs of Axis Bank, HDFC Bank, ICICI Bank and Kotak Mahindra Bank Ltd A list of FA&CAOs authorized for issue of PPOs along with list of designated FA&CAOs for settlement of pension debits is enclosed for ready reference. It is requested to ensure that pension debits (state-wise) are raised against concerned designated FA&CAOs.
F(E) III, PAO / RB, ERB-I,II,III,IV,V,AC-III(6 Copies), AC-IV, Code Revision, Accounts Inspection.
Advisor/MR, OSD/MR,OSD/Co-ord/MR, Additional PS/MR
RBCC for uploading in Indian Railways website.
Advance Correction Slip No.54
INDIAN RAILWAYS CODE FOR THE ACCOUNTS DEPARTMENT
PART-I(Second Reprint)1997
Annexure II-F
Please add the following Private banks to the List Of Public Sector Banks
Authorised To Disburse Pension Under The Scheme For Payment Of Pensions Through Banks
(See Para 5.1)
S.No.
Names of the Private Banks authorized to disburse
Railway Pension
1
Axis Bank Ltd
2
HDFC Bank Ltd
3
ICICI Bank Ltd
4
Kotak Mahindra Bank Ltd
*****
(Authority: No. 2010/AC-II/21/12(pt) dated 23.2.2022)
[irp]
(Annexure-II-J)
List of FA & CAOs authorized to issue Pension Payment orders.
| | |
| --- | --- |
| S.No. | RAILWAYS & PRODUCTION UNITS |
| 1. | FA & CAO, RCF/KAPURTHALA |
| 2. | FA & CAO, ICF/CHENNAI |
| 3. | FA & CAO, RWF/BANGALORE |
| 4. | FA & CAO, CLW/CHITTARANJAN |
| 5. | FA & CAO, VARANASI |
| 6. | FA & CAO, PATIALA |
| 7. | FA & CAO, METRO/KOLKATA |
| 8. | FA & CAO, NORTHERN RAILWAY, NEW DELHI |
| 9. | FA & CAO, SOUTHERN RAILWAY, CHENNAI |
| 10. | FA & CAO, SOUTH WESTERN RAILWAY, HUBLI |
| 11. | FA & CAO, SOUTH EASTERN RAILWAY, KOLKATTA |
| 12. | FA & CAO, NORTH EASTERN RAILWAY, GORAKHPUR |
| 13. | FA & CAO, CENTRAL RAILWAY, MUMBAI |
| 14. | FA & CAO, EASTERN RAILWAY, KOLKATA |
| 15. | FA & CAO, NORTH FRONTIER RAILWAY, GUWAHATI |
| 16. | FA & CAO, SOUTH CENTRAL RAILWAY, HYDERABAD |
| 17. | FA & CAO, WESTERN RAILWAY, MUMBAI |
| 18. | FA & CAO, EAST CENTRAL RAILWAY, HAJIPUR |
| 19. | FA & CAO, EAST COAST RAILWAY, BHUBANESHWAR |
| 20. | FA & CAO, NORTH WESTERN RAILWAY, JAIPUR |
| 21. | FA & CAO, NORTH CENTRAL RAILWAY, ALLAHABAD |
| 22. | FA & CAO, SOUTH EAST CENTRAL RAILWAY, BILASPUR |
| 23. | FA & CAO, WEST CENTRAL RAILWAY, JABALPUR |
| 24. | FA & CAO, RAIL COACH FACTORY, RAI BARELI |
| 25. | FA & CAO, RAIL WHEEL PLANT, BELA |
(Annexure-II-G)
List of Designated FA&CAOs
For settlement of pension debits
(State-wise)
S.No
Designated FA&CAO
Address
State
Union
Territory
1.
FA&CAO,
Central Railway
FA&CAO's Office, N. A. Bldg. Central Railway, CST Mumbai – 400 001
Maharashtra
2.
FA&CAO,
Eastern Railway
17,N.S.Road, Kolkata-700001
West Bengal
3.
FA&CAO, East
Central Railway
Vaisnhali, Hajipur, Bihar-844101
Bihar
4.
FA&CAO, East
Coast Railway
Rail Sadan, South Block (2nd Floor) Bhubaneswar- 751017
Orissa
5.
FA&CAO, Northern Railway
Baroda House, New Delhi-110001
Delhi
Punjab
Haryana
Himachal Pradesh
Jammu & Kashmir
Chandigarh
6.
FA&CAO, North Central Railway
Yamuna, 3rd floor, Subedarganj, Prayagraj-211015
Uttar Pradesh
7.
FA&CAO, North Eastern Railway
Gorakhpur-273012
Uttaranchal
8.
FA&CAO, North east Frontier Railway
Malegaon Guwahati. 781011.
Arunachal Pradesh
Assam
Manipur
Meghalaya
Mizoram
Nagaland
Sikkim
Tripura
9.
FA&CAO, North West Railway
Jalpur-302017
Rajasthan
10.
FA&CAO, Southern Railway
Park Town,Chennai. 600033
Kerala
Tamil Nadu
Andman Nicobar Islands Pondicherry
11.
FA&CAO, South Fastern Railway
11, Garden Reach, Kolkata-43
Jharkhand
12.
FA&CAO, South East Central Railway
Bilaspur, 495004
Chhattisgarh
13.
FA&CAO, South Central Railway,
Rail Nilayam, Secunderabad 500025
Andhra Pradesh Telangana
14.
FA&CAO, South Western Railway
Rail Soudha, Gadag Road,Hubballi 580020
Karnataka, Goa
Dadra& Nagar Haveli Lakshadweep
15.
FA&CAO, Western Railway
Church Gate, Mumbai 400020
Gujarat
Daman & Diu
16.
FA&CAO, West Central Railway
2nd Floor, Jabalpur-482 001
Madhya Pradesh
Source: Click here to view/download PDF