Plan to increase Minimum Wages across the country / देश भर में न्‍यूनतम वेतन में वृद्धि करने की योजना
GOVERNMENT OF INDIA
MINISTRY OF LABOUR AND EMPLOYMENT
RAJYA SABHA
UNSTARRED QUESTION NO. 1865
TO BE ANSWERED ON 16.03.2023
PLAN TO INCREASE MINIMUM WAGES ACROSS THE COUNTRY
1865. SHRI SANDOSH KUMAR P:
Will the Minister of Labour and Employment be pleased to state:
(a)the existing minimum wages in each State and Union Territory of the country;
(b)whether Government is planning to increase the minimum wages across the country; and
(c)if so, the details thereof and if not, the reasons therefor?
ANSWER
MINISTER OF STATE FOR LABOUR AND EMPLOYMENT
(SHRI RAMESWAR TELI)
(a) to (c): Under the provisions of the Minimum Wages Act, 1948, both the Central Government and the State Governments are appropriate Governments to fix, review and revise the minimum wages of the employees employed in the scheduled employments under their respective jurisdictions. In order to take care of the rising prices, the Central Government revises the Variable Dearness Allowance (V.D.A) on basic rates of minimum wages every six months effective from 1st April and 1st October of every year on the basis of Consumer Price Index for Industrial workers. V.D.A. on basic rates of minimum wages was last revised w.e.f. 01.10.2022. A statement showing increase in the rates of wages on account of increasing V.D.A payable to the employees engaged in the scheduled employments in the Central Sphere is at Annexure. The details of periodic revision of minimum rates of wages in scheduled employments in the State sphere are not centrally maintained.
*****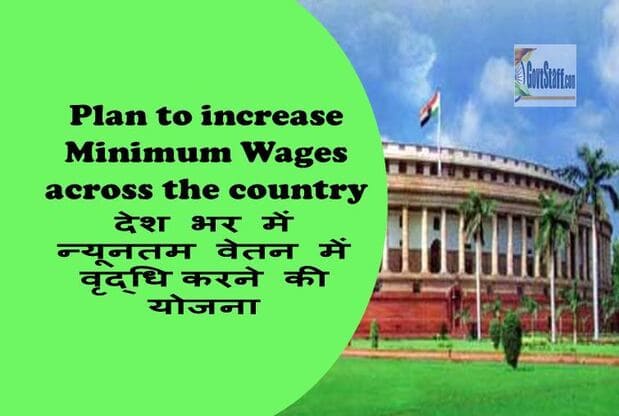 भारत सरकार
श्रम और रोजगार मंत्रालय
राज्य सभा
अतारांकित प्रश्न संखया 1865
गुरूवार, 16 मार्च, 2023/25 फाल्गुन, 1944 (शक)
देश भर में न्यूनतम वेतन में वृद्धि करने की योजना
1865. श्री संदोष कुमार पी:
क्या श्रम और रोजगार मंत्री यह बताने की कृपा करेंगे कि :
(क) देश के प्रत्येक राज्य और संघ राज्य क्षेत्र में मौजूदा न्यूनतम वेतन कितना है;
(ख) क्या सरकार देश भर में न्यूनतम वेतन में वृद्धि करने की योजना बना रही है;
और
(ग) यदि हां, तो तत्संबंधी ब्योरा क्या है और यदि नहीं, तो इसके क्या कारण हैं?
उत्तर
श्रम और रोजगार राज्य मंत्री
(श्री रामेश्वर तेली)
(क) से (ग): न्यूनतम मजदूरी अधिनियम, 1948 के उपबंधों के अंतर्गत अनुसूचित रोजगारों में नियोजित कर्मचारियों की न्यूनतम मजदूरी तय, समीक्षा और संशोधित करने के लिए, केंद्र और राज्य दोनों सरकारें अपने संबंधित क्षेत्राधिकार में समुचित सरकारें हैं। बढ़ते मूल्यों का ध्यान रखने के लिए, केंद्र सरकार औद्योगिक कामगारों के उपभोक्ता मूल्य सूचकांक के आधार पर प्रत्येक वर्ष 01 अप्रैल और 01 अक्तूबर से प्रभावी न्यूनतम मजदूरी की मूल दरों पर परिवर्ती महंगाई भत्ते (वीडीए) में प्रत्येक छह महीने में संशोधन करती है। न्यूनतम मजदूरी की मूल दरों पर परिवर्ती महंगाई भत्ते (वी.डी.ए.) को पिछली बार दिनांक 01.10.2022 को संशोधित किया गया था। केंद्रीय क्षेत्र में अनुसूचित रोजगारों में नियोजित कामगारों को देय वीडीए में वृद्धि के कारण मजदूरी की दरों में वृद्धि को दर्शाने वात्रा विवरण अनुबंध में दिया गया है। राज्य क्षेत्र में अनुसूचित नियोजनों में मजदूरी की न्यूनतम दरों के आवधिक संशोधन का ब्योरा केंद्रीय स्तर पर नहीं रखा जाता है।
*******
Source : Click to view/download PDF