OPS to Central Government Employees / केंद्र सरकार के कर्मचारियों के लिए पुरानी पेंशन योजना (ओपीएस) – DoPPW issued general instructions on the issue
GOVERNMENT OF INDIA
MINISTRY OF PERSONNEL, PUBLIC GRIEVANCES AND PENSIONS
(DEPARTMENT OF PENSION & PENSIONERS?' WELFARE)
RAJYA SABHA
UNSTARRED QUESTION NO. 1886
(ANSWERED ON 16.03.2023)
OPS TO CENTRAL GOVERNMENT EMPLOYEES
1886 SHRI JAVED ALI KHAN:
Will the PRIME MINISTER be pleased to state:
(a) whether DoP&PW in response to its latest reference, has received concurrence of the Department of Expenditure along with vetted O.M. to be issued, during February, 2023 to issue orders to cover those employees of Central Government under OPS whose advertisements for recruitment were issued before 0} 01.2004;
(b) if so, the details thereof:
(c) whether consultation in this regard is now complete with every Ministry/Department concerned, including C&AG and CGA;
(d) if so, the reasons for delay in issuing orders; and
(e) if not, the reasons for prolonging consultation deliberately?
ANSWER
MINISTER OF STATE IN THE MINISTRY OF PERSONNEL, PUBLIC GRIEVANCES AND PENSIONS AND MINISTER OF STATE IN THE PRIME MINISTER'S OFFICE
(DR. JITENDRA SINGH)
(a) to (e): Department of Pension and Pensioners' Welfare after receipt of comments/concurrence from concerned Ministry / Departments, have issued general instructions on the issue vide OM No. 57/05/2021 -P&PW(B) dated 03/03/2023. A copy of OM dated 03.03.2023 is attached as Annexure-I.
Coverage under Central Civil Services (Pension) Rules, in place of National Pension System, of those Central Government employees who were recruited against the posts/vacancies advertised /notified for recruitment, on or before 22.12.2003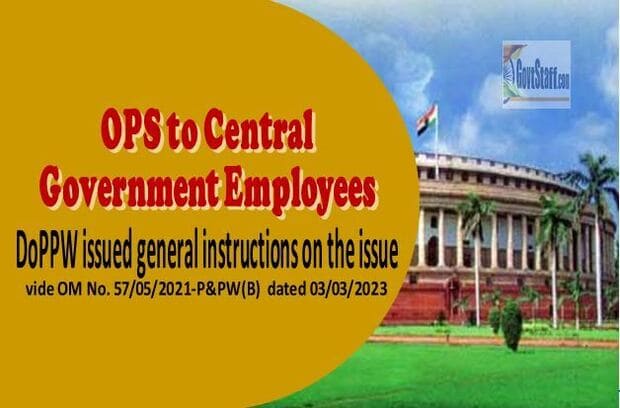 भारत सरकार
कार्मिक, लोक शिकायत एवं पेंशन मंत्रालय
(पेंशन और पेंशनभोगी कल्याण विभाग)
राज्यसभा
अतारांकित प्रश्न संखया 1886
(दिनांक 16.03.2023 को उत्तर दिया  )
केंद्र सरकार के कर्मचारियों के लिए पुरानी पेंशन योजना (ओपीएस)
1886 श्री जावेद अली खान:
क्या प्रधानमंत्री यह बताने की कृपा करेंगे कि:
(क) क्या डीओपीएंडपीडब्ल्यू ने अपने नवीनतम संदर्भ के जवाब में, ओपीएसके तहत केंद्र सरकार के उन कर्मचारियों जिनकी भर्ती के लिए विज्ञापन 01.01.2004 से पहले के लिए जारी किए गए थे, को कवर करने के आदेश जारी करने के लिए फरवरी, 2023 के दौरान जारी किए जाने वाले पुनरीक्षित कार्यालय ज्ञापन के साथ व्‍यय विभाग की सहमति प्राप्‍त कर ली है:
(ख) यदि हां, तो तत्‍संबंधी ब्‍यौरा क्‍या है,
(ग) क्‍या इस संबंध में सीएंडएजी और सीजीए सहित संबंधित प्रत्‍येक मंत्रालय/विभाग के साथ परामर्श अब पूरा हो गया है,
(घ) यदि हां, तो आदेश जारी करने में विलंंब के क्‍या कारण हैं, और
(ड.) यदि नहीं, तो जानबूझकर परामर्श को टालने के क्‍या कारण हैं?
उत्‍तर
कार्मिक, लोक शिकायत एवं पेंशन मंत्रालय में राज्‍य मंत्री और प्रधानमंत्री कार्यालय में राज्‍य मंत्री (डॉ. जितेंन्‍द्र सिंह)
(क) से (ड.): पेंशन और पेंशनभोगी कल्‍याण विभाग ने संबंधित मंत्रालयों/विभागों से टिप्‍पणियां/स‍हमति प्राप्‍त करने के पश्‍चात्, दिनांक 03/03/2023 के कार्यालय ज्ञापन सं. 57/05/2021-पीएंडपीडब्‍ल्‍यू (बी) द्वारा इस मामले पर सामान्‍य निर्देश जारी किए हैं। दिनांक 03.03.2023 के कार्यालय ज्ञापन की प्रति अनुबंध-1 में संलग्‍न है।
*****
Source : Click to view/download PDF