One Day Nationawide Strike on 26th November 2020 – Demands by NFPE
NFPE ZINDABAD           NFPE ZINDABAD             NFPE ZINDABAD
NATIONAL FEDERATION OF POSTAL EMPLOYEES
MAKE ONE DAY NATIONAWIDE
STRIKE
ON
26th November 2020
A HISTORIC SUCCESS
DEMANDS:
1. (a) Grant of Special Casual Leave to all the employees who could not attend due to Covid-19 related problems and issue of Uniform Guide Lines
(b) Grant of Compensation of Rs. 10 Lakh to the family of deceased due to Covid-19 without any further delay.
(c) Compassionate appointment to one ward of the deceased employee due to Covid-19.
(d) Payment of wages to Casual/Part-time /Contingent /ORM & Out sourced Workers for the Lockdown period.
(e) Continuance of Roaster till Covid-19 Problem persists.
2. Stop Closure / Merger of PSDs/ CSDs/Post Offices/RMS Offices and Mail Motor Services. Stop Road Transport Network proposal.
3. Drop the idea of Decentralization of Postal Accounts offices and merger of Circle office and S8CO Cadre in PA Cadre.
4 Stop harassment and allotmant of unscientific targets to open IPPB accounts and Aadhar Enabled Payment Service and Aadhar Card Service.
5. Stop Proposal of Common Service Centres in POs.
6. Fill up all vacant posts in all Cadres and stop Recruitment of Outsourced Postal Agents particularly to run the Parcel Hubs in Department of Posts.
7 Start Membership Verification for Regular and GDS Employees through Old Check-Off System, droop the idea of Online Verification.
8. Grant Productivity Linked-Bonus.
9. Implement remaining positive recommendations of Kamlesh Chandra Committee GDS including Group Medical Insurance facilities.
10. Finalize Cadre restructuring proposals of left out Categories of Department of Post.
R.N. PARASHAR
Secretary General, NFPE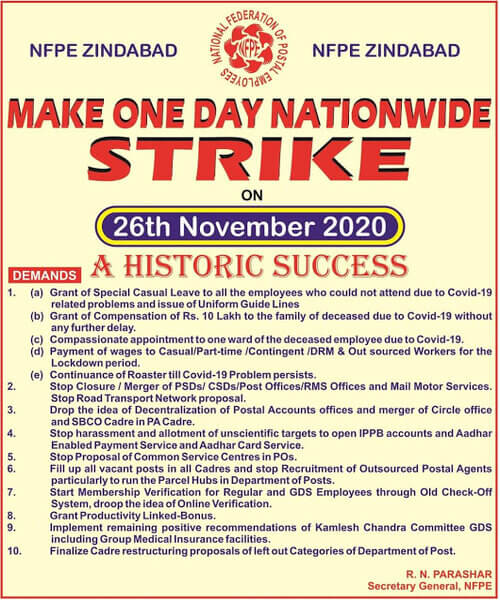 NFPE