RBE No.93/2020 : Calculation of monthly contribution towards cost of Pension payable during foreign service – Railway Board
GOVERNMENT OF INDIA (BHARAT SARKAR)
MINISTRY O RAILWAYS (RAIL MANTRALAYA)
(RAILWAY BOARD)
No. F(E)II/2005/PN1/12
New Delhi, dated:28.10.2020.
The GMs/Principal Financial Advisors,
Ail Zonal Railways/Production Units (etc),
(As per mailing list)
Sub:-Calculation of monthly contribution towards cost of Pension payable during foreign service-reg.
A copy of Department of Personnel & Training (Ministry of Personnel, Public Grievances & Pensions)'s O.M. No. 2/9/2017-Estt. (Pay-II), dated 09th October, 2020 on the above subject is enclosed for information and compliance. DOP&T's O.M.No.2/34/2008-Estt(Pay-II) dated 19th November, 2009 and Department of Financial Services (Ministry of Finance)'s Gazette notification No. 1/3/2016-PR dated 31st January, 2019, mentioned in the O.M. dated 09.10.2020 were circulated on the Railways vide this office's letters No.F(E)III/2005/PN1/12 dated 23.11.2009 and D-43/12/2018-F(E)III dated 21.02.2019 respectively.
(G.Priya Sudarsani),
Director, Finance (Estt.),
Railway Board.
DA: One.
No. F(E)III/2005/PN1/12
New Delhi, dated: 28.10.2020.
Copy to:-Deputy Comptroller and Auditor General of India (Railways), Room No.222, Rail Bhavan, New Delhi.
For Member Finance/Railways
[irp posts="2689″ name="7th Pay Commission : Cost of Pension payable during foreign service – Calculation of monthly contribution reg."]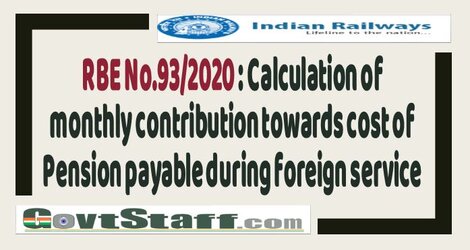 Source : Railway Board