Special Festival Package – CDA invites applications for generation of UTSAV (pre-loaded RuPay Cards)
कार्यालय, रक्षा लेखा नियंत्रक
नं. 1 स्‍टाफ रोड, सिकिंद्राबाद
Office of the Controller Of Defence Account
No.1 Staff Road, Secunderabad-500 009
(Tele:040-27843385 / 27847957
No.AN/PA Y/SFP
Dated: 03/11/2020
IMPORTANT CIRCULAR
Sub: Applications for Special Festival Package.
***
Applications are invited for grant of advance of Rs.10,000/- under Special Festival Package a scheme launched by Govt. of India. The details of the scheme are attached with the circular. In this connection, all the officers and Staff are requested to forward the Contingent Bill along with the details as per prescribed proforma latest by 13.11.2020 for onward transmission to SBI for generation of UTSAV (pre-loaded RuPay Cards).
The scanned copies of Contingent Bill & Employee Details proforma may be emailed to [email protected] positively by 13.11.2020 followed by hard copies in order to place the indent for pre-loaded SBI RuPay Card. The claim once preferred will be treated as final and no withdrawal will be entertained.
The Officers/staff applying for the above advance are requested to ensure the legibility and correctness of their mobile numbers/email IDs, in the absence of which, e-commerce will be difficult to carry out later, as OTP is required to be sent to the mobile number of the Card User.
The details of the scheme are available in website of CDA, Secunderabad & EDP Helpline.
(M.V. SUBRAHMANYAM)
Sr.Accounts Officer (An-Pay)
Distribution
As per standard list.
Copy to :
The EDP Section
(Local) . …… for uploading in website.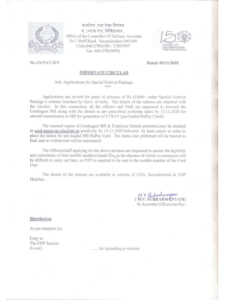 Source : Click here to view/download PDF