MACP Scheme to Central Government Civil Employees Clarification on approval of recommendations of Screening Committee
No. 4-7/MACPS/2019-PCC
Government of India
Ministry of Communications
Department  of Posts
Dak Bhawan, Sansad Marg,
New Delhi – 110001
Date : 25.03.2021
To
All Chief Postmasters General / Postmasters General
Chief  General  Manager,  BD  Directorate / Parcel  Directorate / PLI Directorate / CEPT.
Director, RAKNPA / Directors of All PTCs
Addl. Director  General, Army  Postal  Service, R.K.Puram , New  Delhi
All General Managers (Finance) / Directors Postal Accounts / DDAP
Sub:- Modified Assured Career Progression (MACP) Scheme to Central Government Civil Employees, clarification on approval of recommendations of Screening Committee – reg.
Sir / Madam,
This refers to various references seeking clarification on applicability of the provisions of para 5 of DoP&T OM No.35034/3/2015-Estt.(D) MACP 22nd October, 2019 circulated vide this Directorate OM of even No. dated 30.10.2019 which inter alia stipulate that "…in all other cases, the power to approve the recommendations of the Screening Committee shall be with the Appointing Authority." vis-a-vis the provisions contained in para 10 of this Directorate OM No. 4-7/(MACPS)/2009-PCC dated  18 Sept  2009,  as reproduced  "The  recommendations of the  Screening Committee shall be placed before the Director Postal Services / Director Accounts Postal / Head of the Region / Circle or Organization / Competent Authority as the case may be for approval.", while considering the recommendations of Screening Committee, headed by an officer of JTS/STS rank, made in respect of the official(s) whose appointing authority is of the rank below Junior Time Scale of Group 'A'.
2. The issue was examined and it has been  observed that since the Modified Assured Career Progression Scheme continues to be effective from 01.09.2008 and the DoP&T OM dated 22.10.2019 ibid, comprising consolidated guidelines on MACP Scheme incorporating the provisions required as a result of the implementation of 7th CPC recommendations, is in continuation of earlier Office Memoranda on MACP Scheme, the provisions of para 10 of this Directorate OM No. 4-7/(MACPS)/2009- PCC dated 18 Sept 2009 will hold good.
3. This issues with the approval of competent authority.
Yours Faithfully,
(Dr. Vincent Barla)
Director  (GDS)
Copy to :-
PS to MoC / MoS for Communications.
PS to Secretary (Posts) / PS to Director General (Postal Services).
PS to Addl. DG (Co-ordination)/ Member (Banking)/ Member (O)/ Member (P)/ Member (Planning & HRD)/ Member (PLI)/ Member (Tech).
Additional Secretary & Financial Adviser.
Sr. Deputy Director General (Vigilance) & CVO / Sr. DDG (PAF)
Director  General P&T (Audit), Civil Lines, New Delhi.
Secretary, Postal Services Board/ All Deputy Directors General.
Chief Engineer (Civil), Postal Directorate.
All Sections of Postal Directorate.
All recognized Federations / Unions / Associations.
GM, CEPT for uploading the order on the India Post web site
Guard File.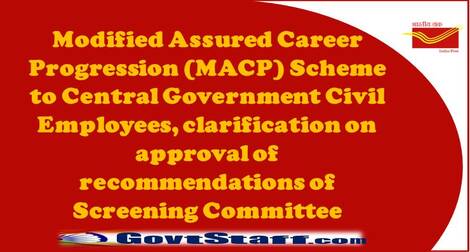 Source: Click here to view/download PDF
http://utilities.cept.gov.in/dop/pdfbind.ashx?id=5459