Preventive measures to contain the spread of COVID-19 – CGDA order dated 13.04.2021
'हर काम देश के नाम'
रक्षा लेखा महानियंत्रक
Controller General of Defence Accounts
उलन बटार रोड, पालम, दिल्‍ली छावनी-110010
Ulan Batar Road, Palam, Delhi Cantt.-110010
No.AN/Coord/3012/Circular/Vol.VIII/Covid-19
Dated : 13.04.2021
To
All PCDAs/PCA(Fys. )/PIFAs
CDAs/CFAs(Fys)/IFAs/RTCs
(through CGDA website)
Sub: Preventive measures to contain the spread of COVID-19.
In continuation of HQrs. circular of even number dated 12.04.2021, the competent authority has decided that visits/Temporary Duties to HQrs. Office may be minimized, restricted and avoided in view of surge of COVID-19 cases in HOrs./Field Offices. However, if visit is essential and unavoidable, the same may be undertaken only after undergoing RT-PCR Test within 72 hours of the visit.
(Rajeev Ranjan Kumar)
Dy. CGDA(AN)
Copy to:
AN(Pay) Local For information.: For information
AN(Gen Admn) Local: For information.
IT & S Wing Local: For uploading on cgda website.
(Rajeev Ranjan Kumar)
Dy. CGDA(AN)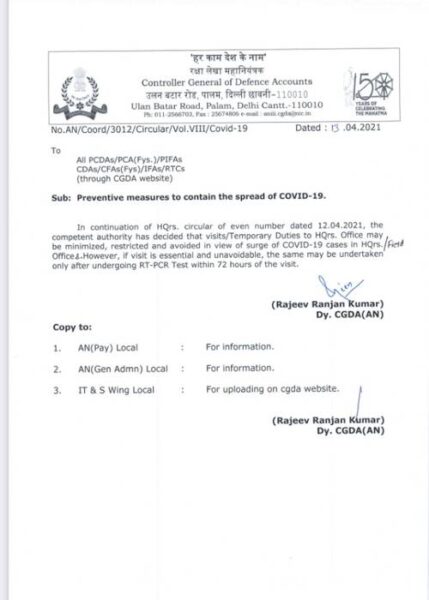 Source: CGDA