COVID-19 – Preventive measures – Attendance of Central Government officials | CGDA Order
कार्यालय, रक्षा लेखा महानियंत्रक
Office of the CGDA
उलन बटार रोड, पालम, दिल्‍ली छावनी -110010
Ulan Batar Road, Palam Delhi Cantt.-10
No.AN/Coord/3012/Circular/Vol. VIII
Dated: 13.10.2020
To
All PCDAs/PCA(Fys) /PIFAs
CDAs/CFAs(Fys) /IFAs/RTCs
(Through CGDA Website)
Sub: Preventive measures to contain the spread of Novel Corona virus (COVID-19) — Attendance of Central Government officials regarding.
A copy of Government of India, Ministry of Personnel, Public Grievances and Pensions, Department of Personnel and Training OM No.11013/9/2014-Estt.A.III dated 7th October, 2020 on the subject matter is forwarded herewith for information and necessary action.
2. All Heads of Offices/Departments are requested to take action accordingly.
(Rajeev Ranjan Kumar)
Dy. CGDA(AN)
Copy to:
AN(Pay) Local For similar action as above
IT & S Wing Local For uploading on CGDA website
(Rajeev Ranjan Kumar)
Dy. CGDA(AN)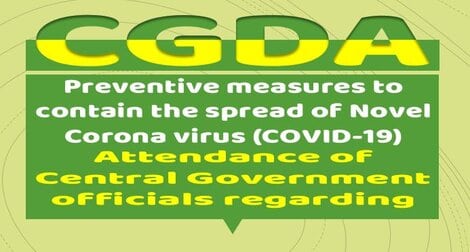 Source: CGDA