CGDA HQr office is now on Twitter @cgdaoffice.
'हर काम देश के नाम'
रक्षा लेखा महानियंत्रक
Controller General of Defence Accounts
उलन बटार रोड,पालम दिल्‍ली छावनी -110010
ULAN BATAR ROAD, PALAM, DELHI CANTT- 110010
No. AN/III/3012/Twitter Handle
Dated 17.07.2020
To,
All PCDAs/PCA(Fys)/PIFAs
CDAs/CFAs(Fys)/IFAs/RTCs
(Through CGDA Website)
Operation of Twitter Account of HQR office: @cgdaoffice
The Twitter Account of HQr office @cgdaoffice is now operational and dedicated Public Relation Cell (PR Cell) has been established in the HQr office for handling of messages on Twitter Account. The PR cell is functioning under Smt Richa Gupta, Dy.CGDA. The link is also available on CGDA website.
The competent authority has decided that if any field offices want anything to be put-up on the HQr Twitter account, the same may be intimated to HQr office on the email [email protected] The PR Cell will be responsible for obtaining the approval of the competent authority before publishing it on Twitter.
(Rajeev Ranjan)
Dy.CGDA(AN)
AN-IV (Local) For similar action as stated above.
IT&S (Local) For uploading on CGDA's website. It is also requested to provide the Twitter link @cgdaoffice on website.
(Rajeev Ranjan Kumar)
Dy.CGDA(AN)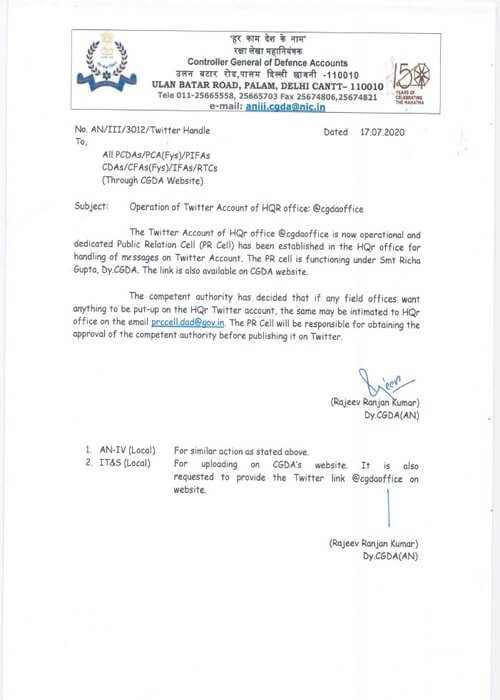 Source: CGDA
https://cgda.nic.in/adm/circular/AN-III-Operation-200720.pdf