General Guidelines for Staff Welfare measures, Safety and Security of the Students and timely disposal of retirement benefits of the employees
नवोदय विद्यालय समिति
Navodaya Vidyalaya Samiti
शिक्षा मंंत्रालय, भारत सरकार
Ministry of Education, Govt. of India
(स्‍कूल शिक्षा और साक्षरता विभाग)
(Deptt. of School Education & Literacy)
बी-15, इंंस्‍टीट्युशनल एरिया, सैक्‍टर-62,  नोएडा, गौतम बुद्ध नगर (उ.प्र.)-201309
B-15, Institutional Area, Sector-62, NOIDA, Gautam Budh Nagar, (U.P)-201309
No.F. 12-4/17/2021-NVS(Admn)/91
Date:  20.04.2021
To,
The Dy.Commissioner,
Navodaya Vidyalaya Samiti,
All Regional Offices/NIIs
General Guidelines for staff welfare measures- reg.
Sir/Madam,
Detailed instructions have been issued from time to time by NVS Hqrs. through virtual meetings during last one year as well as in writing regarding staff welfare measures, safety and security of the students and timely disposal of retirement benefits of the employees. It has however been observed that certain guidelines issued are not being followed seriously, particularly during this new normal situation.
Keeping in view the gravity of the prevailing pandemic situation, during the virtual meeting held on 19.04.2021, the Competent Authority has again laid emphasis on the following issues and to take all necessary steps as under:-
Nodal Officers to handle COVID situation have been nominated by all the Regional Offices. Their duty is to coordinate with the JNVs and HQrs. for effective guidance and resolving issues of serious concern, if any. A separate WhatsApp group is created  including Nodal Officers and Officers of NVS HQrs. It is requested to post the messages regarding the issues to be attended on priority in the interest of the students/staff/Organisation
Wherever serious COVID cases are noticed, the students/staff be advised that instead of depending on self medication, they should contact hospitals immediately. In emergent cases, if required, all help at the Vidyalaya/RO/ Hqrs. level will be extended.
Assistance of District Administration may be sought on need basis to help the staff or their family members to have proper treatment, wherever required. Arrangement for Oxymeter is to be made in every JNV. Special focus is to be made against the staff suffering with co-morbidities. In advance, Principals/ROs may have discussions with nearby hospitals to meet the emergencies, if any. Ambulance may be made available on need basis, in order to attend staff and their family members. If medical advance is to be released to the hospital, the same may be attended at your level and such cases may be forwarded to HQ for ex-post approval, if the sanction is to be done only by the HQ.
In order to support the families of deceased employees, engagement of dependants may be done on daily wage/contract basis immediately without any delay as in such cases standing instruction is already available. If the dependant is having qualification for the post of a teacher/FCSA, as per NVS RRs, engagement on contract basis against vacant teaching/FCSA post may be considered directly against the said available vacancy in the same JNV or any other JNV of the Region.
With regard to retention of quarters i.r.o. deceased employee, GoI norms may be strictly adhered to.
Retirement benefits in death cases are to be settled within a month.
In respect of other normal retirement cases, retirement benefit is to be settled on the last working day itself, for which advance planning (6 months prior to retirement date) is required. It will be the individual responsibility of the Regional Deputy Commissioner/DC, NU, as the case may be, to monitor and ensure the settlement of dues of the employees on date of retirement itself.
Audit Paras/ Disciplinary proceedings etc. may be settled prior to the retirement of employees. Necessary correspondence, in this regard, if required, shall be made with the concerned office well in time to avoid delay at the time of retirement of the employee. If Departmental Proceedings are initiated against the retiring employee just before his/her retirement, entire proceedings are to be completed within 03 months from the date of retirement. It is also under consideration to have online processing of retirement benefits to NVS employees so that monitoring becomes easier.
List of pending payment of retired/deceased employees of JNVs/ROs is to be forwarded to NVS HQrs by intimating the name of the Officer(s) responsible for not making payment so far quoting the reasons and proposed action to be taken against such defaulting officers. This list may please be sent to the undersigned by name by 25.04.2021 positively to place it before the Competent Authority. Arrangement to release the dues of such retired/deceased employees must be made without any further delay.
In order to counsel the students and staff, services of counsellors on contract basis may be continued. If the students are not in the campus, arrangement for online counselling is to be made by fixing the responsibility. On daily basis, the action taken by the counsellor is to be monitored and the record is to be maintained.
In order to assist for digital activities including Shaala Darpan, services of FCSA on contract basis may be continued. The work done by FCSA on contract basis is to be monitored and recorded on day to day basis. However, both the counsellors and FCSA have to perform their duties by staying in the campus only.
When the staff and students are permitted to leave the campus for vacation/on leave, difficulties faced, if any, may be immediately intimated to the Principal/Cluster In-charge/Regional Office so that timely assistance may be provided through the nearest JNV/RO.
Please refer to the directions given by NVS HQrs regarding identifying hospitals/ diagnostic labs/ nursing home which are ready to give their consent to provide medical treatment to serving and retired employees of NVS on CGHS rates and signing MoU, if required. Most of the Regional Offices have forwarded the desired information and necessary action is being initiated accordingly. Information from RO Pune and Chandigarh is still awaited. It is requested to all the ROs to collect the information from all the JNVs also, consolidate at the Regional Office level and forward to NVS HQrs for further necessary action. With all the efforts, if we could not save the precious life of NVS employees/their family members, all the efforts are  to be made to console the dependents and support is to be extended timely by JNV/RO/HQ.
Attendance of the staff is to be strictly as per the guidelines issued by DoPT from time to time. Weekly attendance of all the staff of Regional Office and NLI is to be forwarded to NVS HQrs on the last work ing day of the week on [email protected]
Your approach towards field units should be to motivate the staff, to share their views and suggestions without any hesitation. Officers are to be directed to keep their mobile and the electronic devices always on to receive constructive suggestions. Immediate solutions may be suggested within the framework of NVS. If the solution is beyond the level of Regional Office, feel free to share with HQrs.
This issues with the approval of the Commissioner, NVS.
Yours faithfully ,
(N. K. Pahwa)
Deputy Commissioner (Admn.)
Copy to:
The Principal, All Jawahar Navodaya Vidyalayas
All Officers at NVS Hqrs.
PA to Commissioner, NVS
PA to JC(Admn)/(Pers)/(Acad)/GM(Const.)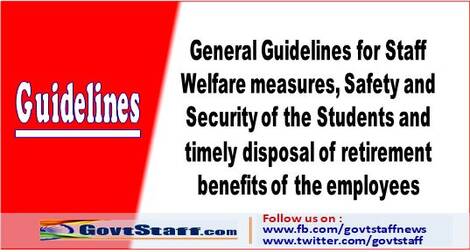 Click here to view/download the PDF