Submission of self-appraisal in SPARROW before 31st August 2021 – CGDA circular No. AN/I/2004/APAR CORR/VOL-XVI dated: 19.08.2021
OFFICE OF THE CONTROLLER OF DEFENCE ACCOUNTS
No.1, STAFF ROAD, SECUNDERABAD-500009
CIRCULAR
No. AN/I/2004/APAR CORR/VOL-XVI             Dated: 19.08.2021
To
1. All sections of M.O.
2. The DCDA i/c, PAO (ORs) EME Secunderabad
3. The ACDA i/c, PAO (ORs) AOC Secunderabad
4. The ACDA i/c, AAO (Army) Visakhapatnam
5. All sub offices in Secunderabad/Medak/Suryalanka/Visakhapatnam/Tirupati
Subject: Implementation of third phase of SPARROW for Sr Aud/Auditor in Defence Accounts Department — Reg
In compliance with the directions issued by HQrs office, APARs for all the Sr Aud/Auditors have been generated in SPARROW for the year 2020-21. All Sr Aud/Auditors are requested to log-into the URL sparrowbandc-dad.cgda.gov.in by using their NIC Mail credentials for submission of their self-appraisal through SPARROW.
It is also requested that all the Sr Aud/ Auditors should submit their self-appraisal within the stipulated time i.e., 31/08/2021, post which the system may likely to close automatically the self-appraisal part and forward it to the reporting officer.
Further, it may be noted that with the advent of APARs in SPARROW, there is no provision for submission of APARs manually henceforth.
(K Sangeeta)
Dy. Controller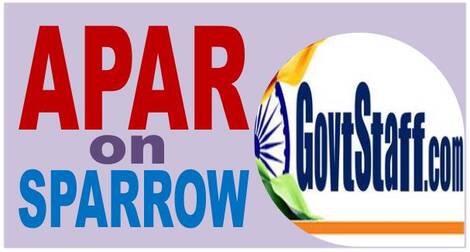 Source : Click here to view/download PDF