Posting / Transfer Advisory by MES – Order dated 25.02.2022
Tele : 23015670
Engineer-in-Chief's Branch
Military Engineer Services
Directorate General (Personnel)
Kashmir House, Rajaji Marg
New Delhi -110011
B/20000/Gen Corr/E1B
25 Feb 2022
HQ CE Southern Command, PIN -908541 , c/o 56 APO
HQ CE Eastern Command, PIN -908542, c/o 99 APO
HQ CE Western Command, PIN -908543, c/o 56 APO
HQ CE Central Command, PIN -908544, c/o 56 APO
HQ CE Northern Command, PIN -908545, c/o 56 APO
HQ CE South West Command, PIN -908546, c/o 56 APO
ADG (North) Jammu
ADG (NEI) Guwahati
ADG (Projects) Chennai
ADG (D&C) Pune
CME Pune
POSTING / TRANSFERS: ADVISORY
1. MES is one of the leading construction agencies of the country which provides essential engineering support to the defence services i.e Army, Navy, IAF, CG, DRDO, etc. It deals with works in varied challenging scenarios, cities, mountains, sea, deserts, islands etc and tests its men in the most challenging and adverse conditions. The manforce in MES is totally motivated in service of the nation and leaves no stone unturned to deliver the best.
2. The management of the human resources within the organization is done keeping national interest in general and organizational interest in particular at the forefront. A balance is maintained to meet the professional aspirations, welfare of the human resource and organizational interest.
3. The posting & transfer of officers is done meticulously. The planning and execution of the posting/ transfer is done with Cadre Management Policy as a guiding principle. The SoP is Strictly followed and essential confidentiality is maintained. All possible mediums are kept opened for all the officers to reach out to the authorities dealing with postings/ transfers.
4. In order to further reinforce the mechanism and build confidence amongst the officers, it is informed that any queries, issues, doubts, requests, etc, pertaining to postings/ transfers of officers dealt by DDG (Pers) 'M' of DG (Pers) Dte be raised directly to Director (C&M)/ Director 'M'/ Jt Dir Pers (P&T-I)/ Dy Dir Pers (P&T-II), if required.
5. The details of officers handling posting and transfers at various levels civilian officers is as follows:-
| | | |
| --- | --- | --- |
| Appointment | Name | Contact details |
| DDG (Pers) 'M' | Brig Sandeep Soni | 011-23019607 |
| Dir (C&M) | Shri Ajay Kumar Jain | 011-23015670 |
| Dir 'M' | Col Rakesh Kamra | 011-23019685 |
| Jt Dir (P&T-I) | Shri Romil Anand | 011-23019685 |
| Dy Dir (P&T-II) | Shri Abhinav Rana | 011-23013646 |
6. The email ID for DG (Pers) Dte is [email protected].
7. It is advised to avoid any unethical means to seek any posting/ transfer and the indulgence in same would invite disciplinary action. Awareness amongst the environment will help us to enhance a transparent, just and more effective mechanism.
(Sandeep Soni)
Brig
DDG (Pers) 'M'
for Engineer-in-Chief
Copy to :-
(All Unit concerned as above)
Internal :- TS to E-in-C, TS to DG Pers, CRO (0) Delhi, E2 Estt, Master folder and Case File.
Automation cell – Please upload letter on MES Website (in open domain).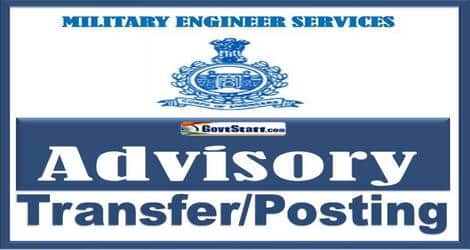 Source: Click here to view/download PDF