Regular updates of Limbs Portal regularly – MES order
TOP MOST PRIORITY
Tele : 011-23018565
Directorate General (Personnel)
Military Engineer Services
Engineer-in-Chief's Branch
Kashmir House, Rajaji Marg
New Delhi-110011
B/46100/Gen/E1Legal (O)
22 Apr 2022
ADG (P) Chennai
ADG NEI, Guwahati
ADG (North), C/o 256 SU, AF, Jammu
HQ Chief Engineer Southern Command
HQ Chief Engineer Eastern Command
HQ Chief Engineer Western Command
HQ Chief Engineer Central Command
HQ Chief Engineer Northern Command
HQ Chief Engineer South Western Command
REGULAR UPDATES OF LIMBS PORTAL
1. It is noticed that LIMBS portal is not updated regularly by nodal officers of all Commands/Zone/CWE, as a result many discrepencies are noticed while reconciling with the monthly report/returns between montly report/returns.
2. It is, therefore, requested to pass the instructions to all lower formations under your AOR to update the LIMBS portal regularly.
3. Please acknowledge.
(Anil Kumar, IDSE)
Director (Legal)
For E-in-C
Copy to:-
Automation Cell – Please upload this letter on MES Website (Open domain).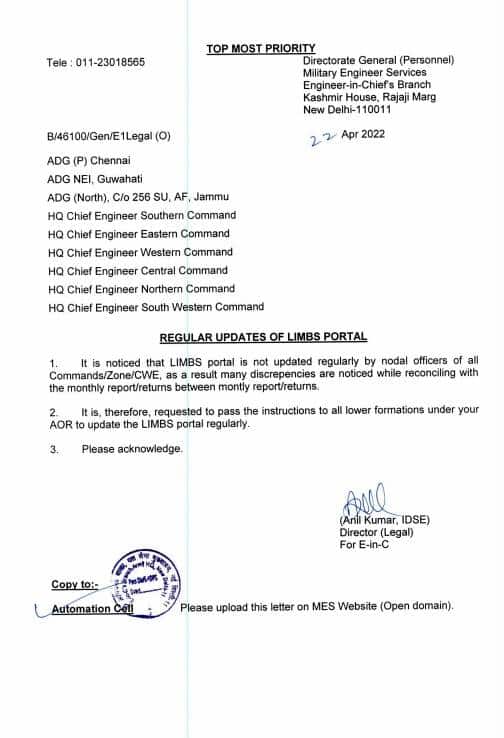 Source : Click to view/download PDF