Centralization of Service Book in respect of Gp 'A' and 'B' Officers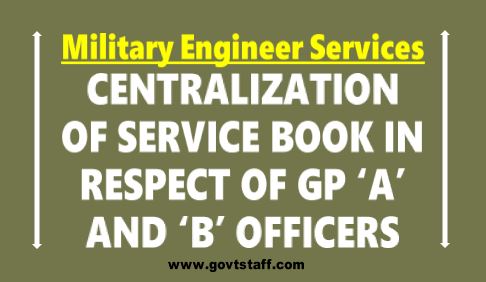 Tele: 01125682262
01120892807
Central Record Offices (Officers)
Tigris Road, Delhi Cantt-110010
CRO/16/3/RR/02/Cent
04 Sep 2020
HQ Chief Engineer Southern Command Pune
HQ Chief Engineer Eastern Command Kolkata
HQ Chief Engineer Western Command Chandimandir
HQ Chief Engineer Central Command Lucknow
HQ Chief Engineer Northern Command Udhampur
HQ Chief Engineer Southern Western Command Jaipur
ADG (North), Udhampur
ADG (Projects), Chennai
ADG (NEI), Guwahati – (Kind Attention of Jt DG Pers/Dir Pers)
CENTRALIZATION OF SERVICE BOOK IN RESPECT OF GP 'A' AND 'B' OFFICERS
1. As per Adm Instruction issued by this office bearing No 01 issued vide letter No B/1/0002/AI/01/EIB (P&A) dated 30 Jan 2003, the time frame for submission of service Book for centralization of Gp 'A' & 'B' officers are as under:-
| | | | |
| --- | --- | --- | --- |
| (a) | Newly appointed/recruited | : | Within 03 months of appointment. |
| (b) | Officers promoted from subordinate grade to Officer | : | Within 06 months of appointment. |
2. It is seen that Service Book in respect of newly appointed Gp 'A'& 'B' officers are not being forwarded by parent unit to CRG (0) Delhi Cantt well within time frame. The Service Book should be prepared by parent unit and after audit from audit authority be sent to this office CRO (O) Delhi Cantt for further action. Similarly for the officer on promotion as Gp 'B', their Service Book upto
subordinate period be completed in all respects duly audited be sent to this office as per above time frame.
3. You are hereby requested to please fwd the Service Book of all such cases who are newly appointed/promoted as Gp 'B', for centralization.
4. This office is not aware the number of case where the service books are not yet centralized therefore you're requested to direct the formation under your command to forward the data as per Appx enclosed of Report/Return in Quarterly as on the first day of every quarter. The first report should reach this office showing the particulars as on 30 Sep 2020 to be submitted by 10 Oct 2020.
5. The report in Excel sheet may be forwarded to this office through e- mail id: CRO [email protected].
(Naveen Kumar, IDSE)
Director
CRO (Officers)
Source : Click here to view/download PDF