Grant of 2nd ACP who completed 24 years of service during 01.01.2006 to 31.08.2008 and 3rd MACP after completion of 30 years in R/O Draughtsman/TOs of MES
Tele : 23014594
Dte Gen of Personnel
Military Engineer Services
Engineer-in-Chief's Branch
Kashmir House, Rajaji Marg
New Delhi – 110011.
PC-4/85610/47/MACP/' D' Man /GANGADHARAN/CSCC OF
Dated: 08 sep 2020
ADG (D&C) Range Hills Rd, Kirkee Pune-411003
ADG(Coast Guard & Projects) Chennai-600009
ADG(NEI) Guwahati, Pin-781027, C/o 56 APO 3
ADG(North) Jammu C/o CWE (AF) Jammu, Pin-937258
Chief Engineers HQs
Southern Command, Pune
Eastern Command, Kolkata
Central Command, Lucknow
Western Command, Chandimandir
Northern Command, Udhampur
South Western Command, Pune
DGNP, Mumbai
DGNP, Visakhapatnam
CME, Pune
CGDA, New Delhi
GRANT OF 2nd FIANANCIAL UPGRADATION UNDER ACP SCHEME WHO HAVE COMPLETED 24 YEARS REGULAR SERVICE DURING INTERVENING PERIOD BETWEEN 01.01.2006 TO 31.08.2008 AND THIRD FINANCIAL UPGRADATION UNDER MACP SCHEME AFTER COMPLETION OF 30 YEARS SERVICE IN R/O OF DRAUGHTSMAN/TOs OF MES
1. Refer further to this office letter No.CC-3/85610/47/MACP/D' Man/6th/CSCC dated 21 April 2017.
2. The undersigned is directed to inform that the approval of grant of 2nd Financial Upgradation after completing 24 yrs of service under ACP scheme of DoPT in respect of Draughtsman & Tech Officers in the pay scale of Rs.15600 – 39100 plus Grade pay of Rs. 6600/- in MES for the intervening period between 01 Jan 2006 to 30 Aug 2008 was granted by MoD after thorough scrutiny of the proposal.
3. Some complaints & grievances were filed against this grant of 2nd Financial Upgradation under ACP scheme by few individuals. In this connection the matter was again sent to MoD for further scrutiny and examinations. The decision of MoD in this regard is reproduced below :-
 "It is stated that the case for grant based on the analogy of Draughtsman Cadre of MES and Assistant (Arch Department) of CPWD provided by E-in-C's Branch and as per Financial Upgradation to the TOs of Draughtsman Cadre of MES was granted as per the extant rules and guidelines of DoP&T."
4. In view of the above, it is advised to take further necessary action as per the clarification of the MoD.
5. This has approval of E-in-C please.
(Madan Lal)
Jt Dir (Pers) /CSCC
For E-in-C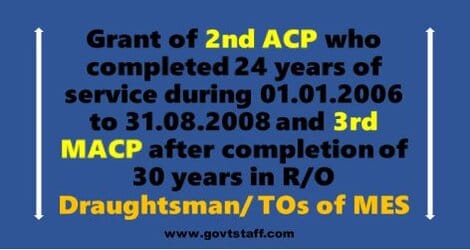 Source: MES