Stepping up of pay – Audit Para No. 13 of Transaction Audit of DoP&T for the year 2014-15 reg.
REMINDER-3
MOST IMMEDIATE
TIME BOUND
F.No.6/3/2021-CS-I(S)
Government of India
Ministry of Personnel, PG & Pensions
Department of Personnel & Training
2nd Floor, A Wing, Lok Nayak Bhawan, Khan Market
New Delhi, dated the 03 March, 2022
OFFICE MEMORANDUM
Subject: Audit Para No. 13 of Transaction Audit of DoP&T for the year 2014-15 in the matter of stepping up of pay – regarding
The undersigned is directed to refer to DoP&T's OM of even number dated 30.12.2021, 18.01.2022 and 28.01.2022 on the subject mentioned above wherein all the Ministries/Departments concerned were requested to furnish the information as per the attached format immediately clearly indicating the number and names of all the officers who have been granted stepping up of pay and whose case has been reviewed or qualify for review as per OM dated 20.05.2014. Information has not been received from most of the Ministries/Departments yet. Since the status of the matter has to be apprised to the Standing Audit Committee urgently, it is also proposed to hold a meeting with the concerned Ministries/Departments shortly in this regard.
[irp]
2. Accordingly, it is requested that the above-mentioned information may be sent immediately without further delay.
(Zachariah Thomas)
Under Secretary to the Govt. of India
Ph: 24624046
To (Through DoP&T website)
All Ministries/Departments participating in CSS
Ministry/Department of…..
[Director/Deputy Secretary (Admn./Estt.)]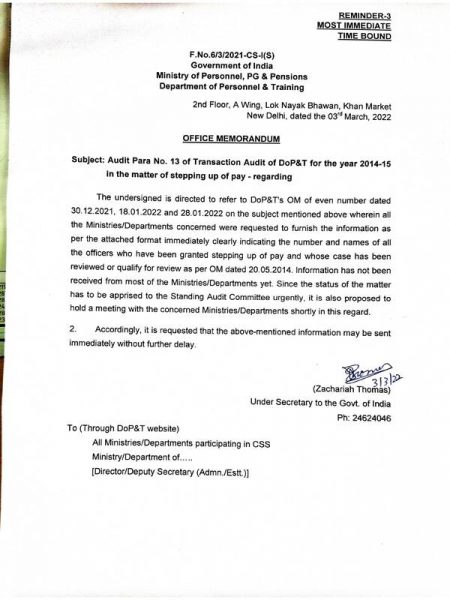 Source: Click here to view/download PDF