Training and Doubt clearing session on Cadre Management module of HRMS-regarding
GOVERNMENT OF INDIA (भारत सरकार)
Ministry of Railways (रेल मंत्रालय)
Railway Board (रेलवे बोर्ड)
File No. PC-V11/2021/HRMS/30
New Delhi, dated: 23.12.2022
Principal Chief Personnel Officers,
All Indian Railways,
(As per standard mailing list)
Sub: Training & Doubt clearing session on Cadre Management module of HRMS – regarding.
In connection with the launch of Cadre Management Module of HRMS, a training and doubt clearing sessions on the Cadre Management module for all railways will be held by CRIS through online mode as per the schedule below:
Module
Date
Time
 Railways/PUs
Organisational structure & Cadre Management Module
Training session on 26.12.2022 (Monday) & Doubt Clearing session on 29.12.2022 (Thursday)
10.30-13.00
CR, WR, WCR, SER, NFR, NFR (Con.)
15.00-17.00
NR, ER, NWR, NCR, All CTI, Metro, All PU (except RWF, ICF)
Training session on 27.12.2022 (Tuesday) & Doubt Clearing session on 30.12.2022 (Friday)
10.30-1300
SR, ICR, RWF, SCR, SWR
15.00-17.30
ECoR, ECR, SECR, NER, COFMOW, IROAF, IRPMU, IRWO, RDSO, WPO, CTI, RRB, CORE, Rly Board
2. Railway Units are requested to nominate Officials to attend the training and doubt clearing session as per the aforementioned schedule. 'They are also advised to nominate one Nodal Officer to coordinate with CRIS for sorting out all the issues relating to implementation of Cadre Management module of IIRMS.
(Garima Srivastava)
Executive Director, Training & MPP
Railway Board
Room No.303, Rail Bhawan
Copy to: Secretary, Railway Board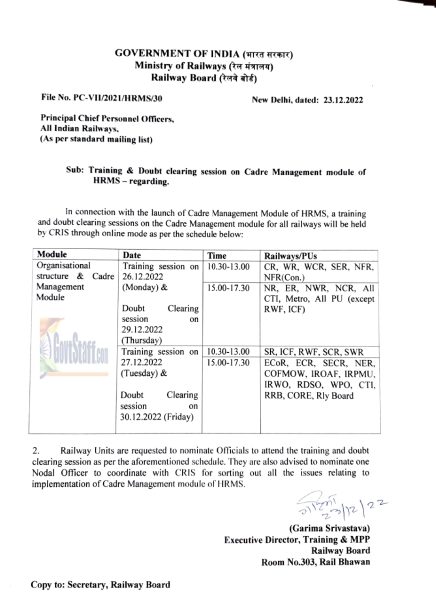 https://indianrailways.gov.in/railwayboard/uploads/directorate/pay_comm/PC7/Training%20session%20on%20Cadre%20Management%20Module-%20Letter%20to%20railways%20dated%2023-12-2022.pdf