Recruitment of the Sportspersons on the Zonal Railways/Production Units against Sports Quota in GP Rs.1800/-, Pay Level-1 – AIRF demands to issue Corrigendum
All India Railwaymen's Federation
4, State Entry Road, New Delhi-110055 (INDIA)
No.AIRF/413(04)
Date: 4th January, 2023
The P.E.D.(I.R.),
Railway Board,
New Delhi
Dear Sir,
Sub:
Demand to issue Corrigendum on the Norms for recruitment of the Sportspersons on the Zonal Railways/Production Units against Sports Quota in GP Rs.1800/-, Pay Level-1 (Erstwhile Group 'D' as per 6th CPC)
Ref.: RBE No.03/2023 Clarification/Corrigendum No.121-No.2020/E(Sports/4/(1/14/Gr-D of ED/E(Sports) Railway Board dated 04.01.2023
Vide above cited reference Railway Board has directed all the Zonal Railways/Production Units to restart recruitment in Pay Level-1(GP Rs.1800/- as per 6th CPC), and in that above letter, under para 2, the following revision in the Sports Norms is mentioned, i.e. as contained in Board's letter (i) and Clarification/Corrigendum and reproduced para 4.1(iv) of RBE No.189/2010. But, in that, the 4th Para i.e. the existing Norms for Rs.1800/- has been deleted totally. (in that, as per RBE No.189/2010, "at least 3rd Position in Senior State Championship in all Units and District of the State were considered as the Requisite Norms).
The above norms prescribed under RBE No.128/2010 under para 4 (IV) is nothing but, a mere reproduction of the same norms which was in vogue as per RBE No.48/2007 in Para 4.2 (ii). In RBE No.189/2010, the norms prescribed under Para 4(iv) was further modified for Cricket under Para (f), in which for recruitment in Level under (iii) participation in All India Inter Zonal Championship, Senior/Junior (U-19) was made as a norm. Due to this, contradictory norms, "No one could be recruited for Cricket in Level-I", and the same was raised in the meeting held between the Chairman & CEO Railway Board and AIRF on 23.12.2022, and in that, it was Stated that the talented Cricket Players are joining other Central Government Departments/P.S. Banks and not in the Railways. As such, after discussion in the meeting, it was decided by the Chairman of the meeting that, while restoring/restarting recruitment in Level-I, it was agreed to follow the norms, i.e. norms as per RBE No.48/2007 Para 4.2 (ii) and RBE No.189/2010 under Para 4 (iv). But, instead of incorporating the norms, as Stated in both this above letter, "the same has been deleted in the present letter, i.e., RBE No.03/2023 dated 04.01.2023.
Hence, it is requested that, a Corrigendum may be issued immediately, duly restoring under Para 4.1(iv), "the 4th Existing Norms for recruitment in GP Rs.1800/- may be made as a revised minimum sports norms for recruitment in Pay Level-1, so that, the recruitment will restart to the benefit of the Railways as well as inviting the talented players.
Yours faithfully,
(Shiva Gopal Mishra),
General Secretary
Copy to: E.D/ E(Sports). Railway Board – For necessary action please.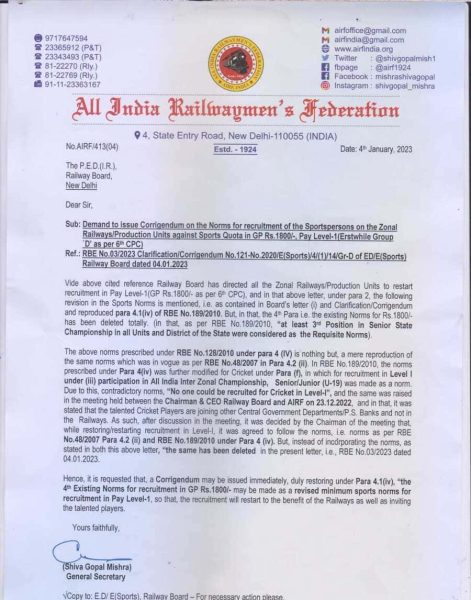 Source: AIRF