Healthcare facilities and Pension to organised / unorganised labourers – संगठित/असंगठित क्षेत्रों के श्रमिकों को स्‍वास्‍थ्‍य सुविधाएं एवं पेंशन
GOVERNMENT OF INDIA
MINISTRY OF LABOUR AND EMPLOYMENT
LOK SABHA
UNSTARRED QUESTION NO. 3188
TO BE ANSWERED ON 20.03.2023
HEALTHCARE FACILITIES AND PENSION TO ORGANISED/ UNORGANISED LABOURERS
†3188. SHRIMATI RANJEETA KOLI:
SHRI SUMEDHANAND SARASWATI:
Will the Minister of LABOUR AND EMPLOYMENT be pleased to state:
(a)whether there is any policy of the Union Government to extend health care facilities and provide pension to the labourers of organized or unorganized sectors in the country including Rajasthan and if so, the details of the said policy thereof;
(b)the State-wise details of the beneficiaries of the said policy during the last three years and the current year in the country including Rajasthan;
(c)the details of assistance being provided or to be provided to the families of labourers died in accidents or died due to incurable diseases and the details of the existing provisions in this regard; and
(d)whether the Government is aware of the irregularities committed by factories or companies in connection with the extending compensation to the dependents of the deceased labourers and if so, the action taken by the Government in this regard and if so, the details thereof?
ANSWER
MINISTER OF STATE FOR LABOUR AND EMPLOYMENT (SHRI RAMESWAR TELI)
(a) to (d): For organised sector workers, health facilities and pension are provided , inter-alia, by schemes of the Employees' State Insurance Corporation (ESIC) and the Employees' Provident Fund Organisation (EPFO), subject to meeting eligibility criteria by the beneficiaries, including those in the state of Rajasthan. The details of ESI beneficiaries, state-wise, are in placed at Annexure-I.
The Government has also introduced a pension scheme for unorganized workers, namely Pradhan Mantri Shram Yogi Maan-dhan (PM-SYM), to ensure old age protection for unorganised workers. State-wise details of enrollment under PM-SYM are placed at Annexure-II.
The Government also provides health care facilities to the Beedi/Cine/MICA/ Limestone & Dolomite Mine (LSDM)/ Manganese Ore & Chrome Ore Mine (IOMC) workers and their dependents. The financial assistance is also provided for treatment of some critical diseases. The state wise details of the number of OPD/ IPD patients are placed at Annexure-III.
The compensation in case of accidental deaths or incurable diseases are also provided to the eligible workers under the Employees' Compensation Act, 1923, which is administered through the State Governments.
****
ANNEXURE-I 
STATEMENT REFERRED TO IN REPLY TO PARTS (a) to (d) OF LOK SABHA UNSTARRED QUESTION NO. 3188 FOR ANSWER ON 20.03.2023 ASKED BY SHRIMATI RANJEETA KOLI AND SHRI SUMEDHANAND SARASWATI REGARDING HEALTHCARE FACILITIES AND PENSION TO ORGANISED/ UNORGANISED LABOURERS
State wise number of beneficiaries under ESI Scheme
(As on 31.03.2022)
States
Beneficiaries
2019-20
2020-21
2021-22
Andhra Pradesh
5065689
4927329
4723590
Assam
 

 

 

1234034

 

 

 

1245053

1014504
Arunachal Pradesh
1824
Meghalaya
55756
Nagaland
13580
Tripura
62041
Manipur
10515
Mizoram
5859
Bihar
1317376
1345053
1392842
Chandigarh
651258
560311
505176
Chhattisgarh
1950476
2035603
1966190
Delhi
6193839
5869431
5153882
Goa
811968
838546
669882
Gujarat & Dadar & Nagar Haveli & Daman & Diu
 

6682485

 

6925179

6087332
Haryana
9335668
9741749
8999738
Himachal Pradesh
1350783
1423611
1343101
J&K And Ladakh
517747
528417
477085
Jharkhand
1731489
1693892
1651406
Karnataka
13525175
12782494
11497293
Kerala & Lakshadweep
4171039
3994964
3667609
Madhya Pradesh
4052427
4134838
3751960
Maharashtra
18230646
18148244
15483101
Odisha
2876593
2923968
2877253
Puducherry
456637
446510
405538
Punjab
4589614
4903195
4719749
Rajasthan
5528923
5571456
5185154
Sikkim
108562
109067
109959
Tamilnadu
15402396
14847208
13814002
Telangana
7121197
6911793
6068824
Uttar Pradesh
9499481
9717033
9178373
Uttarakhand
2498953
2559403
2345693
West Bengal
7574807
7421780
7121003
Total
132479262
131606127
120359814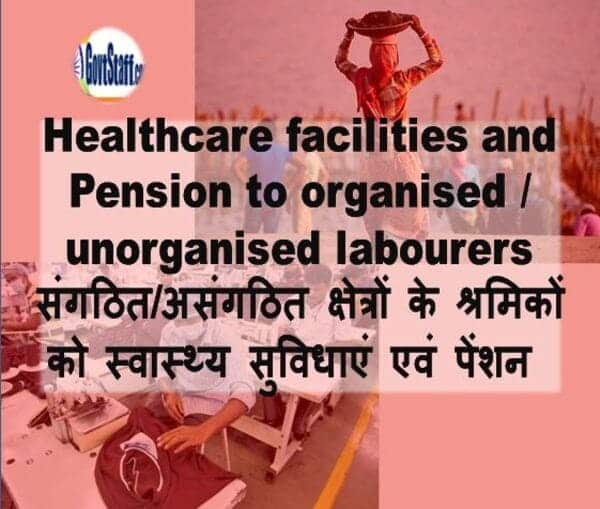 ANNEXURE-II
ANNEXURE REFERRED TO IN REPLY TO PARTS (a) to (d) OF LOK SABHA UNSTARRED QUESTION NO. 3188 FOR ANSWER ON 20.03.2023 ASKED BY SHRIMATI RANJEETA KOLI AND SHRI SUMEDHANAND SARASWATI REGARDING HEALTHCARE FACILITIES AND PENSION TO ORGANISED/ UNORGANISED LABOURERS
The enrolment year-wise for last three years under Pradhan Mantri Shram Yogi Maan-Dhan (PM- SYM) Yojana is as under
Sl.

No.

Names of States/ Union Territories
2018-19
2019-20
2020-21
2021-22
Total
1.
Andaman and Nicobar Islands
1033
822
277
167
2299
2.
Andhra Pradesh
37444
107248
6201
843
151736
3.
Arunachal Pradesh
810
1589
77
21
2497
4.
Assam
9634
7563
3876
3781
24854
5.
Bihar
104887
74782
16924
7000
203593
6.
Chandigarh
974
3738
361
35
4276
7.
Chhattisgarh
92631
111930
3857
2012
210430
8.
Dadra and Nagar Haveli and Daman & Diu
953
575
37
9

1574

9.
Delhi
4791
2711
608
1312
9422
10.
Goa
212
728
35
24
999
11.
Gujarat
335279
31407
2050
1666
370402
12.
Haryana
562199
314740
26049
9576
820407
13.
Himachal Pradesh
14355
26033
1362
460
42210
14.
Jammu & Kashmir
36735
27056
6643
1490
71924
15.
Jharkhand
97735
29266
2326
1192
130519
16.
Karnataka
39351
51925
8769
10592
110637
17.
Kerala
7027
2398
1136
1447
12008
18.
Ladakh
889
563
10
6
1468
19.
Lakshwadeep
21
0
0
0
21
20.
Madhya Pradesh
80101
39089
5139
4537
128866
21.
Maharashtra
527226
61984
9541
4531
593128
22.
Manipur
2350
1310
237
283
4180
23.
Meghalaya
916
1162
811
271
3160
24.
Mizoram
436
120
58
45
659
25.
Nagaland
1432
2547
739
86
4804
26.
Odisha
104847
50621
9107
6361
170936
27.
Puducherry
851
322
82
40
1295
28.
Punjab
21915
9891
1718
1328
34852
29.
Rajasthan
61907
216675
3303
1832
104412
30.
Sikkim
61
43
21
16
141
31.
Tamil Nadu
40730
14016
2381
1389
58516
32.
Telengana
19438
18455
2612
1449
41954
33.
Tripura
13680
12184
3113
924
29901
34.
Uttar Pradesh
466310
349720
38701
11423
641999
35.
Uttarakhand
18629
14622
1291
390
34932
36.
West Bengal
35920
24055
12559
15692
88226
Total
27,43,709
11,05,287
1,72,011
92,230
41,13,237
ANNEXURE-III
ANNEXURE REFERRED TO IN REPLY TO PARTS (a) to (d) OF LOK SABHA UNSTARRED QUESTION NO. 3188 FOR ANSWER ON 20.03.2023 ASKED BY SHRIMATI RANJEETA KOLI AND SHRI SUMEDHANAND SARASWATI REGARDING HEALTHCARE FACILITIES AND PENSION TO ORGANISED/ UNORGANISED LABOURERS 
No. of OPD/IPD Patients for the last three years
Sl No.
Region
Years
2020-21
2021-2022
2022-23
(Upto DECEMBER, 2022)
1
Ajmer
172242
199167
143884
2
Chennai
247655
267788
190723
3
Guwahati
4691
8289
4873
4
Thiruvananthapuram
18252
20101
21696
5
Ranchi
46776
67107
46816
6
Bangalore
80508
209645
170002
7
Bhubneshwar
216293
263473
158342
8
NAGPUR
69481
97593
83207
9
AHMEDABAD
49015
94251
70673
10
Jammu and Kashmir
0
0
0
11
Chandigarh
0
0
0
12
Dehradun
4970
5930
2862
13
Raipur
23179
29141
26880
14
Allahabad
139989
154090
111538
15
Hyderabad
159806
186105
204605
16
Jabalpur
116068
157514
86246
17
Kolkata
171640
194941
108393
18
Patna
37080
53960
34057
Total
1657645
2009095
1464617
 *****
Source : Click to view/download PDF