Nationwide Digital Life Certificate Campaign 2.0 from 1st to 30th November, 2023 – DoPPW O.M. dated 14.11.2023
File No. 1(2)/2023-P&PW(H)
Ministry of Personnel, PG & Pensions
Department to Pension & Pensioners' Welfare
3rd floor, Lok Nayak Bhawan
Khan Market, New Delhi
November 14, 2023
OFFICE MEMORANDUM
Subject: Nationwide Digital Life Certificate Campaign 2.0 from 1st to 30th November, 2023
To enhance 'Ease of Living' of Central Government Pensioners, Life Certificates are now also being submitted in digital mode i.e. Jeevan Pramaan. The Department is organizing a Nation-wide Digital Life Certificate campaign 2.0 in November 2023 at 500 locations in 100 cities with a target of DLC submission by 50 lakh Central Government Pensioners. The Camps are being conducted in coordination with Banks, registered Pensioners' Associations, UIDAI, DoT and MoD. DoPPW Officers have been deputed to visit the various locations, especially in cities where pensioners are in large numbers.
2. In the first 15 days of Nationwide Campaign, 25 Lakh out of 70 Lakh Central Government Pensioners have submitted their DLC. It shows that DLC has not yet submitted by large number of Central Government Pensioners, which may lead to the stoppage of pension if not submitted before 30th November, 2023. Campaign guidelines OM dt 09.08.23 & SOP for Face Authentication is attached for reference.
3. To ensure that all pensioners submit their DLC in month of November, It is directed that all Pension Disbursing authorities (Banks, SPARSH/ CGDA, SAMPANN/DoT) may generate exception list from updated DLC status of all pensioners. All Pensioners in exception list (who have not submitted their life certificate) may be reached out through SMS/ E-mails/ Whats app/ Pensioners' meet to make pensioners aware about Face Authentication DLC and ensure 100% submission of life certificate of pensioners before 30th November, 2023. Pensioners who are not able to use DLC themselves and unable to move may be reached out through Doorstep Banking or deputing officials.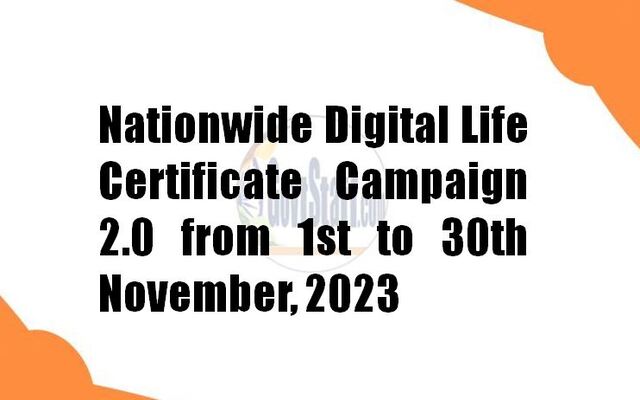 4. Exception list is to be shared with Department of Pension & Pensioners' Welfare for further monitoring and enhanced awareness campaigns.
This issues with the approval of the competent authority.
Enclosed:
Ruchir Mittal
Director, DoPP W
Tel.: 9754473876
Email: [email protected]
Source: DoPPW