Standard Operating Procedure for Containment of COVID-19 : CGDA letter dated 06-07-2020
कार्यालय रक्षा लेखा महानियंत्रक
OFFICE OF THE CONTROLLER GENERAL OF DEFENCE ACCOUNTS
प्रशिक्षण एवम विकास केंन्द्र ( सेंन्ट्राड)
CENTRE FOR TRAINING AND DEVELOPMENT (CENTRAD)
NEAR ARMY BASE HOSPITAL, BRAR SQUARE, DELHI CANTT.-110010
TD/3487/Trg. Misc. Courses/2019-20
Date: 06/07/2020
To
All PCsDA/PIFAs
The PCA (Fys) Kolkata
All CSDA/IFAs including RTCs, NADFM, DPTI, OT!
(Through CGDA website only)
Subject:- Containment of Covid-19: Standard Operating Procedure for functioning of training institutes of the Central and State/UT governments w.e.f. 15 July 2020- regarding
Please refer this office letter of even no dated 20th March 2020 vide which all training activities had been suspended in the Department.
2. Ministry of Home Affairs had vide its order No 40-3/2020-DM-I(A) dated 29.06.2020 permitted the functioning of training institutes from 15″ July 2020 for which a Standard Operating Procedure was to be issued by the Department of Personnel & Training (DoPT).
3. Accordingly, a Standard Operating Procedure for functioning of Training Institutes of the Central and State/UT Governments w.e.f. 15th July, 2020 has been issued by the DoP&T vide its OM No 19011/1/2020-TFA dated 3rd July 2020 (copy enclosed).
4. It is requested that the training activities may be resumed by all PCsDA/CsDA offices and training institutes w.e.f. 15.07.2020 by ensuring strict adherence to the above Standard Operating Procedure.
5. A compliance report in this regard may please be furnished to CENTRAD by 31.07.2020 at the email ID: [email protected] This issues with the approval of CGDA.
Encl: As above
(Vinod Kumar)
ACGDA (HRD)
Copy to:-
The Officer Incharge
IT & S Section (local) : For uploading on HQrs office's website please.
(Vinod Kumar)
ACGDA (HRD)
DoPT OM dated 3rd July 2020 – Standard Operating Procedure (SOP) for functioning of Training Institutions of the Central and State / UT Governments w.e.f. 15th July, 2020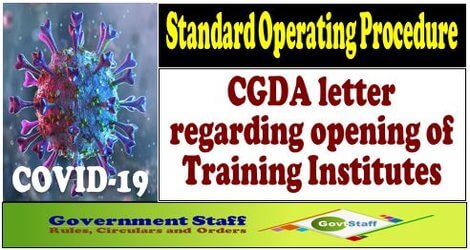 https://cgda.nic.in/adm/circular/TD_3487_Trg_06072020.pdf