CGHS, Ranchi: Matri Prerna Eye Hospital Empanelled under Non-NABH/Non-NABL Health Care Organizations (HCO)
GOVERNMENT OF INDIA
OFFICE OF THE ADDITIONAL DIRECTOR
CENTRAL GOVERNMENT HEALTH SCHEME NEW
A.G.COLONY, DORANDA, RANCHI-834002
TELEPHONE & FAX NO. -0651-2480147
No. CGHS/Continuous Empanelment/2020-21/31
Dated at Ranchi, the 15/09/2020  
OFFICE ORDER
Sub : Empanelment of Non-NABH/Non-NABL Health Care Organizations (HCO) in CGHS, Ranchi.
In pursuance of Govt. of India, MoH&FW Office Memorandum No. S. 11011/28/017-CGHS (HEC) dated 16.05.2017 on the above mentioned subject, it is to convey that in addition to the list of the hospitals (including eye centres) already empanelled, the Non-NABH approved exclusive Eye Care Hospital has also been empanelled under CGHS Ranchi as interim measure, as per the list attached, provisionally w.e.f. 21/09/2020. The newly empanelled Eye Care Hospital may be treated as included in the existing list of empanelled health care organizations under CGHS on eisting terms and conditions.
Addl. Director
CGHS Ranchi
Copy to:-
Addl. DDG (HQ) CGHS, MoH&FW, Nirman Bhawan , New Delhi
Sr. CMO(HEC) 524 A Wing Nirman Bhawan, New Delhi
UTI-ITSL, 153/1 , First floor, Old Madras Road, Ulsoor, Bengaluru-560008
Nodal Officer, MCTC CGHS with a request to upload a copy of the same on CGHS Website
Office Order file
CMO l/c, CGHS C.-I, II & III
Co-ordination committee, Olo the Pri ncipal Accountant General, Ranchi, Jharkhand – 834002.
NAME OF EXCLUSIVE EYE CARE HOSPITAL EMPANELLED UNDER CGHS, RANCHI THROUGH CONTINUOUS EMPANELMENT SCHEME w.e.f. 21/09/2020.
| | | | | |
| --- | --- | --- | --- | --- |
| SI. No. | Name of Health Care Organization | Address & Tel. No. | NABH Accredited/Non-NABH | Facilities/empanelled for |
| 1. | Matri Prerna Eye Hospital | Industrial Area, Kokar, Ranchi n-834001 Tel. No. 0651-2544676/0651-2544230 Mob. No. 9771412029 | Non – NABH | Exclusive Eye Care Centre |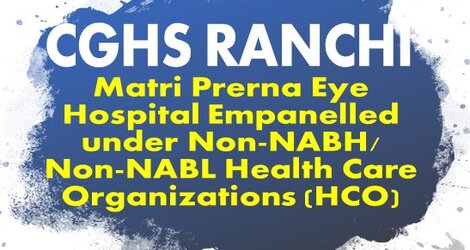 Source: CGHS