EPFO Order on Demonstration against Anti Labour Provisions in the Newly Introduced Industrial Relations Code – 2020
MOST IMMEDIATE
कर्मचारी भविष्य निधि संगठन
EMPLOYEES' PROVIDENT FUND ORGANISATION
श्रम एवं रोजगार मंत्रालय, भारत सरकार
MINISTRY OF LABOUR & EMPLOYMENT, GOVERNMENT OF INDIA
मुख्य कार्यालय / Head Office
भविषय निधि भवन, 14, भीकाएजी कामा प्‍लेस, नई दिल्‍ली-110066
Bhavishya Nidhi Bhawan, 14, Bhikaiji Cama Place, New Delhi-110066
Website: www.epfindia gov.in, www eptindia.nic.in
NO. HRM-XI/IR/11(5)17/BMS/1348
Dated: 27.10.2020
Shri Hari Prasad G
General Secretary
All India EPF Employees Sangh (BMS)
Subject: – Demonstration against few Anti Labour Provisions in the Newly Introduced Industrial Relations Code-2020 -Reg.
Sir,
I am to refer to your letter No. AIEPFES/2020/63 dated 20.10.2020 on the subject cited above wherein you have mentioned inter alia that "As per the direction of the Central BMS and the guidelines of State BMS, the demonstration shall be organised in the District/State Headquarters of the District Collector /Labour Secretary's office premises" and to say that the action proposed by AIEPFES(BMS) is violative of the service conditions prescribed for the EPF Employees and may call for strict disciplinary actions against the delinquent officials.
2. In this context, it is pointed out that the employees of EPFO are bound with Employees' Provident Fund (Officers & Employees' Conditions of Service) Regulations, 2008. By virtue of Regulation 18 & 22, the employees of EPFO are required to follow the CCS Conduct Rules, 1964. Accordingly the relevant provisions of the CCS Conduct Rules are mentioned below:-
7. Demonstration and strikes -No Government servant shall —
(i) engage himself or participate in any demonstration which is prejudicial to the interests of the sovereignty and integrity of India, the security of the state, friendly relations with foreign States, public order, decency or morality, or which involves contempt of court, defamation or incitement to an offence, or
(ii) resort to or in any way abet any form of strike or coercion or physical duress in connection with any matter pertaining to his service or the service of any other Government servant.
9. Criticism of Government. No Government servant shall, in any radio broadcast, telecast through any electronic media or in any document published in his own name or anonymously, pseudonymously or in the name of any other person or in any communication to the press or in any public utterance, make any statement of fact or opinion —
(i) which has the effect of an adverse criticism of any current or recent policy or action of the Central Government or a State Government:
3. All the EPF employees are required to conduct themselves in accordance with Rule 3(1)(ii),(iii) and Rule 3A of Central Civil Services (Conduct) Rules, 1964, Any violation of these rules would be treated to be misconduct making them liable to strict disciplinary action such as removal, dismissal etc. under the EPF Staff (CCA) Rules, 1971 as per Regulation 16 of Employees' Provident Fund (Officers & Employees' Conditions of Service) Regulations, 2008.
4 Further attention is also drawn to FR.17-A which provides for interruption or break in service in case of an individual employee remains absent unauthorizedly.
5. In view of above, you are advised to refrain from demonstration/strike etc. failing which the erring employees will be liable for appropriate action against them in accordance with the relevant provisions as pointed out above.
Yours faithfully,
(Uma Mandal)
Additional CPFC (HRM)
Copy to:
[i] All ACCs (Zones)/ACC (ASD)/Director (PDNASS)/RPFCs/OIC/ with a request to conduct necessary action in accordance with the directions mentioned above. In case the employees go on dharna/demonstration etc. and is on unauthorized leave, a report indicating the number of employees who took part in the proposed demonstration or is on unauthorized leave may be conveyed to Head office on the evening of the day for taking necessary action.
[ii] RPFC (NDC) for uploading on EPF website.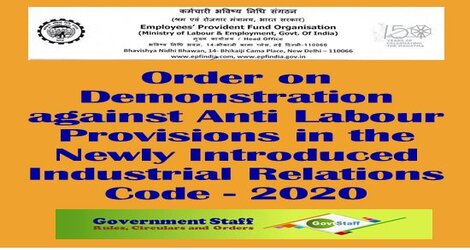 Source : Click here to view/download PDF
https://www.epfindia.gov.in/site_docs/PDFs/Circulars/Y2020-2021/HRM12_BMS_Demo_1348.pdf