Adhoc appointments / promotion beyond one year – DoPT instruction dated 05.03.2021
File No. 19-3/2018-SPN-II
Government of India
Ministry of Communications
Department of Posts
(Personnel Division)
Dak Bhawan, Sansad Marg
New Delhi — 110 001
Dated: 05 March, 2021
To
All Chief Postmasters General / Postmasters General
Chief General Manager, BD Dte/ Parcel Dte/PLI Dte/CEPT Bangalore
Director, RAKNPA/ Directors of all Postal Training Centres
Addl. Director General, Army Postal Service, R.K. Puram, New Delhi
All General Manager (Finance)/Directors Postal Accounts
Subject: Adhoc appointments / promotion — reg.
Madam/Sir,
I am directed to refer to Department's letter no. 137-99/2009-SPB-II dated 23.12.2009, letter no. 4-2/2012-SPB-II dated 30.11.2012 and letter no. X-20/5/2019-SPN-II dated 22.02.2019 (copies enclosed) on the above mentioned subject and to say that instructions issued by nodal Department, viz. Department of Personnel and training on the subject of adhoc appointment / promotions have been circulated time and again with request to adhere to these instructions while considering cases of adhoc appointment / promotion.
2. However, it has been observed that despite clear instructions, initially Circles are resorting to adhoc appointment to manage their operational need but continue such appointments beyond one year without approval of DoPT in contravention of prevailing instructions.
3. Therefore, it is once again requested that instructions issued by DoPT from time to time on the subject of adhoc appointment / promotion should be scrupulously followed while considering the case of adhoc appointment / promotions. This may also be brought to the notice of all appointing authorities under your control.
Yours faithfully,
Enclosure: As above.
(Satya Narayana Dash)
Director (SPN)
Copy to:
a) Shri R. K. Sinha, Under Secretary (Estt.D), Department of Personnel and
Training w.r.t. I.D. Note No. 1433480/2020-Estt.(D) dated 11.02.2021
b) File no. X-20/5/2019-SPN-II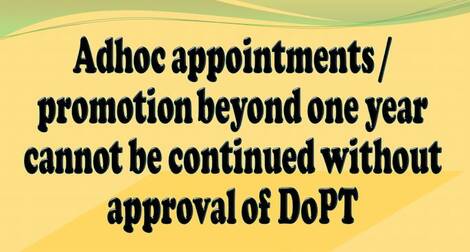 Click here to view/download PDF