Nominations for Online/Onsite Training Programmes on Public Procurement, (Basic, Advanced) and Arbitration at NIFM, Faridabad
File  No.Tr-11/5/2021-Training-DOP
No: Tr-1115/2021-Training
Government of India
Ministry of Communications
Department of Posts
(Training Division)
Dak Bhawan, Sansad Marg,
New Delhi – 110 001.
Dated 04.03.2021.
To,
AS&FA, Postal Directorate, New Delhi.
All Head of Circles.
CGM (BO Directorate/PU Directorate/Parcel Directorate)
All Senior DDsG Postal Directorate, New Delhi
The Director, RAKNPA, Ghaziabad (UP).
All DDsG, Postal Directorate, New Delhi.
All Directors, Postal Training Centres.
Subject: Seeking nominations for Online/Onsite Training Programmes on Public Procurement, (Basic, Advanced) and Arbitration at Arun Jaitely National Institute of Financial Management (AJNIFM), Faridabad during the year 2021-22.
With reference to the subject matter, it is to inform that  Department of  Expenditure, Ministry of Finance, is organizing online/onsite training programmes on Public Procurement (Basic/Advanced) and Arbitration , from April 2021- March 2022 by Arnn Jaitely National Institute of Financial Management (NIFM), Faridabad. Details and schedule of the programme is enclosed with this letter.
2. In this regard, it is to inform that all officers/officials presently dealing with or likely to be associated with Arbitration Cases may attend the course on Arbitration. Nominations for Public Procurement (Advanced) may be made by officers/officials who have  earlier attended Public Procurement (Basic) training. Further, it is  requested to avoid replacement of nominees to these training programmes.
3. It is therefore requested to nominate suitable officers/officials alongwith name (s), designation, place of posting, mobile number and e-mail ID, for the training programme to [email protected]., well before start of training courses. Once, the nominations are approved, a separate link for registration and for attending the online programme will be sent by the institute directly to the e-mail id of the participants.
4. It is also brought out that officers/officials nominated by the circle may not be deputed for the said Training till a communication in this regard is received from the Training Division, Dak Bhawan.
This has the approval of the Competent Authority.
Moona Yasmin
ADG (Training)
Encl. As above.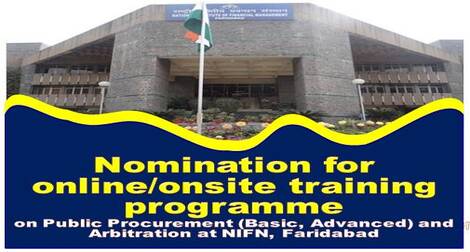 Click here to view/download PDF
http://utilities.cept.gov.in/dop/pdfbind.ashx?id=5432