Online Training Programs on Public Procurement for Government officers at NIFM – DOPT O.M. dated 01/03/2021
No.F.13/10/2019-PPD
Government of India
Ministry of Finance
Department of Expenditure
Procurement Policy Division
***
512, Lok Nayak Bhawan, New Delhi.
Dated the 1st March, 2021.
OFFICE MEMORANDUM
Subject: Online Training Programs on Public Procurement for Government officers at Arun Jaitely National Institute of Financial Management (AJNIFM), Faridabad.
AJNIFM have been conducting training programs in the area of public procurement since 2015 and around 8500 officers/ staff have been already provided training in last six years. It has been decided to continue the training programs on this subject with a view to upgrade the capacities of the officers/ staff with all relevant rules and procedures of public procurement in the year 2021-22.
2. All Ministries/ Departments are requested to nominate officers/ staffs who are currently engage in the area of Public Procurement, directly or indirectly. As the officers/staff keeps on rotating due to transfers etc., even the officers/ staff who are currently not working in this area can also be sent for these training. The training schedule for 2021-22 prepared by AJNIFM is enclosed herewith for information.
3. Ministries/ Departments may also direct their attached/ subordinate offices autonomous/ statutory bodies to nominate' their officials for these trainings. Complete cost for the training will be borne by the Department of Expenditure.
4. The nominations may please be sent to Shri Mayank Tyagi, Assistant Professor & Course Director, NIFM, Sector-48, Pali Road, Faridabad-121001, e-mail: [email protected] The copy of this O.M. is also available on website of this : Department www.doe.gov.in —Notifications—Circular/ O.M./ Notifications —> Procurement Policy/O.M. Any further query in this regard may be sent to AJNIFM/ undersigned.
5. This issues with the approval of Secretary (Expenditure).
Encl : As above
(Kotluru Narayana Reddy)
Deputy Secretary to the Govt. of India
Telefax: 24621305
Email: [email protected]
To
Secretaries/ Financial Advisers of all Central Government Ministries/ Departments.
Copy to : Director (AJUNIFM)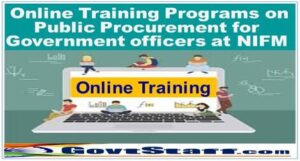 Source: DOPT