Shri Dhanwantry Ayurvedic C&H Chandigarh, JSS  Ayurveda Hospital Mysuru and Patanjali Yogpeeth Haridwar: Empanelment extended upto 31st July, 2022.
F.NO.25-2/2018/CGHS/JD AYUSH
Government of India
Ministry of Health & Family Welfare
Directorate General of Central Government Health Scheme
Nirman Bhawan, New Delhi
Date:-     .     .2021
OFFICE MEMORANDUM
Subject:- Extension of empanelment of AYUSH Hospitals/Centers under CGHS and CS (MA) Rules till 31st July, 2022.
The following AYUSH Hospitals were earlier empanelled vide Office Memorandum F.No. S-11011/ 90/2016-CGHS(HEC)/AYUSH dated 25.09.2018 for a period of 3 year from the 25th September, 2018 as per the revised CGHS rates and terms & conditions as contained in the O.M. F.No. S-11011/ 90/2016-CGHS (HEC) AYUSH Pt.-I dated 9th November, 2017.
Now, as requested by the hospitals, it has been decided to accord extension up to 31st July, 2022 to the following Hospitals' Centers.
Shri Dhanwantry Ayurvedic College & Hospital, Sector-46 B, Chandigarh- 160047, Phone No. 0172-5046000 (NABH) (For Ayurveda treatment)
JSS Ayurveda Hospital, Lalithadripura Road, Alanahalli, Mysuru-570028. Phone No. 2548231, Email:- contact[at]jssamch.org) (NABH) (For Ayurveda, Yoga & Naturopathy treatment)
Patanjali Yogpeeth, Maharishi Dayanand Gram, Delhi Haridwar National Highway shantrarshah Roorkee Haridwar, Uttarakhand-249405, Phone No. 01334240008, Email:- pyp[at]divyayoga.com (NABH) (For Ayurveda, Yoga & Naturopathy treatment)
The Hospitals will be requested to extend the validity of the PBG till 6 months after the validity of empanelment.
This issues with the approval of competent authority.
(Dr. Sanjay Jain)
Director, CGHS
To:
All Ministries/ Departments, Government of India
Director, CGHS , Nirman Bhawan, New Delhi
Addl. DDG (HQ) 'All Additional Directors 'Joint Directors of CGHS cities outside Delhi
All Pay & Accounts Officers under CGHS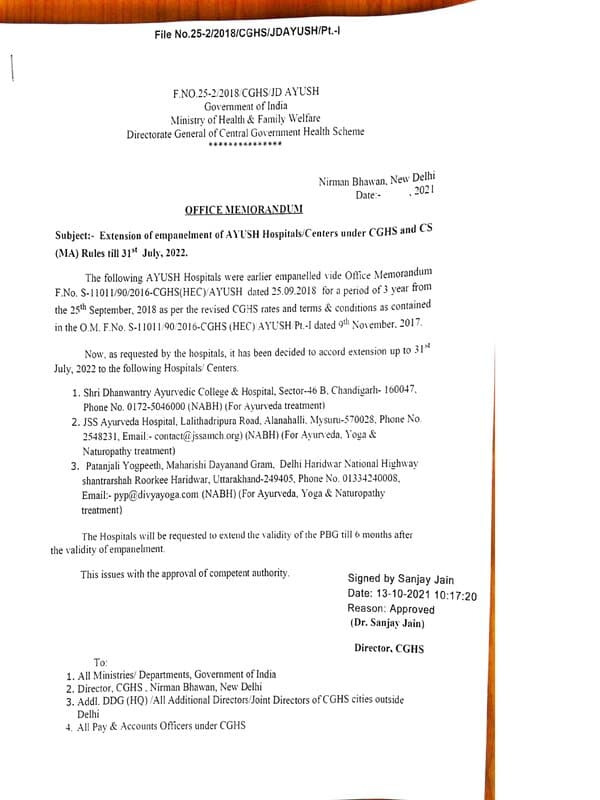 Source: Click here to view/download PDF