Advisory to follow CGHS guidelines during treatment of CGHS beneficiaries
मिसिल संख्‍या/File No. 6-86/के.स.स्‍वा.यो.(मु.)/शिकायत प्रकोष्‍ठ/2021/782-882
भारत सरकार / Govt. of India
अपर निदेशक का कार्यालय / Office of Additional Director
के. स. स्वा यो. (मु.) / CGHS (HQ)
सी. जी. एच. स. भवन, सै.-13, / CGHS Bhawan, Sec-13,
रामा कृष्णापुरम / Rama Krishna Puram
नई दिल्‍ली -110066. / New Delhi -11066.
दिनांक: 10.11.2021
Sub: Advisory to follow CGHS guidelines during treatment of CGHS beneficiaries – reg.
It has come to notice that empanelled HCOs withhold original CGHS card and retain original permission/prescription letter of CGHS beneficiaries for unwanted reason. As per CGHS guidelines, the empanelled HCO shall obtain the self attested copy of prescription letter and CGHS card of the patient & main card holder and can't ask the beneficiary to submit the original prescription letter and CGHS card but to verify the self attested copies from the original prescription/CGHS cards.
You are hereby directed to follow CGHS guidelines in letter & spirit and not to ask CGHS beneficiaries for original prescription/CGHS card. Similar complaint in future will attract strict action against your HCO as per MOA.
(Dr. G.D. Paliya)
Additional Director, CGHS (HQ) Delhi
To
The Medical Superintendent
All CGHS empanelled HCOs, Delhi/NCR.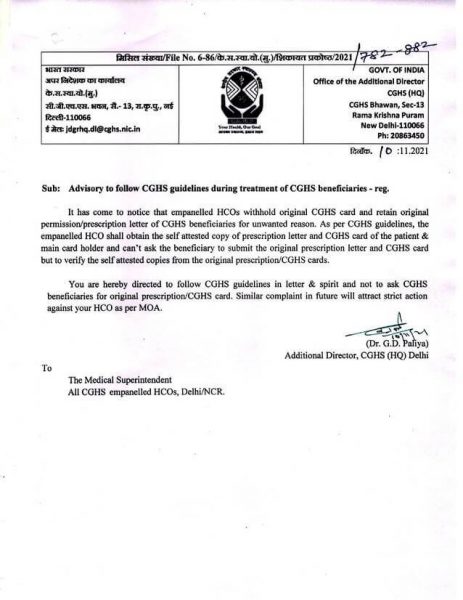 Source : Click here to view/download the PDF