Grant of Training Allowance to eligible personnel – DAD (HQ) order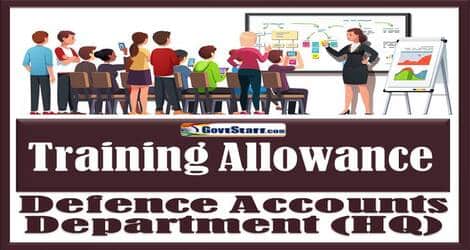 रक्षा लेखा विभाग (र.ले.वि.) मुख्‍यालय
उलान बटार रोड, पॉलिम, दिल्‍ली छावनी-110010..
DEFENCE ACCOUNTS DEPARTMENT (DAD) HEADQUARTERS
Ulan Batar Road, Palam, Delhi Cantt.- 110010
No. Amy/Ors/Allowances/3510/7thCPC/E-1200
Date: 07/02/2022
To
PCDA (Navy)
PCDA (Air Force)
CDA Guwahati
Subject: Grant of Training Allowance
As per MoD letter No.PC-1(16)/2017/D(Pay/Services)/Pt.II dated 28.11.2019, Instructional Allowance has been abolished as a separate allowance with effect from 01.07.2017 and Training Allowance shall be admissible to the eligible personnel under certain conditions mentioned therein at the following rates:
| | |
| --- | --- |
| In National/Central Training Academies and Institutes for Group 'A' Officers mentioned under Appendix A | 24% of Basic Pay |
| In other Training. Establishments mentioned under Appendix B | 12% of Basic Pay |
2. The IHQ of MoD (Army) has brought out that the Training allowance as afforded in the ibid letter is being regulated by the PCDA / CDA specially by PCDA (O) linking it with the PE strength of the concerned establishment even though in other. Services like the AF & Navy as well in Civilian institutions, the revised rates of Training allowance is being provided to the Training faculties without restricting it to the respective PE strength. In this regard, a meeting was held on 03/02/2022 under the chairmanship of FA (DS) in the presence of Adjutant General, IHQ MoD (Army) and it was decided that Training Allowance claims of the personnel may be regulated in term of MoD letter dated 28.11.2019 as per PE strength of various Training institutes. The claim shall be per-scrutinized with the PE strength of the Training Institutes to avoid recovery at a later stage.
As Army has brought out that parity does not exist with other Services and Civilian establishments while providing the benefit of revised Training allowance in lie of Instruction Allowance, PCDA (N), PCDA AF and Regional PCDA/CDA may please examine the cases of Training Allowance being regulated at their end, carry out an audit to this effect and ensure that revised rates of Training Allowance are paid in line with provisions contained in MoD letter dated 28.11.2019 and duly linking it with the PE strength of the concerned establishment.
4. In this regard, a report may be furnished to HQrs office on priority latest by 28th February 2022 regarding the process for regularization of Training Allowance in respect of Armed Forces personnel and Civilian personnel for the consideration of the Competent Authority and for placing the same before the MoD (Finance).
This issues. with the approval of Jt. CGDA.
(Padam Chand Meena)
Accounts Officer (P & A)
Source: Click here to view/download PDF