Modification of instructions regarding Air Travel on Government account – Travel can be made by private airlines: DoE OM dated 16.02.2022
No. 19024/03/2021-E.IV
Government of India
Ministry of Finance
Department of Expenditure
North Block, New Delhi.
Dated the 16th February, 2022
OFFICE MEMORANDUM
Subject: Modification of instructions regarding Air Travel on Government account.
The undersigned is directed to refer to this Department's O.M. dated 31.12.2021 regarding booking of air tickets on Government account after disinvestment of Air India through three authorized agencies viz. Balmer & Lawrie, IRCTC and Ashok Travels. Several references have been received in this Department seeking clarification regarding booking of air tickets for Domestic and International travel by private airlines in view of the disinvestment of Air India.
2. It is clarified that the air travel on Government account both Domestic (including LTC) and International travel can be made by private airlines. Tickets shall be purchased only through the above three authorized agents.
3. This is issued with the approval of the Finance Secretary & Secretary (Expenditure).
Sd/-
(Nirmala Dev)
Director
To,
All Ministries/Departments of the Government of India as per standard distribution list.
Copy : Oo C&AG, UPSC etc. as per standard endorsement list.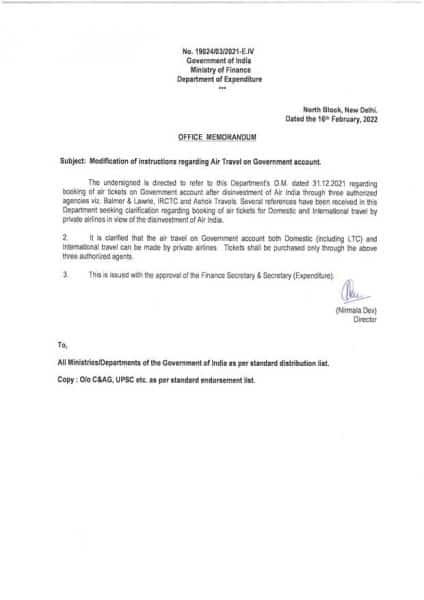 Source: Click here to view/download PDF