Refund of Fees for Valid Objections to Questions of CBT-1 & CBT-2 – Railway Board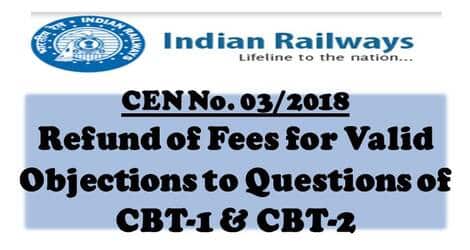 GOVERNMENT OF INDIA
MINISTRY OF RAILWAYS
RAILWAY RECRUITMENT BOARDS
CEN No. 03/2018
Refund of Fees for Valid Objections to Questions of CBT-1 & CBT-2
1. In order to enable candidates to raise objections against doubtful/incorrect questions in CBT-1 & CBT-2 of CEN 03/2018, links were provided in the websites of the various RRBs
– from 11-07-2019 to 14-07-2019 for CBT-1 &
– from 26-09-2019 to 29-09-2019 for CBT-2
2. For this, the candidates were charged a fee of Rs. 50/- (fifty rupees) per question. Subsequently, candidates whose objections were found to be valid are entitled to receive a partial refund of the objection raising fee paid by them – after due deduction of banking/service charges as applicable.
3. However, due to technical reasons (related to various modes of online payment), the banks have not been able to transfer the refund through the same modes of online payment. Therefore, such candidates (whose objections were found correct) are hereby advised to submit their claims through the link given below:
Link for partial refund "https://www.recruitapp.in/rrbje_obj_refund/".
Details required:

Name(as per application):
Registration Number:
Roll Number:
Bank Account Number:
Bank IFSC:
Bank Name:
Bank account holder's name:
4. Last date for submission of claim: 21/03/2022.
NOTE:
No refund will be admissible if the information given by the candidate is wrong, incomplete or received after closing date.
Only one partial refund per bank account will be allowed (i.e., only one candidate per one bank account).
The link for partial refund is also being shared through SMS to the registered mobile numbers of the candidates concerned.
Date: 04-3-2022
Chairpersons
Railway Recruitment Boards