Procedure for implementation of change of option by a Pensioner/Family Pensioner from FMA to CGHS (OPD) facility and vice-versa – CPAO O.M dated 08.04.2022
भारत सरकार / GOVERNMENT OF INDIA
वित्‍त मन्‍त्रालय, व्‍यय विभाग
MINISTRY OF FINANCE
DEPARTMENT OF EXPENDITURE
केन्द्रीय पेंशन लेख कार्यालय
CENTRAL PENSION ACCOUNTING OFFICE
त्रिकूट-॥ भीकाजी कामा प्लेस
TRIKOOT-II, BHIKAJI CAMA PLACE,
नई दिल्‍ली-110066 NEW DELHI-110066
CPAO/IT&Tech/7th CPC Revision/19 Vol. III E/ 8022/2021-22/12
08.04.2022
Office Memorandum
Subject: Procedure for implementation of change of option by a Pensioner/Family Pensioner from FMA to CGHS (OPD) facility and vice-versa-reg
The undersigned is directed to forward O.M. No. 4/05/2019-P&PW (D) dated 23rd March, 2022 issued by the Department of Pension and Pensioners' Welfare, on the subject cited above for information and strict compliance.
(Anang Rawat)
(Dy. Controller of Accounts)
To
1. All Pr. CCAs/CCAs/CAs/AGs (as per list) with request to issue direction to their PAOs accordingly.
2. All Authorised Banks for payment of pension.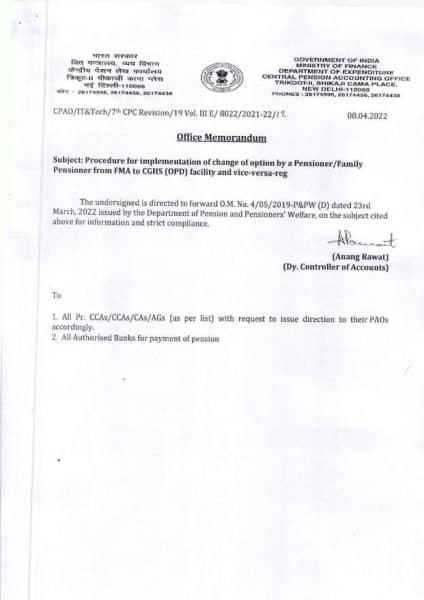 Source : https://cpao.nic.in