Scheme for Payment of Pensions to Central Government Pensioners by Authorised Banks: Scheme Booklet by CPAO
Government of India
(Fifth Edition, July 2021)
Issued By Ministry of Finance
Department of Expenditure
O/o the Controller General of Accounts
CENTRAL PENSION ACCOUNTING OFFICE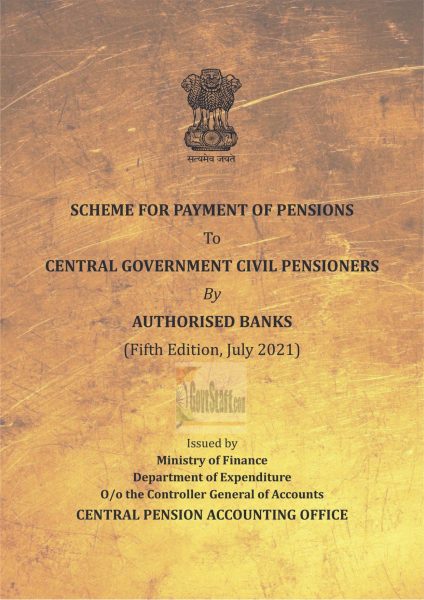 ---
PREFACE TO FIFTH EDITION
This is the fifth edition of the book on "Scheme for Payment of Pensions to Central Government Civil Pensioners by Authorised Banks" since inception of the CPAO on 1st January, 1990. In the course of the last thirty one years based on our experience, interaction with Reserve Bank of India, the 17 Authorised Banks and suggestion from Pensioners' Association we have been endeavoring to refine and update this booklet with the approval of Controller General of Accounts. The Operating and Accounting Procedure for Central Pension Processing Centres of Authorised Banks for Pension Disbursement to Central Government (Civil) Pensioners have also been merged in this edition. This edition incorporates all correction slips, updations and procedural amendments during the period and the relevant Office Memoranda issued by DoP&PW apart from the provisions to ease the credit of pension/family pension to the accounts of pensioners/family pensioners.
We would recommend that every CPPC of all Authorised Bank disseminates this booklet to all the Pension Account Holding Branches (PAHBs) and its link cell and conduct capacity building so that the staffs are fully conversant with the updated procedures and formats. The Scheme Booklet will also be available at the website of the Central Pension Accounting Office from where it may be viewed and downloaded.
Suggestions for further improvement of this Booklet are welcome.
(ROKHUM LALREMRUATA)
New Delhi Chief Controller (Pensions)
29th July, 2021 Central Pension Accounting Office
Table of Contents
| | | |
| --- | --- | --- |
| Sr. No. | Heading | Page No. |
| 1 | SHORT TITLE AND COMMENCEMENT | 9 |
| 2 | BROAD FEATURES OF THE BANKING ARRANGEMENT | 9 |
| 3 | EXTENT OF APPLICATION | 13 |
| 4 | MODE       OF      CREDITING       PENSION       IN      PENSIONER's/FAMILY PENSIONER's ACCOUNT | 14 |
| 5 | DEATH/RETIREMENT GRATUITY | 15 |
| 6 | AUTHORITIES COMPETENT TO ISSUE PPOs | 15 |
| 7 | ACCOUNTING AUTHORITY THROUGH WHOM PPOs HAVE TO BE TRANSMITTED TO CENTRAL PENSION PROCESSING CENTRE (CPPC) ETC | 18 |
| 8 | RECORD OF TRANSFER OF PPOs | 20 |
| 9 | PROCEDURE   FOR   SWITCH-OVER   OF   PENSION   PAYMENT   FROM PAOs/TREASURIES TO AUTHORISED BANKS | 21 |
| 10 | INFORMATION TO PENSIONERS | 22 |
| 11 | ROLES AND RESPONSIBILITIES OF CENTRAL PENSION PROCESSING CENTRE (CPPC ) | 23 |
| 12 | ROLES   AND   RESPONSIBILITIES   OF   HOME   BRANCHES   (PENSION ACCOUNT HOLDING BRANCHES) | 28 |
| 13 | ACTION     BY    CPAO     ON    RECEIPT      OF    THE    SCROLL     AND    ITS RECONCILIATION AND ACCOUNTING | 34 |
| 14 | CERTIFICATES  TO  BE  FURNISHED  BY  THE  PENSIONERS/FAMILY PENSIONERS | 37 |
| 15 | PROCEDURE  FOR  TRANSFER  OF  PENSION  PAYMENT  FROM  ONE BRANCH/BANK TO ANOTHER | 42 |
| 16 | PAYMENT OF PENSION TO N.R.I. PENSIONERS | 44 |
| 17 | OPENING THE BANK ACCOUNT AND FACILITY FOR WITHDRAWAL OF PENSION TO SICK AND PHYSICALLY HANDICAPPED PENSIONERS | 47 |
| 18 | PAYMENT OF DEARNESS RELIEF TO PENSIONERS | 48 |
| 19 | COMMUTATION OF PENSION | 48 |
| 20 | REVISION OF PENSION | 50 |
| 21 | PROCEDURE FOR PAYMENT OF ARREARS | 51 |
| 22 | FAMILY PENSION | 53 |
| 23 | CANCELLATION OF PPO | 56 |
| 24 | ADDITIONAL PENSION ON ATTAINING THE AGE OF 80 YEARS | 58 |
| 25 | GRIEVANCE REDRESSAL SYSTEM IN CENTRAL PENSION PROCESSING CENTRE (CPPC) | 60 |
| 26 | PERFORMANCE MANAGEMENT | 60 |
| 27 | MISCELLANEOUS   PROVISIONS   (FOR   PENSIONERS   AS   WELL   AS FAMILY PENSIONERS) | 61 |
| 28 | POST-PAYMENT CHECKS | 62 |
| 29 | AUDIT OF PENSION PAYMENTS DISBURSED BY AUTHORISED BANKS | 63 |
| 30 | LIST OF PAOs AND CODES | 63 |
| 31 | WITHDRAWAL OF FACILITY OF BANKING TREASURY | 63 |
| 32 | RELEVANT PROVISIONS OF THE CTRs | 64 |
| 33 | NATIONAL PENSION SYSTEM (NPS)- REVISED GUIDELINES | 64 |
| 34 | Annexure I: LIST OF AUTHORISED BANKS FOR DISBURSEMENT OF CIVIL PENSIONS | 66 |
| 35 | Annexure II: FORMAT FOR ADDITION OF NEW BRANCHES/CHANGES (UPDATION OR DELETION) OF EXISTING BRANCHES IN CPAOs BANK CODE | 73 |
| 36 | Annexure III: RBI INSTRUCTIONS: PENSIONERS ACCOUNTS IN BANKS | 76 |
| 37 | Annexure  IV:  CERTIFICATE  FOR  MEDICAL  EXPENSES  OF  FORMER PRESIDENTS / VICE-PRESIDENTS | 77 |
| 38 | Annexure     V:    CERTIFICATE      FOR    TRAVELLING     EXPENSES      FOR MEDICAL CHECK UP OF FORMER PRESIDENTS / VICE-PRESIDENTS | 77 |
| 39 | Annexure VI: CERTIFICATE FOR MEDICAL EXPENSES OF SPOUSES OF FORMER PRESIDENTS / VICE-PRESIDENTS | 79 |
| 40 | Annexure VII: CERTIFICATE FOR TRAVELLING EXPENSES OF MEDICAL CHECK UP OF SPOUSES OF FORMER PRESIDENTS / VICE- PRESIDENTS | 79 |
| 41 | Annexure VIII: FORM OF CENTRAL DATA BANK AT CPAO | 81 |
| 42 | Annexure       IX:     INDEX      REGISTER       OF      PENSION       PAYMENTS AUTHORISED THROUGH BRANCHES OF THE AUTHORISED BANK | 82 |
| 43 | Annexure      X:    APPLICATION      FOR     SWITCHOVER      OF     PENSION PAYMENT THROUGH AUTHORISED BANK | 83 |
| 44 | Annexure   XI:   ELECTRONIC   FORMAT   FOR   PENSION   PAYMENT SCROLL | 85 |
| 45 | Annexure XII: FORMAT OF ACKNOWLEDGEMENT (XML) | 93 |
| 46 | Annexure XIII: LIFE CERTIFICATE | 95 |
| 47 | Annexure XIV: NON-EMPLOYMENT/RE- EMPLOYMENT CERTIFICATE | 96 |
| 48 | Annexure  XV:  SELF-CERTIFICATION  BY  THE  FAMILY  PENSIONER THEMSELVES | 97 |
| 49 | Annexure XVI: ELECTRONIC FORMAT-F FOR REPORT ON CHANGE OF STATUS OF PENSION | 98 |
| 50 | Annexure XVII: LIST OF FILE VALIDATION ERROR | 100 |
| 51 | Annexure XVIII: ACKNOWLEDGEMENT FORMAT – 1 (FROM CPAO TO CPPC) | 101 |
| 52 | Annexure XIX: ELECTRONIC FORMAT FOR CONFIRMATION STRING (FROM CPAO TO RBI) | 102 |
| 53 | Annexure  XX:  DISCREPANCY  REPORT  FORMAT  (FROM  CPAO  TO CPPC) | 104 |
| 54 | Annexure XXI: LIST OF LOGICAL ERROR | 107 |
| 55 | Annexure XXII: DETAILED DISCREPANCY FORMAT (FROM CPAO TO CPPC) | 110 |
| 56 | Annexure XXIII: ELECTRONIC FORMAT – G ERROR SCROLL FORMAT (FROM CPPC TO CPAO) | 113 |
| 57 | Annexure  XXIV:  FORM  H:  FEEDBACK  FORMAT  (FROM  BANK  TO CPAO) | 118 |
| 58 | Annexure XXV: FORMAT 1; ELECTRONIC FORMAT – DMS FILE | 120 |
| 59 | Annexure XXVI: DECLARATION BY MPs FOR DRAWAL Of PENSION | 121 |
| 60 | Annexure XXVII: CERTIFICATE OF EXPENDITURE | 122 |
| 61 | Annexure XXVIII: OFFICE MEMORANDUM –RECOMMENDATIONS OF THE 5th CENTRAL PAY COMMISSION – PAYMENT OF DEARNESS RELIEF TO RE-EMPLOYED PENSIONERS AND EMPLOYED FAMILY PENSIONERS- DECISION REGARDING | 123 |
| 62 | Annexure XXIX: DUE AND DRAWN STATEMENT FOR REVISION OF PENSION | 126 |
| 63 | Annexure XXX: OFFICE MEMORANDUM –PAYMENT OF ARREARS OF PENSION IN CASES WHERE VALID NOMINATION HAS NOT BEEN MADE UNDER THE PAYMENT OF ARREARS OF PENSION (NOMINATION) RULES, 1983 | 127 |
| 64 | Annexure  XXXI:  SPECIMEN  LETTER  OF  UNDERTAKING  BY  THE PENSIONER | 130 |
| 65 | Annexure XXXII: FORM OF APPLICATION FOR FAMILY PENSION ON DEATH OF A GOVERNMENT SERVANT OR PENSIONER OR ON DEATH OR INELIGIBILITY OF A FAMILY PENSIONER OR ON DEATH OR INELIGIBILITY OF A FAMILY PENSIONER | 131 |
| 66 | Annexure XXXIII: FIRST TIME IDENTIFICATION PROFORMA | 134 |
| 67 | Annexure   XXXIV:   FORMAT   FOR   INTIMATION   OF   PENSIONER'S DEATH & COMMENCEMENT OF FAMILY PENSION BY CPPC TO CPAO | 135 |
| 68 | Annexure XXXV: CODE NOS. OF PAY AND ACCOUNTS OFFICES OF MINISTRY/DEPARTMENT/ACCOUNTANT GENERAL | 136 |
Source: new-scheme-booklet-cpao-banks