Modification in the list of Holidays – 2022 : General Holiday on account of Deepavali
SOUTH CENTRAL RAILWAY
Headquarters Office,
Personnel Department,
Secunderabad.
No.P[R] 332/XX
Dated: 19-10-2022.
ALL CONCERNED
CORRIGENDUM
Sub: Holidays – 2022 – General Holiday on account of Deepavali
Ref: This office letter of even number dated 08.12.2021.
Attention is invited to the list of holidays for the year 2022 circulated vide this office letter cited wherein it was notified that General holiday on account of Deepavali is on 25.10.2022 [Tuesday].
In partial modification of the list of holidays declared vide letter cited, 24.10.2022 [Monday] shall now be observed as a General Holiday on account of Deepavali in view of the new development of Amavasya falling in the night of 24 10.2022 for all the Administrative Offices of Headquarters, Secunderabad and Hyderabad Divisions and other offices situated in Secunderabad area, and 25.10.2022 (Tuesday) has been declared as 'Restricted Holiday (RH) on account of "Govardhan Puja'.
The above changes may be notified to all the staff working under your control.
This issues with the approval of the competent authority.
(G. Srinivasa Naik)
SPO/Bills
For Principal Chief Personnel Officer
Copy to:
6S/ SCRE Sangh: for information please
6S/ SCRM Union: for information please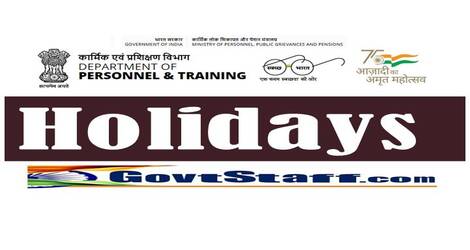 [https://digitalscr.in/bzadiv/circulars/misc_circulars/uploads/Revised_Holiday_List.pdf]